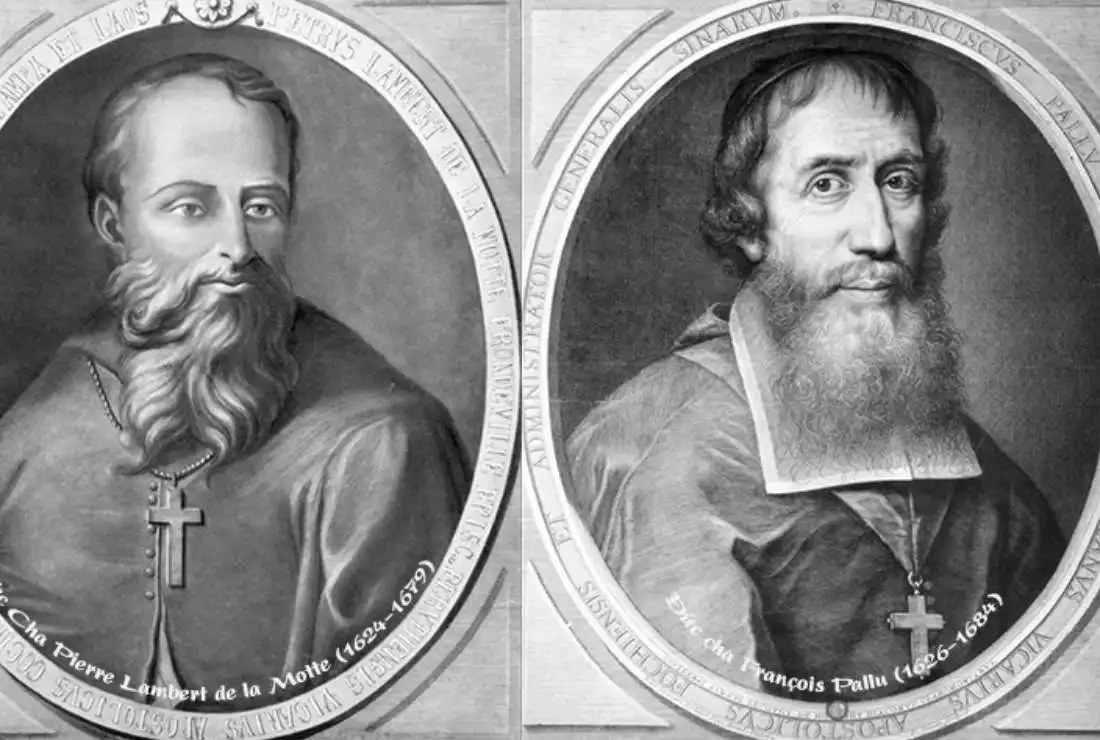 Bishops François Pallu (right) and Pierre Lambert de la Motte (Photo: hdgmvietnam.com)
Hanoi archdiocese will officially open the cause for the beatification and canonization of French-born Bishop François Pallu at the end of this month.
Bishop Pallu, one of the founders of the Paris Foreign Missions Society (MEP), laid the foundations for the Church in the Far East after heading the vicariate of Dang Ngoai when Pope Alexandre VII erected the first two vicariates in Vietnam on Sep 9, 1659.
The pope selected Pallu after Jesuit priest, Father Alexandre de Rhode, who worked in Vietnam for years, appealed to the Holy See to send bishops to develop local churches.
Dang Ngoai then covered northern Vietnam, Laos and the five Chinese provinces of Yunnan, Guizhou, Huguang (now Hunan and Hubei), Guangxi, and Sichuan. 
The dicastery of the Congregation for the Evangelization of Peoples asked Pallu to provide priestly training for indigenous men but warned against being involved in political issues.
According to Archbishop Joseph Vu Van Thien of Hanoi, Pallu, accompanied by seven priests and two lay people, boarded a ship in France on Jan 2, 1662, and arrived in Ayutthaya in Siam (now Thailand) two years later. 
However, four of them died on the way.
But Pallu was not lucky enough to set his foot in his vicariate on account of severe religious persecution, though he led it from 1659 to 1680.
He concentrated his mission in Ayutthaya and trained priestly candidates from China, Siam and Vietnam to govern local churches.
"Bishop François Pallu was really worried about the assignment entrusted to him by the Holy See. He tried many times to enter Dang Ngoai but failed," Thien said in a report published on the Catholic Bishops' Conference of Vietnam website.
In one attempt, Pallu boarded a ship for Vietnam in 1674, but a storm threw the ship ashore in the Spanish colony of the Philippines. 
The Spanish detained and charged him with doing evangelization without their approval. They took him back to Europe for trial and released him the following year.
Bishop Joseph Do Manh Hung, secretary-general of the Catholic Bishops' Conference of Vietnam, said Pallu and Bishop Pierre Lambert de la Motte earlier held a council in Ayutthaya in 1664 and built a seminary there to train priests.
Since Pallu could not enter Dang Ngoai, he handed over the management of his vicariate to Lambert and named Father François Deydier as vicar general. 
Pallu, who was born into a noble family in 1626 in Tours, France, made two long round trips between Europe and Asia in 1665 and in 1674 to seek papal approval for his pastoral activities in the local churches. 
His episcopal ordination took place on Nov 11, 1658, in Rome.
On April 15, 1680, Pallu was appointed vicar apostolate of Fukien, in China's Fujian province. He arrived there on Jan 14, 1684.
Although his health was deteriorating rapidly, Pallu paid pastoral visits to local people and reorganized the local Church.
He died on Oct 29, 1684, when he was 58 years old.
Pallu took on the role of connecting the Holy See with Vietnam. "Thanks to that, the local Church remained united and unified," Bishop Hung said.
Before their arrival in Asia, Pallu and Lambert founded the MEP in 1658 to spread Catholicism and train indigenous clergy in Cambodia, Siam, Vietnam and China.
At the Holy See's request, its members started their missionary work in India in 1776, in Korea and Japan in 1831, other parts of China in 1838, in Malaya in 1841, in Tibet in 1846, in Burma in 1855, and in Taiwan in 1952.
In the twentieth century, MEP missionaries were expelled from Cambodia, China, Laos and Vietnam by communists. However, many of them were also sent to work in new areas in Madagascar and Indonesia.
Pallu and Lambert established the Seminary of the Holy Angels in Ayutthaya in 1665. The first seminary in the region attracted 33 major seminarians and 50 minor ones from all over Asia in 1670.
Later, the seminary became known as the College General because its students were of various origin and it was also a vocational college that offered skill training courses.
Due to the Burmese invasion of Siam from 1760 to 1765 and an unstable political climate, the seminary moved to Chanthaburi in what is now eastern Thailand, to Hondat in Cambodia, and later to Pondicherry in India. 
It was closed down in 1782 since its location was too far from China and Indo-China, where most of the seminarians originated from.
The seminary was re-established in Penang, Malaysia, in 1809 because of its political stability and strategic geographical location.
In 1970, the MEP handed the seminary over to local ecclesial authorities.
It was relocated to Mariophile in Tanjung Bungah in 1984 due to decreasing numbers of students.
Since its inception over 360 years ago, the College General has produced more than 1,000 priests.
The seminary is also known as the College of Martyrs with 47 students martyred so far and five declared saints and one blessed.
Now, it is the turn of its founder to be beatified. – UCA News