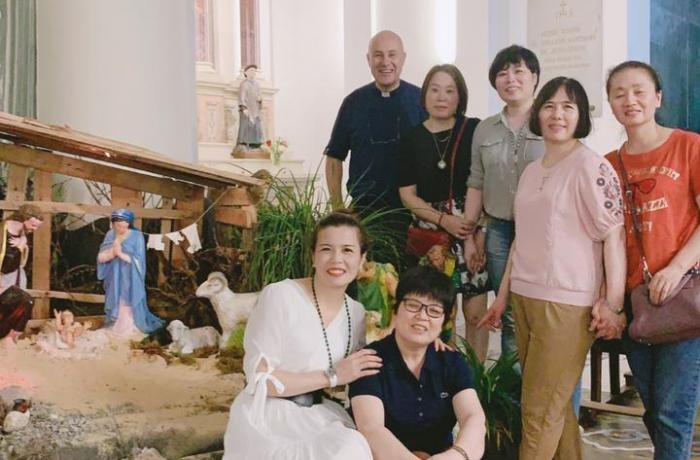 As a result of anti-coronavirus measures, this year the faithful will not be able to gather in the Regina Martyrum church, where Pope Francis lived for a certain period. Before the lockdown, up to 500 attended Mass on holy days. For Buenos Aires's Chinese Catholics, confession and repentance are important. Praying together gives them the impression of being in China.
Buenos Aires (AsiaNews) – For Chinese Catholics living in Buenos Aires, this Christmas will not be the same as those celebrated for almost half a century. Like people in so many other places in the world, they will have to experience it virtually from home in order to prevent the spread of the COVID-19.
Had there been no pandemic, they would have filled the Regina Martyrum Jesuit church, in Buenos Aires's business district, where most of them live and have their small supermarkets.
On average, about hundred attended Chinese Mass every week, but during holy days the number goes up to more than five hundred. Chinese Catholics from around the Argentine capital like La Plata, José C Paz and Pilar are invited to come.
"This year, with compulsory social isolation, we could not meet and we followed Mass on the web or zoom. We are all working, most of us have businesses; we would like to go to church, but there is a lot of fear of contagion. On top of that, I'm a singer and I can't wear the mask," said Meihua Weng, who came to Argentina from Fujian in 1995, speaking to AsiaNews.
The ties among local Chinese are strong, as is the relationship with the Jesuit priests of Regina Martyrum who took over from Father Jorge Cullen, a worker priest who was a missionary in China. in the 1970s, Fr Cullen began by celebrating Mass and accompanying a small group of Chinese families. For generations, the tradition was passed down in the same church where Jorge Mario Bergoglio lived for a time, and who is still personally remembered by some of the members of the local Chinese community.
Fathers Diego Fares, Ricardo Fiat and, for the past two years, Fr Leonardo Nardín, followed Fr Cullen in providing spiritual outreach to the community. "They have a liturgy team that prepares the guides, distributes missals and songbooks on the benches, plays the keyboard, and sing very beautifully," Fr Nardín told AsiaNews.
Unlike Fiat, who like Cullen had learnt Chinese, Nardín can only phonetically read the Mass in Chinese but delivers the homily in Spanish. Susana Wang, a consecrated laywoman and alma mater of the Argentine Catholic Chinese community, translates the sermons. She also runs a supermarket, and combines her work with organising celebrations, like marriages and baptisms that her friends and acquaintances request and Fr Nardín performs.
"They are very pious," Fr Nardín explained. Many seek to confess frequently and prepare in advance for it. "Some come with little pieces of paper and they always kneel down to confession even if there are no kneelers. Confession is very important to them."
He points out that he calls for repentance and the outpouring of the Spirit at the moment of imparting the sacrament of Reconciliation.
Many adults know very little Spanish and Fr Nardín understands only a few words of Chinese. "I am convinced that God speaks to a person's heart for what one cannot say with words. Something very nice happens in those moments," he explained.
At a personal level, this service is an experience of consolation and tenderness. Both men and women work hard and for this reason they seek religious services at unusual times for Argentina, like 4:00 pm or 11:30 pm.
Some young couples also experience painful separation from their children, sent to study in China at the age of three or four. They also feel harassed when their businesses receive frequent visits from the authorities.
They long to be able to meet again and pray together in their language. Thus, as one of the parishioners said, "if I close my eyes, I think I am in China again." – Asia News