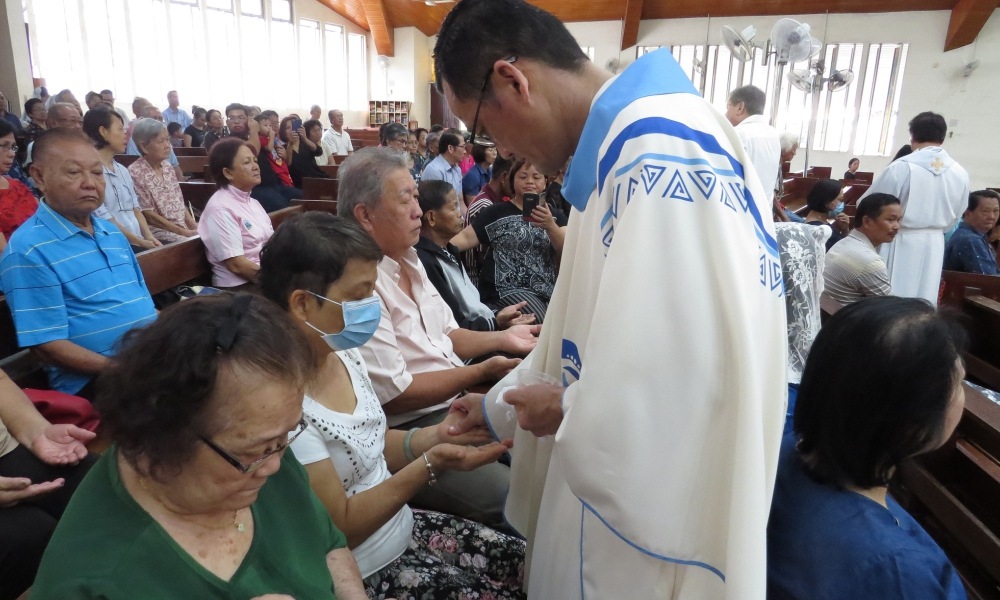 KOTA KINABALU – The Church wants to be more and more the "inn" of the Good Samaritan who is Christ for the sick, the sinners, the weak, the poor, the marginalized in the Archdiocese as she offered the Sacrament of Anointing of the Sick to them at Mass Feb 11.
Kota Kinabalu Archbishop John Wong, who presided the Mass to observe the 28th World Day of the Sick in memorial of Our Lady of Lourdes at Sacred Heart Cathedral, impressed on the diocesan faithful of the Church's desire to offer closeness, acceptance and relief.
Assisting him at Mass and in anointing the sick with the oil of the sick and the laying of hands on the sick were parish priest Fr Paul Lo and assistant priests Fathers Russell Lawrine and Saimon William.
Speaking specifically to those who were suffering and sickly, the Archbishop imparted Pope Francis's message of hope for the occasion "Jesus does not make demands of those who endure situations of frailty, suffering and weakness, but offers his mercy and his comforting presence… because He himself became frail, endured human suffering and received comfort from his Father".
To the healthcare workers and individuals who were caring for the sick, Archbishop Wong directed them to the words of the Holy Father, who emphasized on the Mercy of Jesus for all, to take "the human warmth and  personalized approach of Christ, the Good Samaritan to the sick, not just of curing but also of caring, in view of an integral human healing."
 Pope Francis, in explaining the theme "Come to me, all you who labour and are burdened, and I will give you rest," underlined that Christ's words of solidarity, comfort and hope are for the very many simple people, the poor, the sick, sinners, those who are marginalized by the burden of the law and the oppressive social system…
The mercy and comforting presence of Jesus, the Pope added, embraces people in their entirety, each person in his or her health condition, discarding no one, but rather inviting everyone to share in His life and to experience His tender love.
At the same time, the prelate also urged the faithful to pray for those who were sick spiritually as well as physically that they "might know and accept the meaning of their suffering/sickness, and unite them to the Saviour who was sent by the Father 'to give peace, flowing like a river, the glory of the nations…'"
From Christ's words we know that sickness has meaning and value for our own salvation and for the salvation of the world. We also know that Christ, who during his life often visited and healed the sick, loves them in their illness.
The Church takes care to administer the Sacrament of the Anointing of the Sick to baptized Catholics who are in danger due to sickness or old age, and those about to undergo surgery or having undergone surgery.
The sacramental rite informs us that this sacrament gives the grace of the Holy Spirit to those who are sick, and by this grace the whole person is helped and saved: "Through this holy anointing may the Lord in his love and mercy help you with the grace of the Holy Spirit. May the Lord who frees you from sin save you and raise you up."