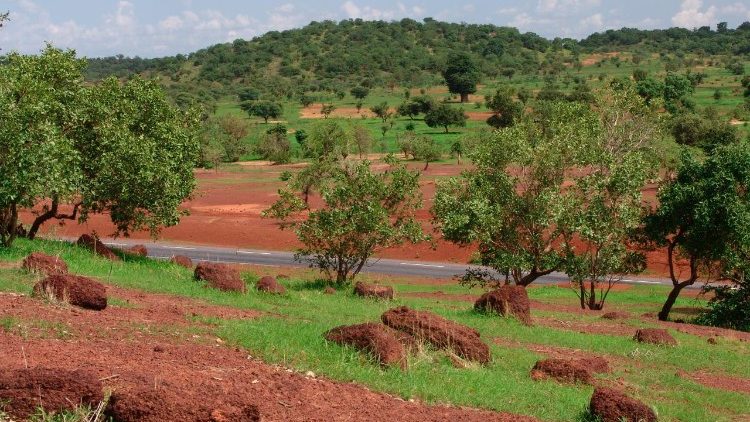 The 5-year Laudato sí Action Programme promotes care for our common home 
The Laudato sí Action Programme, an initiative of the Bishops Conference of Ghana (GCBC) will run from 2022-2026. Archbishop Charles Palmer-Buckle of Cape Coast stresses the importance of changing our mindset from an attitude of exploiting to one of caring for and protecting our common home.
The Bishops of Ghana, inspired by Pope Francis' teachings in his Encyclical on the care of our common home, have put together a 5-year Laudato sí Action Programme scheduled to run from 2022 to 2026. The Action Programme, which will be formally launched on 24 November, is positioned to be the Ghanaian Church's response to the Holy Father's seven-year Laudato sí Action Platform (LSAP) which he announced at the end of the Special Anniversary Year (May 2020 – May 2021) to celebrate the 5th anniversary of the Laudato sí Encyclical. Pope Francis had set up the platform, reminding everyone of the responsibility we have toward future generations, and urging the faithful to continue to take up the charge of caring for the earth in the face of the looming environmental and social crises. This latest initiative of the Ghanaian Bishops aims to achieve seven global Laudato sí goals which center around responding to the cry of the earth; responding to the cry of the poor; ecological economics; adoption of sustainable lifestyles; ecological education; ecological spirituality, as well as community engagement and participatory action.
Involving everyone in joint efforts
Archbishop Charles Palmer-Buckle of Cape Coast is the lead promoter of the Laudato sí Action Platform for the Ghanaian Bishops' Conference (GCBC). In an interview with Vatican News, he highlighted the 5-year programme as an opportunity to put into action and contextualize for Ghanaians, what Pope Francis teaches in his 2015 Encyclical. The Archbishop notes that the 5-year Action Programme resonates with the objectives of the Pope's Laudato sí Action Platform: to promote among the people, "a consciousness that the earth is a gift of God to us, and we are only caretakers of what God has given us. Therefore, we are to make sure we cherish and treasure it so that we can pass it on to posterity." Even prior to this latest programme, the Church in Ghana had been involved in other initiatives that promote care for the earth, including the "Arbor day/week" program geared toward raising awareness in school children to take a stand for protecting the planet. More recently, in April 2021, the Ghanaian government kicked off the "Green Ghana project" through which it encouraged faith-based and civil society organizations to be involved in planting 5 million trees this year. Along the same lines, the Ghana Catholic Bishops Conference came up with the idea to support the Green Ghana Project with an initiative to plant a further 1 million trees around parishes, schools, hospitals and Church institutions.