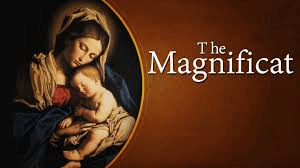 First reading 1 Samuel 1:24-28
This is the child I prayed for: he is made over to the Lord.
When Hannah had weaned the infant Samuel, she took him up with her together with a three-year-old bull, an ephah of flour and a skin of wine, and she brought him to the temple of the Lord at Shiloh; and the child was with them. They slaughtered the bull and the child's mother came to Eli. She said, 'If you please, my lord. As you live, my lord, I am the woman who stood here beside you, praying to the Lord. This is the child I prayed for, and the Lord granted me what I asked him. Now I make him over to the Lord for the whole of his life. He is made over to the Lord.'
  There she left him, for the Lord.
Responsorial Psalm 1 Samuel 2:1,4-8
My heart exults in the Lord my Saviour.
My heart exults in the Lord.
  I find my strength in my God;
my mouth laughs at my enemies
  as I rejoice in your saving help.
The bows of the mighty are broken,
  but the weak are clothed with strength.
Those with plenty must labour for bread,
  but the hungry need work no more.
The childless wife has children now
  but the fruitful wife bears no more.
It is the Lord who gives life and death,
  he brings men to the grave and back;
it is the Lord who gives poverty and riches.
  He brings men low and raises them on high.
He lifts up the lowly from the dust,
  from the dungheap he raises the poor
to set him in the company of princes
  to give him a glorious throne.
For the pillars of the earth are the Lord's,
  on them he has set the world.
Gospel Luke 1:46-56
The Almighty has done great things for me
Mary said:
'My soul proclaims the greatness of the Lord
and my spirit exults in God my saviour;
because he has looked upon his lowly handmaid.
Yes, from this day forward all generations will call me blessed,
for the Almighty has done great things for me.
Holy is his name,
and his mercy reaches from age to age for those who fear him.
He has shown the power of his arm,
he has routed the proud of heart.
He has pulled down princes from their thrones and exalted the lowly.
The hungry he has filled with good things, the rich sent empty away.
He has come to the help of Israel his servant, mindful of his mercy
– according to the promise he made to our ancestors –
of his mercy to Abraham and to his descendants for ever.'
Mary stayed with Elizabeth about three months and then went back home.
________________________________________
22nd December 2020 Tuesday 4th Week of Advent
Reflection
1 Samuel 1:24-28,
Luke 1:46-56
"God of the lowly"
In today's gospel, Mary sang her song of praise to God because she, in her humility, perceived His actions of goodness in her own personal life. She also perceived that the God she proclaimed with gladness is One who is always on the side of the lowly, the hungry, the weak and the downtrodden. "…The hungry he has filled with good things, the rich sent empty away".
It is in the lives of the humble ones, like Mary and Elizabeth, that God works in unconceivable ways. To pray and recite the Magnificat of Mary implies that we too have the same desire to possess the humility and trust to allow God to work great things in us and through us. In this Christmas season, let us look at the people around us, especially those who are least considered in society, and to treat them with dignity and respect.
Question for reflection:
What is God's personal invitation to me as I pray with Mary's song of praise?

22 hb Disember 2020 Hari Selasa Minggu Adven Ke – 4
Renungan
1 Samuel 1:24-28, Lukas 1:46-56
"Tuhan untuk orang yang rendah hati"
Dalam injil hari ini Maria menyanyikan lagu pujian kepada Allah kerana dia dalam kerendahan hatinya merasakan perbuatan baik Tuhan kepada hidup peribadinya. Dia juga melihat bahawa Tuhan yang diwartakannya dengan penuh syukur adalah Dia yang sentiasa dekat dengan orang yang rendah hati, yang lapar, lemah dan tertindas. "…Ia melimpahkan segala yang baik kepada orang yang lapar, dan menyuruh orang kaya pergi dengan tangan hampa".
Tuhan bekerja dalam hidup orang yang rendah hati seperti Maria dan Elisabet. Berdoa dan mengungkapkan Pujian Maria menunjukkan bahawa kita juga mempunyai keinginan sama untuk memiliki kerendahan hati dan kepercayaan untuk membenarkan Allah melakukan perkara besar dalam dan melalui hidup kita. Pada musim perayaan Natal ini marilah melihat orang-orang yang ada di sekitar kita terutama mereka yang dipandang rendah dalam masyarakat, memperlakukan mereka dengan penuh maruah dan rasa hormat.
Soalan Renungan: :
Apakah jemputan peribadi Tuhan kepada saya ketika saya berdoa dengan pujian Maria?

22 Disember 2020, Orou Karuo Minggu' Adven Kaapat
1 Samuil 1:24-28, Lukas 1:46-56
I Aki Kapuuno' ru ulun ondo' ganaan guang_
Ralalom Injil ra orou raiti', marimbai i Maria ra rimbai mongompor ri Aki Kapuuno' sabap ra io, ondo' ganaan guang, makaliman ra ondo' baalon Nano ra moonsoi ralalom kaayagan nano galama'. Makaliman i Maria niayuk ri Aki Kapuuno' ondo' potonowon nano ralalom kaansukan iono Io rondo' ondo' masalok giu' ra sapapa' ru ulun ondo' ganaan guang, ondo' maitilan, ondo' malawo am ondo' kikinjangin. "…Ulun ondo' maitilan basugon ru Io ra ondo' moonsoi, ulun ondo' langkaya' paugaron ra kolondo' taakin risilo".
Ginio ralalom kaayagan ru ulun ondo' ganaan guang, koson ri Mary am i Ilisabit, ondo' i Aki Kapuuno' mangandoi ralalom nilo ra ralan ondo' kalo maintopot. Makiasi' am mindagu ra kinapasau ri Maria karaan ra itakau pana mokoondo' ra gogot ondo' mogondo' koson mompolonggom ra guang ganaan am mangintopot ri Aki Kapuuno' mangandoi ra baal maayo kaga' ralalom takau am mumbaya' ritakau. Ralalom bulintok ru Krismas ti, ibok ilai' takau ulun ra liput takau, mulu' poyo ra ulun ondo' karaan boborok kaga' ralalom sampamagunan, am apuon ilo ralalom kaansayan am urumat.
Pangkuatan ra paguangin:
1) Atan kia pangkimaitan ri Aki Kapuuno' galama' raki' paat ra aku makiasi' ralalom rimbai mongompor ri Maria?

22-12-2020 Hari Dua Minggu Advent Ka-4
Renungan
1 Samuel 1:24-28;
Luke 1:46-56
"Allah Taala bagi sida ti baroh ati."
Dalam Injil saritu, Maria belagu pantun puji ka Allah Taala laban iya, dalam pemaroh ati, udah nerima pemadas ari Tuhan dalam pengidup iya empu. Maria mega ngaku Allah Taala enggau ati lantang laban Iya meh ti meruan begulai enggau sida ti baroh ati, ti lapar, ti lemi sereta kena pechat. "…Iya udah ngenyangka orang ke lapar enggau utai ti manah, lalu muru sida ke kaya pulai puang"
Semina dalam pengidup sida ti baroh ati baka Maria seduai iya Elizabeth, Allah Taala ulih ngereja pengawa nengah jalai ti enda ulih dibelamatika. Besampi lalu nyebut leka jako Pantun Puji Maria mandangka kitai tu bisi julok ati deka ngembuan pemaroh ati sereta pecaya ti meri awak ka Allah Taala ngereja pengawa besai dalam lalu nengah kitai. Dalam musin Krismas tu, aram kitai meda pengidup siko-sikp orang ti enggau kitai kelebih agi sida ti enda tampak beguna enggau nadai daya lalu meri saup enggau basa ka sida.
Nama kangau Allah Taala ka aku lebuh aku besembiang lagu Pantun Puji Maria?

2020年12月22日 将临期第四周星期二
省思
《撒上:24-28》
《路一:46-56》
"卑微人的天主"
今天的福音里提到玛利亚对天主唱谢主曲因为她谦虚的承认天主在她身上行了大事。她也开心的认为天主就是那位守在卑微的,饥饿的,软弱的和欺压的"。。。祂以美物飽餐饥饿的人,而使富人空手而去。"
这就是谦卑人的生活,就像玛利亚和依撒伯尔,天主不可思议的眷顾着。祈祷并且祷颂玛利亚代表着我们也愿意谦卑和相信并允许天主为我们做大事。在这圣诞期,就让我们看清周边的人,尤其是比较不幸运的,我们以尊重和有尊严的对待他们。
省思题:
1)我祈颂