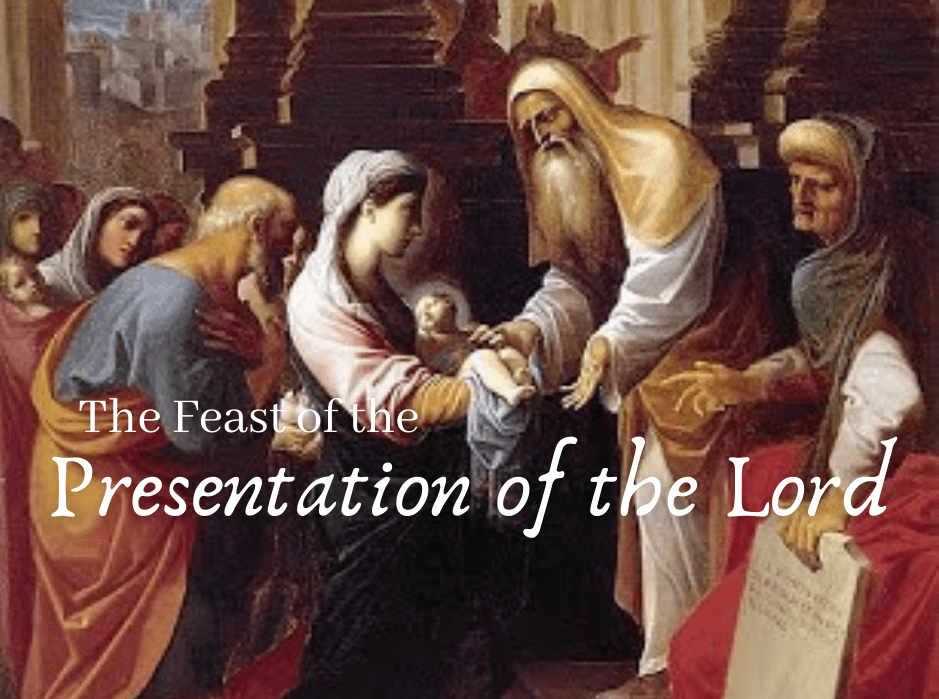 Image by Lodovico Carracci, Presentation in the Temple
First reading Malachi 3:1-4
The Lord you are seeking will suddenly enter his Temple
The Lord God says this: Look, I am going to send my messenger to prepare a way before me. And the Lord you are seeking will suddenly enter his Temple; and the angel of the covenant whom you are longing for, yes, he is coming, says the Lord of Hosts. Who will be able to resist the day of his coming? Who will remain standing when he appears? For he is like the refiner's fire and the fullers' alkali. He will take his seat as refiner and purifier; he will purify the sons of Levi and refine them like gold and silver, and then they will make the offering to the Lord as it should be made. The offering of Judah and Jerusalem will then be welcomed by the Lord as in former days, as in the years of old.
Responsorial Psalm 23(24):7-10
Who is the king of glory? He, the Lord, he is the king of glory.
O gates, lift high your heads;
  grow higher, ancient doors.
  Let him enter, the king of glory!
Who is the king of glory?
  The Lord, the mighty, the valiant,
  the Lord, the valiant in war.
O gates, lift high your heads;
  grow higher, ancient doors.
  Let him enter, the king of glory!
Who is he, the king of glory?
  He, the Lord of armies,
  he is the king of glory.
Gospel Luke 2:22-40
My eyes have seen your salvation
When the day came for them to be purified as laid down by the Law of Moses, the parents of Jesus took him up to Jerusalem to present him to the Lord, – observing what stands written in the Law of the Lord: Every first-born male must be consecrated to the Lord – and also to offer in sacrifice, in accordance with what is said in the Law of the Lord, a pair of turtledoves or two young pigeons.
Now in Jerusalem there was a man named Simeon. He was an upright and devout man; he looked forward to Israel's comforting and the Holy Spirit rested on him. It had been revealed to him by the Holy Spirit that he would not see death until he had set eyes on the Christ of the Lord. Prompted by the Spirit he came to the Temple and when the parents brought in the child Jesus to do for him what the Law required, he took him into his arms and blessed God; and he said:
'Now, Master, you can let your servant go in peace,
just as you promised;
because my eyes have seen the salvation
which you have prepared for all the nations to see,
a light to enlighten the pagans
and the glory of your people Israel.'
As the child's father and mother stood there wondering at the things that were being said about him, Simeon blessed them and said to Mary his mother, 'You see this child: he is destined for the fall and for the rising of many in Israel, destined to be a sign that is rejected – and a sword will pierce your own soul too – so that the secret thoughts of many may be laid bare.'
There was a prophetess also, Anna the daughter of Phanuel, of the tribe of Asher. She was well on in years. Her days of girlhood over, she had been married for seven years before becoming a widow. She was now eighty-four years old and never left the Temple, serving God night and day with fasting and prayer. She came by just at that moment and began to praise God; and she spoke of the child to all who looked forward to the deliverance of Jerusalem.
When they had done everything the Law of the Lord required, they went back to Galilee, to their own town of Nazareth. Meanwhile the child grew to maturity, and he was filled with wisdom; and God's favour was with him.
______________________________________________
2nd February 2021 Tuesday 4th Week of Ordinary Time – The Presentation of the Lord.
Reflection
Malachi 3:1-4, Hebrews 2:14-18, Luke 2:22-32
"God in the fragile baby"
Simeon was known to be a man of God who lived his life in tune with the Holy Spirit. When he saw the baby brought into the temple by his lowly parents, he immediately recognised him as the long-awaited Messiah. With eyes of faith, He saw God in the fragile baby: "My eyes have seen the salvation which you have made ready in the sight of the nations". Pope Francis, in one of his homilies, stated: "He sees the Child and he sees salvation. He does not see the Messiah who works miracles, but a small child. He does not see something extraordinary but Jesus with his parents…Simeon sees God's simplicity and welcomes his presence". (Pope Francis, 2nd Feb 2019)
Today, we are invited to have a living encounter with God who continues to come to us in life, prayer, in others, even in the ones whom we regard as weak and lowly. Let us be led by the Holy Spirit to see and welcome God's presence who comes to us in simplicity.
Question for reflection:
Is my heart open to welcome God who comes to me in unexpected ways today?

2 hb Februari 2021 Hari Selasa Minggu Biasa Ke-4 – Pesta Yesus dipersembahkan di Bait Allah.
Renungan
Maleakhi 3:1-4, Ibrani 2:14-18, Lukas 2:22-32
"Allah dalam bayi yang rapuh"
Simeon di kenali sebagai abdi Allah yang hidupnya selaras dengan Roh Kudus. Ketika dia melihat bayi itu dibawa ke rumah Tuhan oleh orang tuanya yang rendah hati, dia serta merta mengenali bahawa bayi itu adalah Mesias yang dinanti-nantikan. Dengan mata iman, dia melihat Tuhan pada bayi yang rapuh itu: "Mataku telah melihat penyelamatan yang telah kamu siapkan dihadapan bangsa-bangsa". Paus Franciskus dalam salah satu homilinya menyatakan: "Dia melihat Anak tersebut dan melihat penyelamatan. Dia tidak melihat Mesias yang melakukan mukjizat, tetapi melihat seorang anak kecil. Dia tidak melihat sesuatu yang luar biasa, tetapi Yesus bersama bersama dengan ibu bapanya..Simeon melihat kesederhanaan Tuhan dan menerima kehadiranNya". (Pope Francis, 2nd Feb 2019)
Hari ini kita dijemput untuk mempunyai pertemuan hidup dengan Tuhan yang terus dapat kepada kita melalui kehidupan, doa, melalui orang lain, bahkan kepada mereka yang dianggap lemah dan tidak berdaya. Marilah didorong oleh Roh Kudus untuk melihat dan menerima kehadiran Allah yang hadir kepada kita melalui kesederhanaan.
Soalan renungan:
Adakah hati saya terbuka untuk menyambut Allah yang hadir dengan cara yang tidak terduga hari ini?

2 Februari 2021, Orou Karuo Minggu' Kaindalaman Kaapat, Pesta Yesus dipersembahkan di Bait Allah
Maliaki 3:1-4; Ibrani 2:14-18, Lukas 2:22-32
I Aki Kapuuno' ralalom ru lalagang ondo' malami'
I Simion ondo' mauligan ra ulun motopot ondo' gumagaya' ri Aki Kapuuno' ondo' kaayagan nano mogondo' ra Ambiluo Matulai. Paat ra io makakito ra lalagang no ibiton giu' ra Baloi Tuhan ru matuo nano ondo' ganaan guang, pulali' io makaulig ra lalagang raginio noyo Misias ondo' ininanan i. Ra mato kaintapatan, makakito io ra Tuhan giu' ra lalagang ondo' malami' no: "Makito noyo ru mato kuti pamayagan ondo' inatang Mu noyo ra bansa'-bansa'." Paus Fransciskus mindagu ra rondo' intor ra homili nano: "Nakakito io ra Anak no am nakakito ra pamayagan. Kalo nakakito io ra Misias ondo' mambaal ra kaimuagan, kaa' nakakito ra sangulun lalagang. Kalo nakakito io ra rondo' ondo' kainsaa', kaa' i Jisus nabaya' ra matuo Nano…nakakitovi Simion ra inggana' ru Tuhan am mangapu ra kasaangan Nano." (Paus Franciskus, 2 Februari 2019)
Orou raiti' itakau kimaitin koson mokoondo' pantuuman kaayagan ra Tuhan ondo' rayus maalap ritakau ralalom kaayagan, pakiasian, ralalom ru ulun bokon, am poyo risilo ondo' karaan ra malawo am kalo makalulu'. Ibok noyo ra sungka ru Ambiluo Matulai koson magilong am mangapu ra kasaangan ri Aki Kapuuno' ondo' sumaang ritakau ralalom ru inggana'.
Pangkuatan ra paguangin:
Maukab kia guang kuti koson mangapu ri Aki Kapuuno' ondo' sumaang ra kalo maiman-iman ra orou raiti'?

02-02-2021 Hari Dua Minggu Selama Ka-4 – Tuhan Jesus dienjok ba Rumah Sembiang.

Renungan
Malaki 3:1-4 ;Hebrew 2:14-18; Luke 2:22-32

"Allah Taala ba Anak ti Mit."
Simeon siko orang ti nitih ka Allah Taala sereta diau nitih ka Roh Kudus. Lebuh iya meda Anak Mit nya datai ba Rumah Sembiang begulai enggau apai indai iya, Simeon ngelala Anak Mit nya meh Mesias ti udah lama dianti datai. Enggau mata pengarap, iya meda Allah Taala ti diau dalam Anak Mit nya:" Mata aku udah meda penyelamat ka semua dunya". Ba jako ajar Pope Francis bejako:" Iya meda Anak Mit enggau iya meda penyelamat. Iya enda meda Mesias ti ngereja kereka ajij, tang siko Anak ti Mit. Iya enda meda kelai bukai tang Jesus enggau apai indai Iya…Simeon meda Allah Taala ti mit lalu ngalu penatai Iya". (Pope Francis, 2 Feb 2019)

Saritu, kitai dikangau awak ngelala Allah Taala ti meruan datai ngagai kitak dalam pengidup, sembiang, ba orang bukai, ba sida ti dikumbai kitai lemi tauka nadai guna. Awak kitai diiring ulih Roh Kudus ngambi meda sereta ngalu penatai Allah Taala dalam kitai.

Bisi aku ngalu penatai Allah Taala ti datai enggau jalai ti enda diadang aku saritu?

2021年2月2日常年期第四周单数年星期二 獻耶稣于圣殿
省思
«拉三:1-4»
«希二:14-18»
«路2:22-32»
" 天主在脆弱的婴儿中"
西默盎被称为是天主的人。他过着正义虔诚和充满圣神的生活。当他看到婴儿被他卑微的父母带入圣殿时,他立即意识到婴儿就是期待已久的默西亚。 他凭着信仰的眼神看到了天主就在脆弱的婴儿中 :"我亲眼看见了你的救援,即你在万民之前早准备好的"。教宗方济各在他的一个讲道中说明:"他看到了孩子和他看到了救援。 他没有看到默西亚显示奇迹,但是看到了婴儿。 他没有看到不平凡的东西,但是看到耶稣和他的父母……西默盎看到了天主的纯朴,和欢迎祂的到来"。 (教宗方济各 2019年2月2日)
今天,我们受邀请与天主相遇。祂继续的来到我们的生活,祈祷和其他事情,甚至是那些我们认为是软弱无力和卑微的人。让我们由圣神带领看到天主和欢迎祂的临在,祂以简单的方式来到我们的身边。
省思题:
今天我是否欢迎天主以意想不到的方式来到我的身边?

Acknowledgment: Reflections are based on "Prayer for Living: The Word of God for Daily Prayer Year B" by Sr. Sandra Seow FMVD.