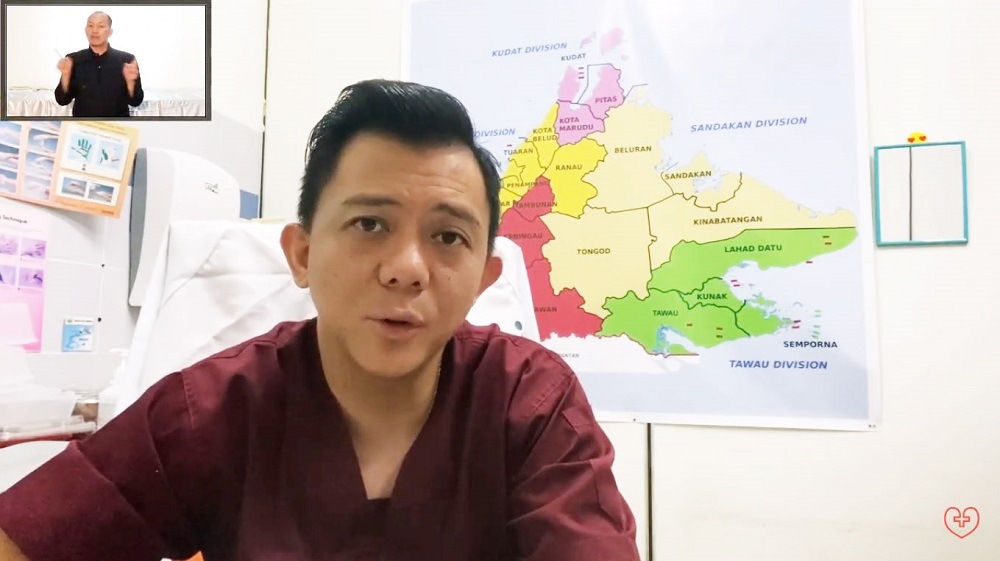 Dr Erle Stanley Henry, Queen Elizabeth Hospital
Sharing by frontliner, Dr Erle Stanley Henry, Pathology Department, Queen Elizabeth Hospital during online Vigil Prayer by Sacred Heart Cathedral Oct 18
"As for now, people are still moving about freely as if it is pre-covid era. How many are actually really complying with the SOP? Your  seemingly small ignorance could be one of the reasons that the number of cases is unable to come down."
IN this COVID pandemic, it is not the first time that I am faced with this kind of situation.
I have experienced a similar situation in 2009 during the Swine Flu pandemic. I remembered that the battle was not as long, and we succeeded in controlling the spread. There was no MCO at that time but everyone practiced good hygiene and followed the control infection guidelines. Churches advised the parishioners not to hold hands during the Communion Rite, not to have contact or hug anyone during the Sign of Peace and there was no Holy Water at the entrance of the Church. Yes the spread was well-controlled.
Lab staff preparing polymerase chain reaction kits for covid sampling
But what is happening right now is different. The spread of COVID-19 is so fast. It started early this year, at a safe level, and became more alarming around March.
I was asked to help set up a COVID Mass Screening Area (CMSA) at Queen Elizabeth Hospital regarding the sampling technique and also the sample management. During this period, everyone was afraid of this tiny virus as it was new and not much known about its nature.
However, thanks to World Health Organization (WHO) who kept us updated about the virus in terms of its testing and management. During the first MCO, the spread of the virus was actually slowing down and we managed to bring down the curve of infection in Malaysia. It went quite well and we, especially the healthcare workers, were relieved that the spread of the virus was going down.
There were some positive cases but it was only in a single digit for Sabah. In the laboratory, the working hours that started from 24 hours at the beginning of MCO, eventually went back to normal office hours.
Also, those who volunteered for CMSA were able to return to their respective department and resumed normal tasks.
As for me, I got to take short breaks like going for family vacation twice in July and August. Despite all that, we were still following the SOP.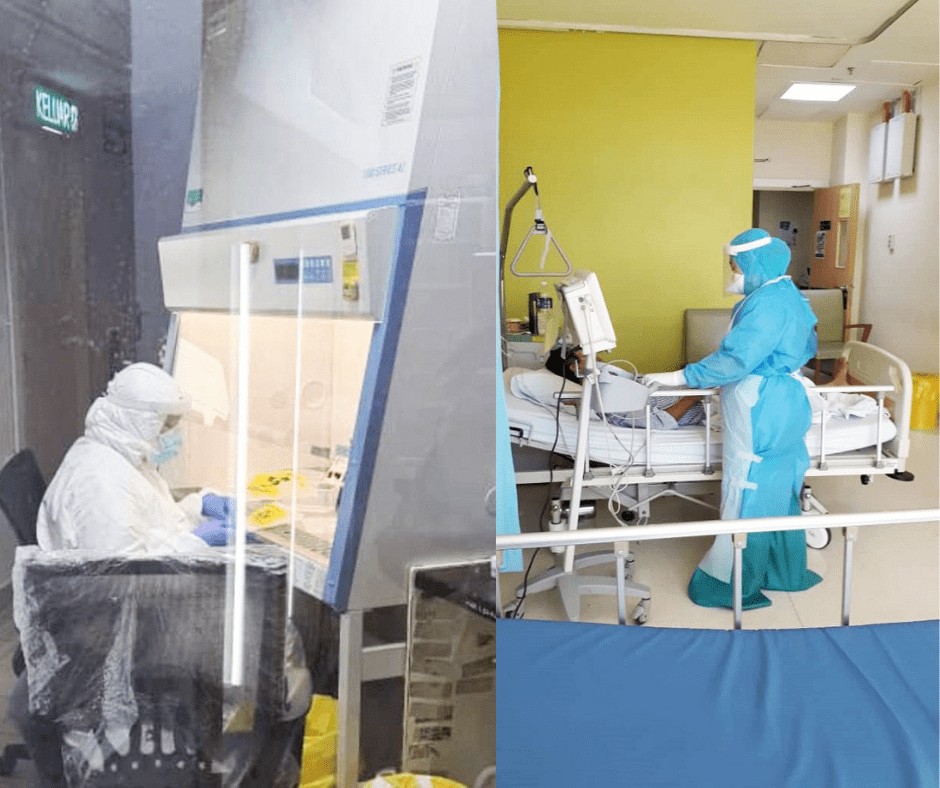 Left: Processing covid samples. Right: Treating covid patient
Although we have predicted that the number of cases would increase since there was SOP-ignorance movement, but without warning this tiny culprit managed to spread faster from one person to another, while some of the infected people were asymptomatic. It indicated that people have taken the SOP lightly.
From my observation, I saw people wearing facemasks but only covering their mouth and not properly up to their nose. Some also coughed in public without properly covering their mouth. They also did not try to distance themselves between one another.
We tend to forget that we are battling with something that cannot be seen with the naked eye. Little do we know, we can get this virus from anywhere if we are not careful. We might get it from work, supermarket, between close friends, even while wearing a used facemask.
I say this because some touched the outer layer of their facemask and then touched other people. Moreover, they even let their mask be in contact with probably contaminated surface, for example, a table that is not clean after a contact. If the virus is present on the table, someone who touches the table, may get infected as well. This is how the chains of the spread become never-ending.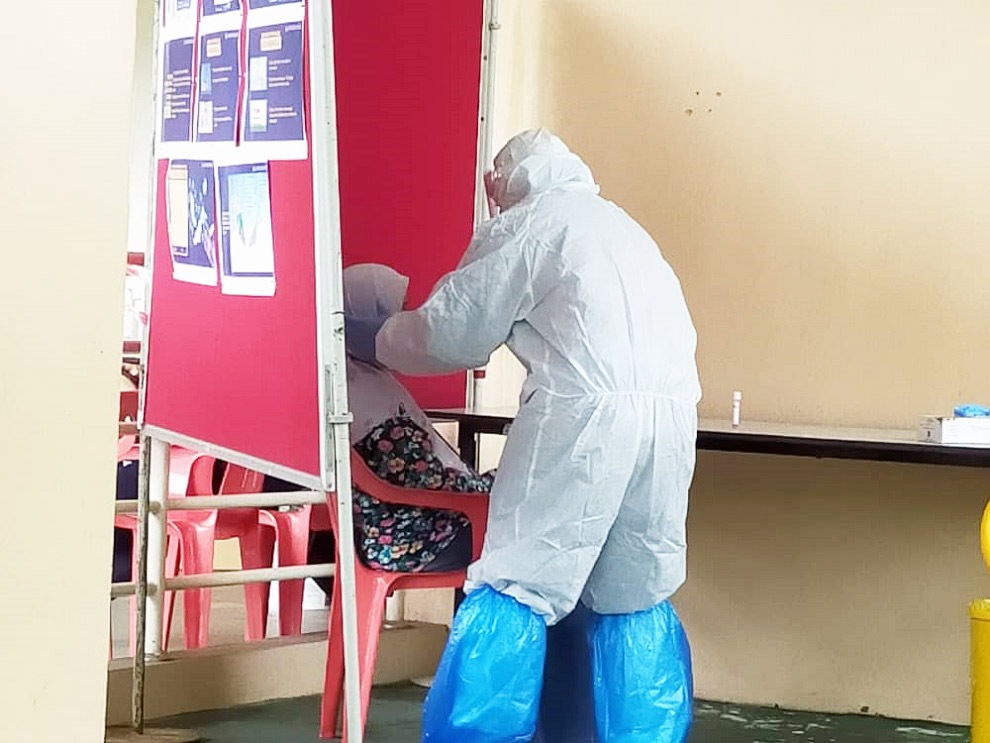 Dr Erle doing the covid-19 test swabbing
In my experiences as one of the frontliners doing swab test, just like all of you, I am scared to be infected by this virus. It is not because it may harm me, but I am afraid of infecting others.
This can cause more trouble, for example, the infected person who has to be quarantined, can become mentally distressed. Other than that, it may worsen their health condition. The worst of all, even if one person is infected, it may cause the whole workplace or any place they visited to be shut down. These are my concerns.
The new wave is a lot worse when compared to the first one where we received many samples but not many were positive. We are in the beginning of a third wave and the number of samples doubled from the previous and there were more positive samples.
To go through this again is indeed tiring. We need to be in full PPE (personal protection equipment) all the time and to take shower after use. There are healthcare workers who do not fancy having multiple showers in a day because they cause skin irritation and skin allergy.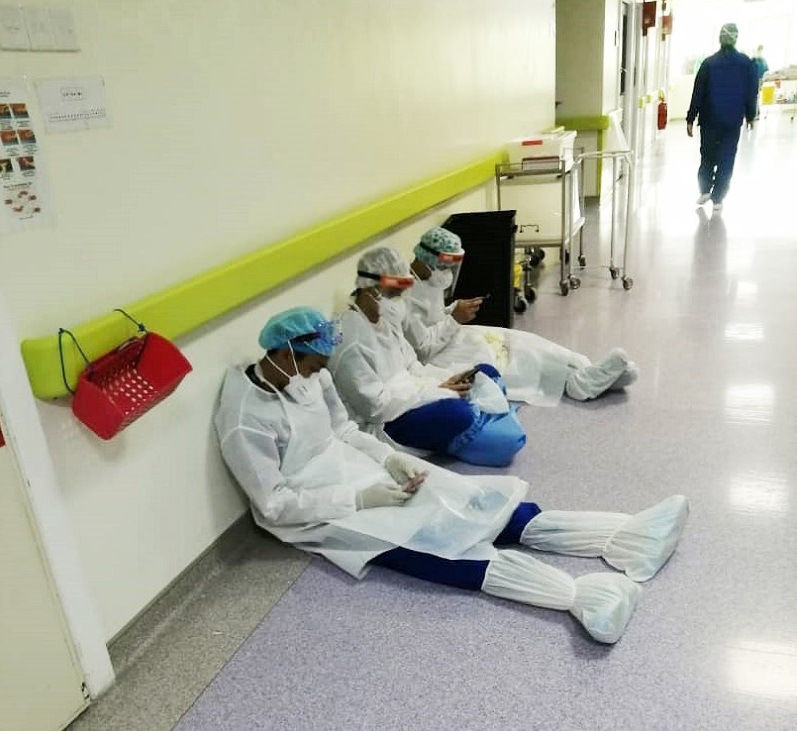 Doctor and nurses taking their rest
Being in full PPE is also troublesome, because when we need to make a pee, we have to take off and throw away our PPE, and put on a new set of PPE after we ease ourselves. This can happen multiple times a day. That is why some of us rather become dehydrated to avoid the tedious process of wearing PPE multiple times.
More than that, we frontliners miss our family too, our children, parents, friends and loved ones. Some healthcare workers avoid being in contact with their precious ones and some prefer staying at the hospital performing their duties for the patients.
Can you imagine our distress? We also get de-motivated having to constantly hold out on our hunger and thirst. We are exhausted and hoping that one day this will end.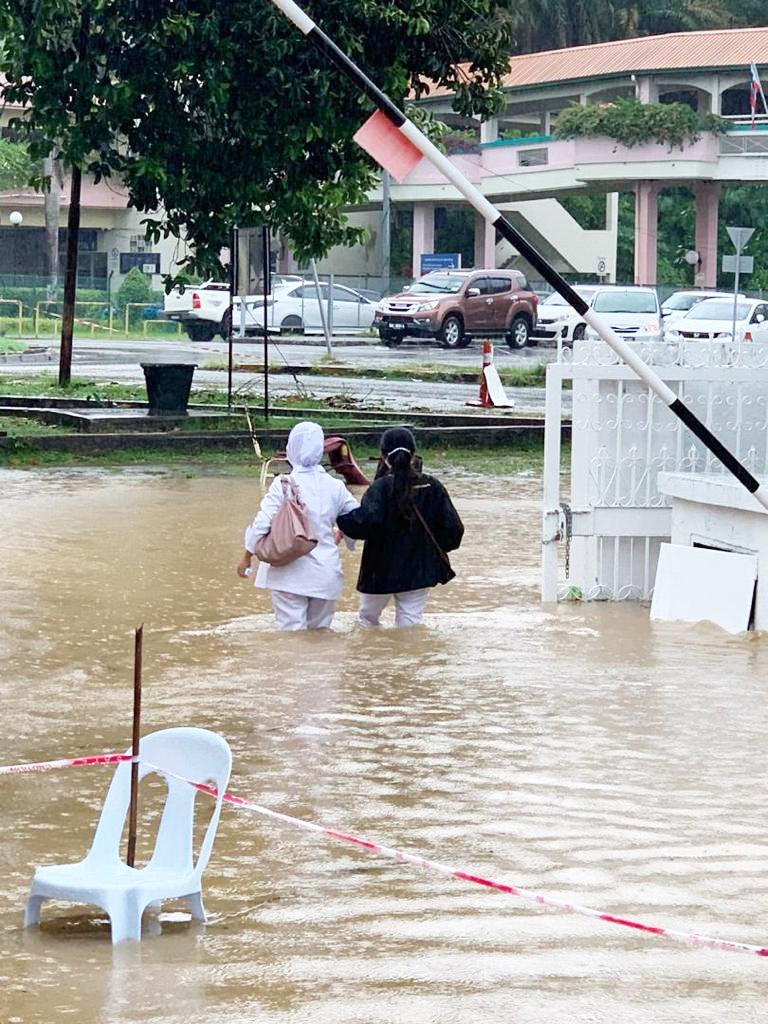 CMSA QEH1 flooded during recent rains
However, we are grateful because the public understands our struggle and some have provided us with packed food throughout this battle. We welcome those who want to help in terms of food supplies or anything appropriate they can offer, to help the frontliners. To do this, they can go through the EOCC at the QEH if they want to offer help.
Furthermore, with all these ongoing challenges faced by the frontliners, I believe most of us have seen video clips of frontliners begging everyone to stay at home. It is because by staying at home, we can be assured of a high chance of controlling the spread.
As for now, people are still moving about freely as if it is pre-covid era. How many are actually really complying with the SOP? Your seemingly small ignorance could be one of the reasons that the number of cases is unable to come down.
Finally, I hope everyone can empathized of what we are going through. Let's refrain ourselves from crowd gathering, practice physical distancing, follow the right etiquette of wearing facemask, always dispose used masks, sanitize or wash our hands all the time, and clean any exposed surfaces and items. Follow the SOP, or, even better, just stay at home and let the frontliners take care of the rest. For as long as we can hold on.
Above all, we need to unite our prayers, begging God for his pardon, mercy and protection, praying for this pandemic to end soon, and asking God for his help to develop the vaccines. Please continue to support and pray for us frontliners, as well as for everyone.
Thank you everyone, take care and God bless us all.