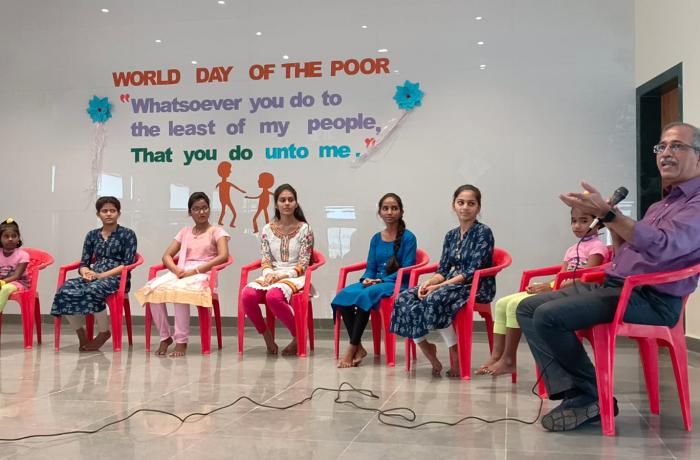 Auxiliary Bishop Allwyn D'Silva spent the day visiting shelters in the Pokhran area
The Churches of Asia yesterday marked the observance established by Pope Francis. Auxiliary Bishop D'Silva of Mumbai listened to their stories. Philippine Bishop Pabillo told election candidates not to spend money on the poor, not on ads or bribes. In South Korea, a local cardinal and a new archbishop served food.
MUMBAI – Yesterday Catholic communities across Asia celebrated the Fifth World Day of the Poor, an observance established by Pope Francis to highlight the place of the poor in the life of the Church.
In Mumbai, Auxiliary Bishop Allwyn D'Silva spent the day visiting shelters in the Pokhran area.
At noon, he had lunch with residents at the Ma Niketan home for girls, a facility run by the Society of the Helpers of Mary, which since 1972 has been caring for abandoned girls in the slums of Mumbai, who here have a future and a chance for growth.
In the afternoon he went to Divya Prabha, another hostel run by the Poor Sisters of Our Lady which takes in orphans and accompanies them until they come of age.
"Usually, we give food to the underprivileged," Bishop D'Silva told AsiaNews. "This practice is done in most parishes," but this year "we wanted to give more room to listening; so I spent more time doing that with the girls, about 120, hearing their stories and dreams."
"I was struck how many of them have lost their parents to the pandemic. Listening to their stories was a very enriching experience for me and a token of the synodal approach."
Bishop Broderick Pabillo, apostolic vicar of Taytay in the Philippines, has always been very close to those who live in slums.
For this occasion, he uttered particularly strong words in his homily in a country gripped by election fever ahead of next spring's election.
For the prelate, candidates ought "not to spend money on election signs, TV and radio spots, social media campaigns or even bribes." Instead, they should "spend money on doing good, helping people in concrete ways. Whether you win or lose you will have helped the poor and the country anyway. This is the best ad."
In Seoul, Cardinal Andrea Yeom and newly elected Archbishop Jeong Sun-taek went to a soup kitchen in Myeongdong where they personally served food.
"I hope that we will be able to share our hearts," said Cardinal Yeom, "so that we can become a society where we can live together as brothers before God." – AsiaNews