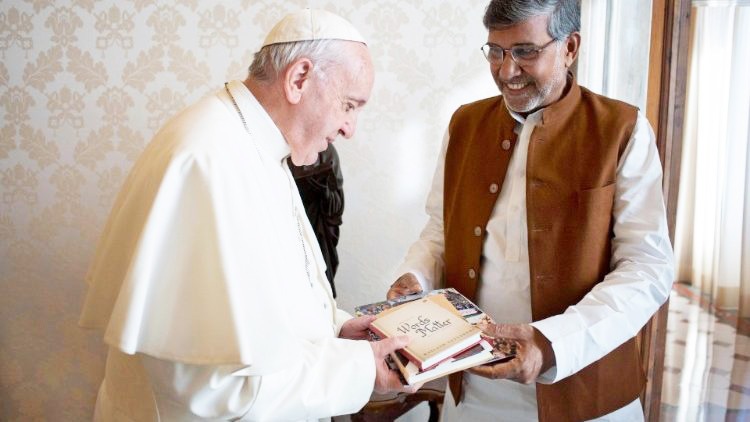 Pope Francis receiving Kailash Satyarthi in the Vatican on November 16, 2018 | ANSA
Kailash Satyarthi, India's leading crusader against child slavery and child trafficking, fears that progress made against the scourges could roll back because of the Covid-19 pandemic.
Kailash Satyarthi has been rescuing children from slavery and trafficking for the past four decades. He fears the pandemic, which is wreaking havoc on the Indian economy, is pushing millions of people into poverty, with families forced to put their children to work to make ends meet.
"The biggest threat is that millions of children may fall back into slavery, trafficking, child labour, child marriage," Satyarthi, told Reuters news agency. 
He and Pakistan's Malala Yousafzai, were jointly awarded the 2014 Nobel Peace Prize, "for their struggle against the suppression of children and young people and for the right of all children to education".
Child labour
The United Nations children's fund, UNICEF, estimates there are 152 million children – 64 million girls and 88 million boys – in child labour globally, accounting for almost one in ten of all children.
While rates of child labour have declined over the last few years, about 10.1 million children are still in some form of slavery in India. 
Across India, child labourers can be found in a variety of industries such as brick kilns, carpet-weaving, garment-making, domestic service, food and refreshment services (such as tea and food stalls), agriculture, fisheries and mining.
"Once children fall into that trap they can be pulled into prostitution and can be trafficked easily … this is another danger which governments have to address now," Satyarthi said.  He believes sexual abuse of children is also on the rise due to the pandemic.
The Bachpan Bachao Andolan (Save Childhood Movement), which Satyarthi founded in 1980, has so far rescued more than 90,000 children from slavery, including bonded labourers, and helped in their successful reintegration, rehabilitation and education.  
Earlier this month, his organisation backed by police, rescued dozens of girls during a raid on a shrimp processing unit in western India. 
Child marriage
UNICEF estimates at least 1.5 million girls under 18 get married in India, which makes it home to the largest number of child brides in the world, accounting for a third of the global total.  Nearly 16 per cent of adolescent girls aged 15-19 are currently married.
While the prevalence of girls getting married before age 18 has declined from 47 per cent to 27 per cent between 2005-2006 and 2015-2016, UNICEF considers it is still too high.
According to government estimates, more than 10 million workers engaged in the informal and unprotected labour market, lost their jobs during the prolonged lockdown from the end of March to early June, pushing them deeper into poverty.
With more mouths to feed and the inability to make ends meet, pressure is building on families to give off their girls in marriage.
Childline, a children's helpline, told BBC there is a 17 per cent increase in distress calls related to early marriage of girls in June and July this year compared to 2019.
Supporting poorest families
According to Satyarthi, the pandemic has exposed and exacerbated the deep inequalities faced by the poorest families, who are the least equipped to protect themselves in times of global crisis.
"However, despite unprecedented government spending to protect national interests and the global economy," he warned, "little has been allocated to protect the 1 in 5 children who live on $2 per day or less."  Without urgent action now, he said, "we risk losing an entire generation".
If the world gave the most marginalised children and their families their fair share, which translates to 20 per cent of the COVID-19 response for the poorest 20 per cent of humanity, he said, the results would be transformative.
In a recent statement, Laureates and Leaders for Children, which Satyarthi founded in 2016, warned that COVID-19 could turn the clock back a decade or more on progress made on the issues of child labour, education, and health for hundreds of millions of children.
"I cannot be satisfied even if one single child is enslaved," Satyarthi told Reuters. "It means there is something wrong in our policy, in our economy, in our society. We have to ensure that not a single child is left out," he added. – Vatican News