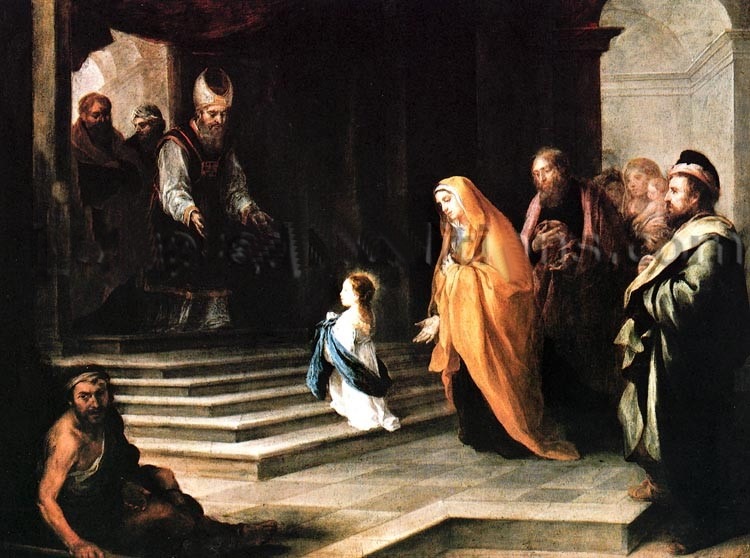 First reading Apocalypse 11:4-12
The prophets will die who have been a plague to the world
I, John, heard a voice saying: 'These, my two witnesses, are the two olive trees and the two lamps that stand before the Lord of the world. Fire can come from their mouths and consume their enemies if anyone tries to harm them; and if anybody does try to harm them he will certainly be killed in this way. They are able to lock up the sky so that it does not rain as long as they are prophesying; they are able to turn water into blood and strike the whole world with any plague as often as they like. When they have completed their witnessing, the beast that comes out of the Abyss is going to make war on them and overcome them and kill them. Their corpses will lie in the main street of the Great City known by the symbolic names Sodom and Egypt, in which their Lord was crucified. Men out of every people, race, language and nation will stare at their corpses, for three-and-a-half days, not letting them be buried, and the people of the world will be glad about it and celebrate the event by giving presents to each other, because these two prophets have been a plague to the people of the world.'
  After the three-and-a-half days, God breathed life into them and they stood up, and everybody who saw it happen was terrified; then they heard a loud voice from heaven say to them, 'Come up here', and while their enemies were watching, they went up to heaven in a cloud.
Responsorial Psalm 143(144):1-2,9-10
Blessed be the Lord, my rock.
Blessed be the Lord, my rock,
  who trains my arms for battle,
  who prepares my hands for war.
He is my love, my fortress;
  he is my stronghold, my saviour
my shield, my place of refuge.
  He brings peoples under my rule.
To you, O God, will I sing a new song;
  I will play on the ten-stringed lute
to you who give kings their victory,
  who set David your servant free.
Gospel Luke 20:27-40
In God all men are alive
Some Sadducees – those who say that there is no resurrection – approached Jesus and they put this question to him, 'Master, we have it from Moses in writing, that if a man's married brother dies childless, the man must marry the widow to raise up children for his brother. Well then, there were seven brothers. The first, having married a wife, died childless. The second and then the third married the widow. And the same with all seven, they died leaving no children. Finally the woman herself died. Now, at the resurrection, to which of them will she be wife since she had been married to all seven?'
  Jesus replied, 'The children of this world take wives and husbands, but those who are judged worthy of a place in the other world and in the resurrection from the dead do not marry because they can no longer die, for they are the same as the angels, and being children of the resurrection they are sons of God. And Moses himself implies that the dead rise again, in the passage about the bush where he calls the Lord the God of Abraham, the God of Isaac and the God of Jacob. Now he is God, not of the dead, but of the living; for to him all men are in fact alive.'
  Some scribes then spoke up. 'Well put, Master' they said – because they would not dare to ask him any more questions.
______________________
21st November 2020. Saturday 33rd Week of Ordinary Time – Presentation of the Blessed Virgin Mary
Reflection
Revelation 11:4-12, Luke 20:27-40
"God of the living, not of the dead"
The Sadducees wanted to test Jesus and so they put to him a question about resurrection. They did so because they expected Jesus to prove himself to them. Instead of impressing the Sadducees with the theological answers, Jesus went beyond and pointed to them the reality that God is not God of the dead, but of the living.
This is the God we believe in! He who is the God of the living is also the God of love. Thus, we are called to live our lives by loving God and loving others. This is the true source of our joy when we live fully by loving fully.
Question for reflection:
1) What is Jesus' personal invitation for me this day?

Sabtu, 21 November, Santa Maria dipersembahkan kepada Allah
Renungan
Wahyu 11:4-12,
Lukas 20:27-40
Allah untuk orang hidup, bukan untuk orang mati
Orang-orang Saduki tersebut ingin menguji Yesus dan kerana itu mereka bertanya kepada-Nya tentang kebangkitan. Mereka melakukannya kerana mengharapkan Yesus membuktikan diri-Nya kepada mereka. Namun Yesus tidak memberikan jawapan teologi, sebaliknya Yesus melangkah lebih jauh dengan menunjukkan kepada mereka kenyataan bahawa Allah bukanlah Allah orang mati, tetapi Allah untuk orang hidup.
Ini merupakan Allah yang kita percaya! Dia yang adalah Tuhan yang hidup juga adalah Tuhan yang penuh kasih. Oleh kerana itu, kita dipanggil untuk menjalani hidup kita dengan mencintai Tuhan dan sesama. Ini adalah sumber sejati kegembiraan kita ketika kita hidup dengan mencintai sepenuhnya.
Soalan renungan:
1) Apakah jemputan peribadi Yesus kepada saya hari ini?

21 November 2020, Orou Koonom Minggu' Kaindalaman Katalu ngoopor am talu, Presentation of the Blessed Virgin Mary
Pinaintalang 11:4-12, Lukas 20:27-40
I Aki Kapuuno' ru ondo' maayag, sala' ka ondo' matoi
Ulun-ulun Saduki masaga' mangkinam ri Jisus am ginio ra pangkuot Ilo Riso ra kaayagan saguli'. Kinoii nilo raginio sabap ra indoson nilo mampakito i Jisus ra osoi Io sotopot no risilo. Kaa' suai ra mampaimuag ra ulun-ulun Saduki ra taaman teologi, nambala' i Jisus risilo ra ondo sotopot no i Aku Kapuuno' sala' ka i Aki Kapuuno' ru ulun matoi, kaa' ondo' maayag.
Gitio noyo i Aki Kapuuno' ondo' intopoton takau! Io noyo i Aki Kapuuno' ru ondo' maayag am niayuk i Aki Kapuuno' ru togom. Kaa' itakau noyo piawon koson maayag ra motogom ri Aki Kapuuno' am ulun ra bokon. Gitio noyo puun ondo' motopot ru kaansukan takau paat ra itakau maayag tojojo am motogom tojojo.
Pangkuatan ra paguangin:
1) Atan kia pangkimaitan galama' ri Jisus raki' ra orou raiti'?

21-11-2020 Hari Enam Minggu Selama Ka-33 – Maria Dara Tuchi Dienjok.
Renungan
Pemandang 11:4-12; Luke 20:27-40
"Allah Taala ka orang ti idup, ukai orang ti mati."
Orang Saduki deka nguji Jesus enggau nanya Iya pasal hari Pengangkat. Sida ngadu kenya ngambi Jesus ulih mandangka sapa Iya. Tang, Jesus nyaut sida lalu ngajar sida pasal pengamat Allah Taala ukai Allah Taala orang ti mati tang ka orang ti idup.
Tu meh Allah Taala ti diarap ka kitai!Iya Allah Taala ka orang ti idup, Allah Taala ti bepengerindu. Nya kebuah kitai dikangau awak diau dalam pengidup rinduka Allah Taala sereta rinduka orqng bukai. Tu meh pun pengaga ati kitai ka amat lebuh kitai amat rindu enggau nadai betakat.
Nama kangau Jesus ka aku saritu?

2020年11月21日 常年期第三十三周双数年星期六
圣母奉献日
省思
《默十一:4-12》
《路二十:27-40》
"活人的天主,不是死人的"
撤杜塞人想要试探耶稣,所以他们问了一道有关复活的问题。他们这么做是因为他们预测的是耶稣将证明自己的身份。与其以神学的答案来满足这些撤杜塞人,耶稣选择了倒不如超越此了桎梏,并且向他们指出天主不是死人的天主,而是活人的天主。
这是我们信实的天主!祂是活人的天主,也是仁爱的天主。因此,我们受到了召唤,把自己的生命活出爱天主及爱众人的精髓。当我们能够以完整的爱活在圆满里的时候,那将会是我们喜乐的真正泉源。
省思题:
1)今天耶稣向我发出了什么样的个别邀请呢?

Acknowledgment: Reflections are based on "Prayer for Living: The Word of God for Daily Prayer Year A" by Sr. Sandra Seow FMVD.