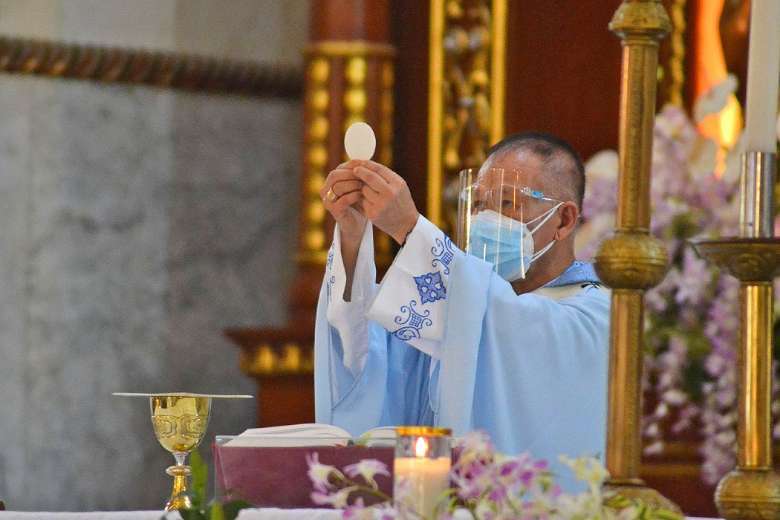 Cardinal Advincula celebrates Mass on Dec. 8 during the Solemnity of the Immaculate Conception in Roxas City, the Philippines. (Photo supplied)
By Joseph Peter Calleja, Manila
Young people are called on to become more active in helping the needy during and after pandemic
A diocese in the Philippine capital Manila has kicked off a youth festival by encouraging young people to take an active part in cushioning the effects of the Covid-19 pandemic among the poor.
The virtual event being held this week by Cubao Diocese in Quezon City has the theme "Arise! Young Man, I Say to You Arise" which was adopted from Pope Francis' message in this year's World Youth Day for young people to take up a more prominent role in church affairs.
Young people were true witnesses of faith and must share their energy with the Catholic Church and its mission, Bishop Honesto Ongtioco said in a homily during a live-streamed Mass to start the event.
"Our youth have a lot of energy. Hopefully, we can use that energy to grow our faith to be able to inspire other people," he said.
The bishop called on young people to utilize and devote their time to the service of the needy.
"My dear young people, you are the hope of the church, the hope of our diocese. Hopefully, you will respond," he said.
Citing the recently beatified, Carlo Acutis, Bishop Ongtioco called on young people to use modern technology to spread the Good News.
Blessed Acutis has become known as the patron saint of millennials due to his internet skills for documenting Eucharistic miracles and listing them on a website before his death.
"Be inspired by the English-born Italian youth who devoted his time and skills to modern technology. Blessed Acutis proved that sainthood is possible for young people in this computer age," Bishop Ongtioco said.
The youth event was being conducted online due to pandemic restrictions that included activities such as talks, testimonies, and prayer sessions.
According to government figures young people aged 15-30 years old represent more than 40 percent of the total Philippine population.
Meanwhile, newly installed Cardinal Jose Advincula has called on churchgoers to be living witnesses and missionary disciples during these difficult times.
He said churchgoers need to be creative in becoming missionaries of the Catholic Church.
"Even if most of us are forced to stay at home, we can still carry out our mandate to be missionary disciples. Through our words, actions and our total commitment to the faith, we can all preach the Gospel to others around us be it at home, work-places, schools and within our small communities," he said in a homily during a Mass this week in Roxas City. – UCANews