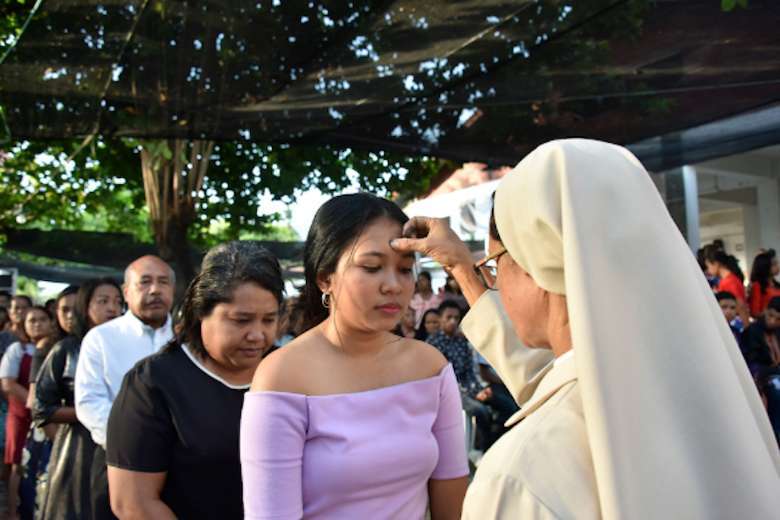 A nun applies ash to a woman's forehead during Ash Wednesday at Motael Church in Timor-Leste capital Dili on Feb. 26, 2020. The tiny nation has managed to keep Covid-19 at bay. (Photo: AFP)
The Catholic-majority nation shows the world how to vanquish a mighty, invisible enemy
Timor-Leste is infamous for endemic poverty, a fragile healthcare system, a largely inefficient public administration and volatile politics. The tiny Southeast Asian nation was predicted to be hit by a perfect storm when it recorded its first case of coronavirus on March 21 last year.
The country's only ventilator was at the national hospital in capital Dili, illustrating how the nation of 1.3 million was poorly equipped to combat the virus threat.
Moreover, it was very difficult to impose health safety measures like the use of masks, sanitizers and physical distancing as Timorese people love a vibrant social life.
A strict lockdown in the form of an emergency was risky as about 40 percent of the nation are classified as poor and per capita national income stands at slightly over US$1,500. Its economy was expected to grow by about 6 percent, the lowest rate since its independence from Indonesia in 1999.
Most socioeconomic development enterprises in Timor-Leste largely depend on foreign aid in the form of assistance from UN agencies and other international charities, making it the 20th most aid-dependent nation in the world.
Yet, more than 10 months on, the Catholic-majority country has emerged as a remarkably successful victor against the mighty, invisible enemy, defying all odds while wealthy and well-placed nations in the West and other parts of Asia continue to struggle.
Timor-Leste has recorded 46 cases of Covid-19 — all imported and with no community transmissions as of Jan. 5. It is one of the few nations in the world, including Cambodia, to have not reported a single death from the virus.
This laudable success comes against the backdrop of the virus continuing to ravage its large neighbor and former colonizer Indonesia, which has recorded over 772,000 cases and nearly 23,000 deaths.
The victory against Covid-19 resulted from a multi-pronged approach that brought the whole nation under a strong umbrella for protection. It was crucial for survival amid little choices given that Timor's weak healthcare system couldn't withstand a raging contagion.
A series of quick and decisive actions by the government saved the nation from an impending disaster. Political and church leaders joined hands to cooperate in the time of crisis to turn the tables.
From early March, Timor-Leste cut ties with the outside world and banned all commercial international flights except for a few repatriation carriers. Simultaneously, it closed land borders with Indonesia but allowed their opening every 17 days. A maximum 200 crossings were permitted each time. All goods were duly disinfected and a mandatory two-week quarantine was enforced for people who entered the country. People in border zones allowed the government to use their houses as quarantine facilities.
Although the border now opens once a week, strict border control measures including testing and quarantine are still operational.
At the political level, a rare consensus between oft-feuding political parties was reached and all parties agreed to allow President Francisco Guterres to declare a state of emergency from the end of March that continued up to June. It was a rare occasion when political rivals accepted slashing political and constitutional rights for the sake of salvation from the global pandemic.
Despite a breakdown in the national coalition, Taur Matan Ruak of the People's Liberation Party survived as prime minister and mended ties with President Guterres of Fretilin. The premier was able to approve the national budget in October.
The government formed the Integrated Center for Crisis Management led by former prime minister Rui Maria de Araujo to streamline efforts to combat the pandemic and set up administrative machinery to coordinate the state response.
The pandemic has also offered an opportunity to transform and improve the country's healthcare system.
In March, Timor-Leste had no testing facility, forcing authorities to send samples to Australia for testing, which required at least four days to receive results. The country later developed and implemented its testing, isolation and surveillance strategies and capacities.
More than 16,400 people have been tested and surveillance reports suggest there is no sign that Covid-19 can wreak havoc in the nation despite limited testing.
Through Timor-Leste is foreign aid-dependent, it was able to self-fund compensation packages to poor and low-income people in the time of emergency.
While non-government organizations and the private sector offered people rice, eggs and soap among other things, the government offered a monthly subsidy of US$100 to households with less than $500 monthly income.
More than 95 percent of Timorese people are Catholics spread in the archdiocese of Dili and dioceses of Baucau and Maliana. The Church was at the forefront in the battle against the pandemic even before the government declared a state of emergency.
Archbishop Virgilio do Carmo da Silva of Dili ordered the suspension of public Masses and church activities just hours after the first case of Covid-19 was confirmed on March 21 in a Timorese citizen who returned from an overseas trip.
The prelate had also instructed Catholics to refrain from using holy water at church entrances, from kissing statues or any form of physical contact with fellow churchgoers. Similar measures were followed by the dioceses of Baucau and Maliana.
Archbishop da Silva described the proactive measures as an act of solidarity with the universal Church and Pope Francis, who announced in mid-March that the Vatican would celebrate Easter without the attendance of the faithful.
The Church didn't wash its hands by locking churches, stopping services and urging the faithful to remain vigilant and resilient. It formed a pastoral task force consisting of priests, religious and laypeople to offer counseling and spiritual care. Church groups and the Church's social agency Caritas reached out to the poor and needy.
The archbishop of Dili redirected funds donated by the Korean Church for a new nunciature to help in the fight against the pandemic, the Vatican's Agenzia Fides reported.
People in Timor-Leste should feel proud of their brave, united and effective fight against Covid-19 despite many follies. The way this global pandemic brought together social, political and religious leaders on the same page is a great example to nations around the world.
While Timor-Leste will be remembered for its successful battle against the brutal virus, the largely Catholic Timorese people should learn lessons from here to defeat other evils like poverty, corruption, unemployment and political instability from national life.
Rock Ronald Rozario is a journalist and commentator for UCA News based in Dhaka, Bangladesh. The views expressed in this article are those of the author and do not necessarily reflect the official editorial position of UCA News. – UCANews