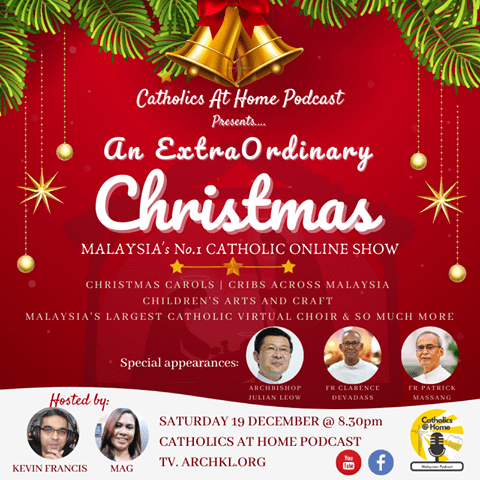 KUALA LUMPUR – Unlike the past Christmas, this year's celebrations will be different, with social distancing, no gatherings and no parties, some may not feel the need to celebrate the coming of Christ.
And because of that, Catholics At Home Podcast has put together an online Christmas Show called The Extraordinary Christmas Special and would like to invite everyone to join in the Malaysia's first-ever Catholic Christmas Online Show on Saturday, Dec 19 at 8.30pm.
The online show will include key messages from Fr Clarence Devadass and Fr Patrick Massang on how to share the joy of Christmas with people around us, Christmas Carols, Children's Arts & Crafts Special for the young ones, a special message from Archbishop Julian Leow of Archdiocese of Kuala Lumpur and will premiere the Malaysia's Largest Ever Christmas Catholic Virtual Choir.
The extraordinary Christmas Special will be hosted by Kevin Francis and MAG at YouTube: https://bit.ly/ExtraOrdinaryChristmas_Special_YT and Facebook https://bit.ly/ExtraOrdinaryChristmas_Special_FB