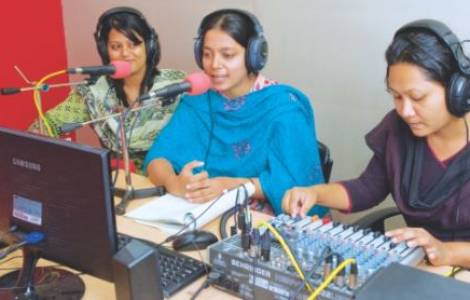 Dhaka (Agenzia Fides) – "Through Radio Veritas Asia's Bengali-language service, over the past forty years we have offered our listeners what is most important: directly and indirectly, our station preaches the Gospel and Christian values". This is what Father Augustine Bulbul Rebeiro, Director of the "Christian Communication Center" (CCC) of the Catholic Bishops' Conference of Bangladesh in Dhaka says to Fides, where the 40th anniversary of the national Catholic broadcaster was celebrated in December 2020.
It is one of the 22 languages active within the framework of the Radio Veritas Asia (RVA) service, promoted by the Federation of Asian Bishops' Conferences.Father Augustine Bulbul Rebeiro, tells Fides: "We have never interrupted our program, not even in times of pandemic. This is an important result.
We have faced and accepted the transformation of modern technology. In the past, the station operated on shortwave, but now we produce and broadcast radio programs through a website or Facebook live". The station's audience – he explains – has gradually increased. "In the past 98% of total listeners were Muslims.
Today 55% of listeners and viewers are Muslim, 5% are Hindus and the rest Christians. In addition, thanks to technological transformations, our public is now connected via the Internet from all over the world".
In the past the service of Radio Veritas Bengala could be simply listened to, now the public can listen, watch and read. In addition to broadcasting radio programs, the station produces and publishes video content on Facebook and YouTube, broadcasting programs in Bengali, the national language of Bangladesh and the main language of the state of West Bengal in neighboring India.
Among the RVA Bengali programs we highlight "Chetona" (Awakening) which focuses on social and contemporary issues such as justice and peace; Jibon O Jibika (Life and survival), "Sonchoye Sabolombon" (Self-esteem and salvation), "Mohot Jibon" (Great personalities), Mohilangan (Women's space) and Sanglap (Dialogue).
Listeners said the Bangali Catholic Radio service has been of great help to them in times of pandemic. Solloyman Hassian, a Tangail listener says: "During the COVID-19 pandemic, I received useful information from the Radio Veritas Bengal service. I thank the radio team".
Radio Veritas Bengala is part of Radio Veritas Asia, a network founded in 1969, with its headquarters in Manila, as a shortwave radio station under the leadership of the Social Communications Office of the Federation of Asian Bishops' Conferences, a collegial body of Catholic bishops in Asia. (FC-PA) (Agenzia Fides, 29/12/2020)