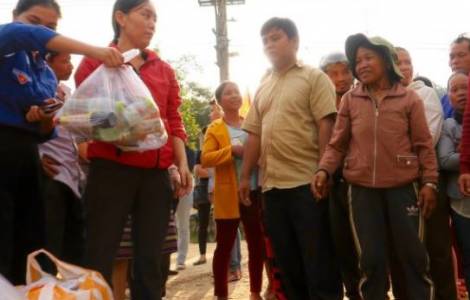 Medical assistance is given to 2500 people every week in Ho Chi Minh City, Vietnam
HO CHI MINH CITY, Vietnam – Catholics and Buddhists in southern Vietnam have organized themselves to provide free medical services to the needy. As Fides has learned, the initiative is led by a group of 200 health workers, social workers and volunteers who, since mid-November, are making it possible to provide health services to about 2500 people every week.
"As the country has faced floods and natural disasters in recent weeks, the most affected are the poor, the elderly and the disabled. They are in urgent need of medical assistance and care. Most of the people we reach suffer from problems or diseases of the eyes, teeth, heart, joints, digestive system and nerves. This service to disadvantaged people is born from faith, from an act of love and shared compassion", explains to Fides Fr. Anthony Nguyen Ngoc Son, vice president of the Association for the support of the disabled and orphans.
"For each intervention – explains the priest – medical expenditure is on average about 15 US dollars. The purpose of this service, activated in partnership, is to provide people with emergency medical assistance and, at the same time, to emphasize on the importance of human dignity, which is inalienable for every human being", observes Fr. Son. The medical team noted that, in addition to health care needs, many of the people reached are in urgent need of food supplies and other services for their survival.
Among the volunteers who provide medical care, there are also nuns. Sister Mary Tran Thi An, head of the "Hoang Mai" Center for Disabled Children, said: "It is beautiful to see that people from various faith communities are united in helping the needy".
Being aware of the fact that recent natural disasters have worsened the situation of poverty and need of large sections of the population, the Bishops of Vietnam have programmed a musical event in order to solicit a special fundraising that will benefit, through foodstufs and humanitarian aid, people hit by tropical storms that also occurred in the central provinces.
Several local NGOs are working tirelessly alongside the government and religious communities to provide aid to those who have lost everything due to natural disasters. The NGO "Pacific Links Foundation" for example supports disadvantaged families by delivering emergency food parcels, but also life jackets and other aid. The current effort is to activate a long-term recovery program, allowing students from the affected provinces to return to school and provide ongoing support to families.
Severe floods and landslides last month left 130 dead and 214 injured, while over 1.5 million people were affected by the floods. The storm is estimated to have damaged hundreds of private homes, public institutions, and destroyed fields and crops for a total value of US $ 100 million.
Subsequently, typhoon Vamco hit the central provinces on November 15, injuring 36 people and damaging more than 9,000 public structures and private homes. Most of the inhabitants of central Vietnam belong to ethnic minorities such as the indigenous Co Tu, communities dedicated to cattle breeding and crafts. The Co Tu live in small huts, easily destroyed by storms and landslides. (SD-PA) (Agenzia Fides, 24/11/2020)