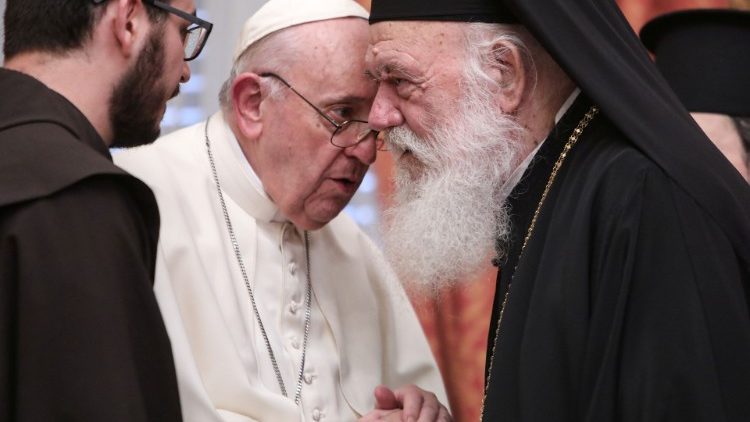 Pope Francis speaks with Greek Orthodox Archbishop Ieronymos II of Athens 
Catholics in Greece are praising Pope Francis' visit as offering the opportunity for a new highwater mark for ecumenical relations with the Orthodox majority.
It's only Day Two of the Pope's Apostolic Journey to Greece, but expats belonging to the Catholic minority are already expressing their hopes for a new season in day-to-day ecumenical relations with the Orthodox majority in Greece.
The Pope spent a good portion of his first day in the EU nation meeting with two Christian communities, speaking to both Catholics and Orthodox about the need for improved relations.
Passion to work together
As he met on Saturday afternoon with the primate of the Autocephalous Orthodox Church of the Greece, Archbishop Ieronymos II of Athens, Pope Francis acknowledged the painful events in the past which have stained relations between East and West.
Following in the footsteps of Pope St. John Paul II, who visited Greece in 2001, the Pope asked for "forgiveness from God and our brothers and sisters for the mistakes committed by many Catholics."
Speaking to the Catholic community in Greece just an hour later, Pope Francis called on the Church to cultivate "a heart desirous of creating communion amid human, cultural and religious differences."
"The challenge is to develop a passion for the whole, which can lead us – Catholics, Orthodox, brothers and sisters of other creeds – to listen to one another, to dream and work together, to cultivate the 'mystique' of fraternity," said the Pope.