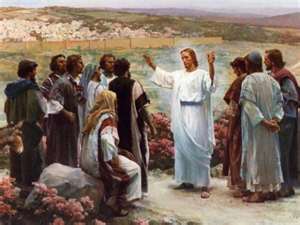 First reading Isaiah 11:1-10 
A shoot springs from the stock of Jesse
A shoot springs from the stock of Jesse,
a scion thrusts from his roots:
on him the spirit of the Lord rests,
a spirit of wisdom and insight,
a spirit of counsel and power,
a spirit of knowledge and of the fear of the Lord.
(The fear of the Lord is his breath.)
He does not judge by appearances,
he gives no verdict on hearsay,
but judges the wretched with integrity,
and with equity gives a verdict for the poor of the land.
His word is a rod that strikes the ruthless,
his sentences bring death to the wicked.
Integrity is the loincloth round his waist,
faithfulness the belt about his hips.
The wolf lives with the lamb,
the panther lies down with the kid,
calf and lion feed together,
with a little boy to lead them.
The cow and the bear make friends,
their young lie down together.
The lion eats straw like the ox.
The infant plays over the cobra's hole;
into the viper's lair
the young child puts his hand.
They do no hurt, no harm,
on all my holy mountain,
for the country is filled with the knowledge of the Lord
as the waters swell the sea.
That day, the root of Jesse
shall stand as a signal to the peoples.
It will be sought out by the nations
and its home will be glorious.
Responsorial Psalm 71(72):1-2,7-8,12-13,17
In his days justice shall flourish, and peace till the moon fails.
O God, give your judgement to the king,
  to a king's son your justice,
that he may judge your people in justice
  and your poor in right judgement.
In his days justice shall flourish
  and peace till the moon fails.
He shall rule from sea to sea,
  from the Great River to earth's bounds.
For he shall save the poor when they cry
  and the needy who are helpless.
He will have pity on the weak
  and save the lives of the poor.
May his name be blessed for ever
  and endure like the sun.
Every tribe shall be blessed in him,
  all nations bless his name.
Gospel Luke 10:21-24
No-one knows who the Son is except the Father
Filled with joy by the Holy Spirit, Jesus said:
  'I bless you, Father, Lord of heaven and of earth, for hiding these things from the learned and the clever and revealing them to mere children. Yes, Father, for that is what it pleased you to do. Everything has been entrusted to me by my Father; and no one knows who the Son is except the Father, and who the Father is except the Son and those to whom the Son chooses to reveal him.'
  Then turning to his disciples he spoke to them in private, 'Happy the eyes that see what you see, for I tell you that many prophets and kings wanted to see what you see, and never saw it; to hear what you hear, and never heard it.'
________________________________________________________
1st December 2020 Tuesday 1st Week of Advent
Reflection
Isaiah 11:1-10, Luke 10:21-24
"True humility is to have an open mind to know God"
Jesus rejoices because God reveals Himself to the unlearned and the simple-hearted people. The "wise and learned" of this world, i.e. those who are too puffed up with pride, tend to think that they know everything, including God and His ways.
In this time of prayer, let us ask God for the grace to dare to be small in His sight, and to listen to what He wants to reveal to us today. May we never tell God, "I know" but to have the humility to pray, "Lord, I don't know. Teach me, surprise me, show me. I am here to learn from you".
Question for reflection:
Do I see the need always to be seen as "wise and learned" or do I recognise that it is alright to be "unlearned" in front of God and even others?

1 hb Disember 2020 Hari Selasa Minggu Adven Ke – 1
Renungan
Yesaya 11:1-10, Lukas 10:21-24
"Kerendahan hati yang sebenar adalah memiliki minda terbuka untuk mengenal Allah"
Yesus bersukacita kerana Tuhan menunjukkan diriNya kepada orang-orang yang sederhana. Orang yang "bijaksana dan terpelajar" di dunia ini, iaitu mereka yang dipenuhi dengan kesombongan, cenderung berfikir bahawa mereka mengetahui segalanya, termasuk pengetahuan tentang Tuhan dan jalan-Nya.
Pada saat doa ini, marilah mohon rahmat dari Tuhan agar kita berani menjadi kecil di hadapan-Nya dan mendengar akan apa yang ingin ditunjukkan Tuhan kepada kita. Semoga kita tidak pernah mengatakan kepada Tuhan, "Aku tahu", sebaliknya semoga kita memiliki kerendahan hati untuk berdoa, "Tuhan, Aku tidak mengetahui apa-apa. Ajarlah aku, tunjukkankanlah kepadaku. Aku di sini untuk belajar daripada mu."
Soalan Renungan: :
Adakah saya melihat keperluan untuk selalu dilihat "bijaksana dan terpelajar" atau adakah saya menyedari bahawa menjadi "tidak terpelajar" di hadapan Tuhan dan sesama bukanlah satu masalah?

1 Disember 2020, Orou Karuo Minggu' Adven Kasaa'
Jisaya 11:1-10, Lukas 10:21-24
Totopot ganaan guang iono makaguang tumutun ri Aki Kapuuno'
Maansukan i Jisus sabap ri Aki Kapuuno' mampatutun ra inan Nano galama' ra ulun-ulun ondo' kalo mapintar am ganaan guang. "Mapintar am mapandai* ra giti ra tana' ti, koson ra ulun ondo' mamanggo ra najanjayan, bambal mangkara' ra ilo no makapandai ra ngaangai', maakaya' i Aki Kapuuno' am ralan Nano.
Paat ra pakiasian ti, ibok kitaako' takau ri Aki Kapuuno' barakat koson baani masauk ra boborok ra pagilangan Nano, am rumongog ra atan masaga' Nano pabalaan ritakau ra orou raiti'. Gama' ru kalo igondo' takau mambala' ri Aki Kapuuno', "Makapandai aku" kaa' mokoondo' ra ganaan guang makiasi', "Tuhan, kalo makapandai aku. Pangila' raki', paliango' aku, pakitono' aku. Giti aku migila' intor rirun."
Pangkuatan ra paguangin:
1) Mokoondo' kia makito ku ra masalok gogoton makakito koson ra "mapintar am mapandai" kapoam mokoondo' kia mauligan ku ra motopot kia masauk ra "kalo mapintar" giu' ra saang ri Aki Kapuuno' am ulun ra bokon?

01-12-2020 Hari Dua Minggu Advent Ka-1
Renungan
Isaiah 11:1-10; Luke 10:21-24
"Pemaroh ati nya meh lebuh ngembuan runding deka ngelala Allah Taala."
Jesus gaga ati laban Allah Taala mandangka Diri Iya ngagai sida ti enda pelajar enggau ngembuan ati ti baroh. "Sida ka landik enggau pelajar" ba dunya tu, sida ti enggai baroh ati lalu berunding nemu semua utai, Allah Taala enggau jalai Iya.
Dalam awak sembiang tu, aram meh kitai minta Allah Taala meri nimet awak kitai ulih baroh ati ba mua Iya lalu mendingka utai ti deka ditusi Iya ka kitai saritu. Awak kitai enda nyebut ngagai Allah Taala, "aku nemu" tang bisi pemaroh ati besampi "Tuhan, aku enda nemu. Ajar meh aku, kenyitka meh aku, pandangka ngagai aku. Tu aku ditu deka belajar ari Nuan".
Bisi aku ingin deka dipeda "landik enggau bepelajar" tauka bisi aku udah nemu nadai salah "enda bepelajar" ba mata Allah Taala enggau ba mata orang bukai?

2020年12月1日将临期第一周星期二
省思
«依十一:1-10»
«路十:21-24»
" 真正的谦孙是在主内拥有一颗豁达的心胸"
耶稣欢欣是因为天主显示自己给那文盲及赤子之心之人。现今自称为"明达和智慧"者乃是那些自我吹嘘的自大者。他们自以为知道一切,甚至天主及其计划。
在今次的祈祷中让我们勇敢地求主赐成为祂眼中最小的那个。除此之外,求祂赐聆听之恩以便明白祂的邀请。
让我们不要向祂说"我知道",反之,谦卑地向祂祈求:"主,我不会。教我,让我有惊喜,启示我,我在此向你学习。"
省思题:
我有必要常常被视为智慧及明达的人吗?还是,我愿承认我在主及他人前是文盲的?

Acknowledgment: Reflections are based on "Prayer for Living: The Word of God for Daily Prayer Year B" by Sr. Sandra Seow FMVD.