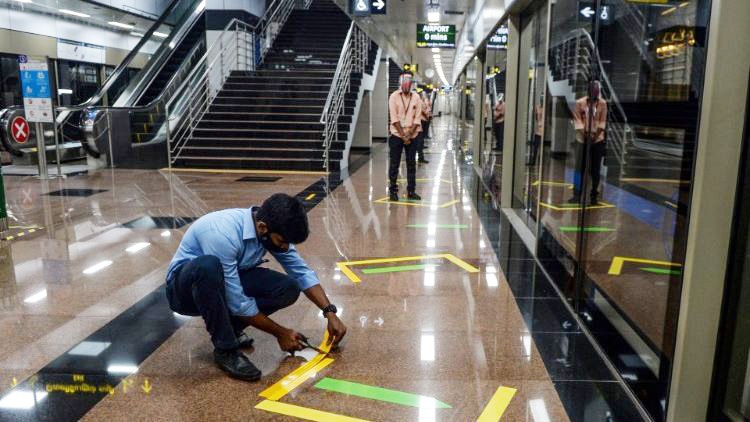 India's Metro Rail in Chennai is preparing to re-open after 5 months | AFP or licensors
The total number of Covid-19 cases in India crossed the 4-million mark on Saturday, making it the third country to do so after the United States and Brazil, both of which lead in the number of infections and deaths. The jump to more than 4 million comes after India reached 3 million cases just 13 days ago.
India's Ministry of Health and Family Welfare (MoHFW) confirmed 86,432 fresh Covid-19 cases in the past 24 hours, a new global daily high, bringing the total caseload in the country to 4,023,179.  Meanwhile, with 1,089 new deaths, the total number of fatalities rose to 69,561. 
1 million in 13 days
The jump to more than 4 million cases comes only 13 days after India reached 3 million cases, accelerating sharply from the more than 100 days it took to increase by the previous 1 million.
The US, Brazil and India are consecutively leading the world in the number of infections and deaths.  At the current rate, India is likely to soon surpass Brazil, which on Friday totalled 4,091,801 infections. 
However, in the number of deaths, India is way behind Brazil, which on Friday totalled more than 125,000.  The US has over 192,000 deaths.  Worldwide, the number of cases stands at 26.7 million, with nearly 880,000 deaths.
Most of India's cases are in Maharashtra, Tamil Nadu, Andhra Pradesh, Telangana and Karnataka states, which accounted for some 65 percent of cases.
The maximum number of 25,586 deaths have been registered in Maharashtra, followed by Tamil Nadu (7,608), Karnataka (6,054), Delhi (4,500) and Andhra Pradesh (4,200).
Easing lockdown, increasing testing
India has been logging record numbers of daily coronavirus cases for almost a month, as the government is pushing to open up businesses to revive a faltering economy.
With a population of some 1.3 billion, India's caseload is not surprising analysts. Initially, the country's battle against the virus was focussed in its sprawling and densely populated cities. It has since spread to almost every state, spreading through the towns and rural areas. The country's delayed response to the virus forced the government to implement a sudden nation-wide lockdown in late March.
With the economic cost of restrictions soaring, authorities saw no choice but to reopen activities, which has seen a spurt in cases.
Over the past several weeks, the country's focus has been on ramping up testing, which has partly led to the sudden jump in recorded daily cases.
According to data from the Indian Council of Medical Research (ICMR), a total of  47,738,491 samples had been tested until Friday, with 1,059,346 samples tested on Friday alone. 
The MoHFW said Friday that, despite the very high testing levels, daily positivity rate is below 7.5 percent and the cumulative positivity rate is less than 8.5 percent. Meanwhile, India's Case Fatality Rate (CFR) has touched 1.74 percent following a steady decline.
India is currently in the Unlock-4 phase after the pandemic hit the country over seven months ago.
Schools and all educational institutions remain shut. The cities' Metro Rails are scheduled to start services gradually, starting September 7. Restaurants and bars are slated to re-open on September 9 after over five months of closure.