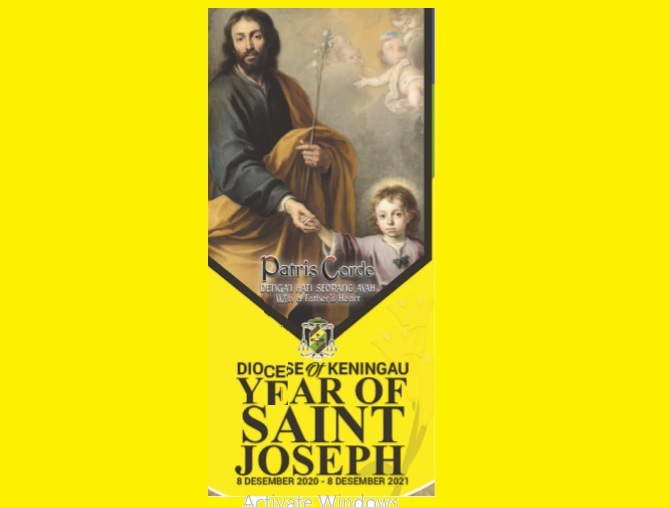 KENINGAU: The Keningau Diocese is one of the earliest dioceses in Malaysia to launch the Year of St Joseph.
The Eucharistic Celebration in conjunction with the launch of St Joseph Year will be held at the Holy Family Pilgrimage Centre Nulu Sosopon, Dec 27, at 10.30am. It will be broadcasted live via the Keningau Diocese Facebook and Youtube. This was announced by Bishop Cornelius Piong during his special segment with the Kekitaan FM Dec 23.
"Pope Francis declared the Year of St Joseph on Dec 8. It will be celebrated for a year until Dec 8, 2021. Along with a theme, With the Heart of a Father (Patris Corde), the Bishop stated that among the initial plans of the Diocese for the Year of St Joseph are to launch of the Year of St Joseph in each parish, catechesis on St Joseph and the celebration of St Joseph on Mar 19, 2021.
Personally, the prelate said the theme of the Year of St Joseph, From the Heart of a Father is something close to his heart.
It was very appropriate to declare the Year of St Joseph at this time in order to help fathers to follow the example of St Joseph and by strengthening their faith to embrace their vocation and mission as fathers. 
Bishop Cornelius has also often personally drawn inspiration from St Joseph, who is courageous and faithful in carrying out his duty to protect Mary and Jesus.
Relying completely on the Holy Spirit, he was able to accept life as it is, with all its contradictions, frustrations and disappointments." Joseph teaches us to trust God, be they happy or sad situations and makes us aware that God can make flowers spring up from stony ground. "As a father, Joseph went through many hardships, challenges and difficulties. For example when he was warned by the angel in a dream of the im minent danger by Herod, Joseph instantly took Mary and Jesus to Egypt. As Mary was nearing the labour of giving birth, surely Joseph was anxious that there was no room or inn for Mary to give birth to Jesus.
"It is for this reason that St Joseph, who is the protector of the universal Church, is also known as a special patron of all those forced to leave their native lands because of war, hatred, persecution, or poverty."
The prelate related his experience 40 years ago, when a group of Vietnamese were stranded at Kuala Penyu. Their ship sank and they had to stay in Kuala Penyu for several months while waiting for help. Many of them were Catholics and fathers. "To lessen their worry and fear, I celebrated Mass with them and told them to remember St Joseph, that he became a migrant in order to protect Jesus and Mary. I urged them to always invoke him, especially in difficult times, and to entrust their life to this great saint." – Herald Malaysia