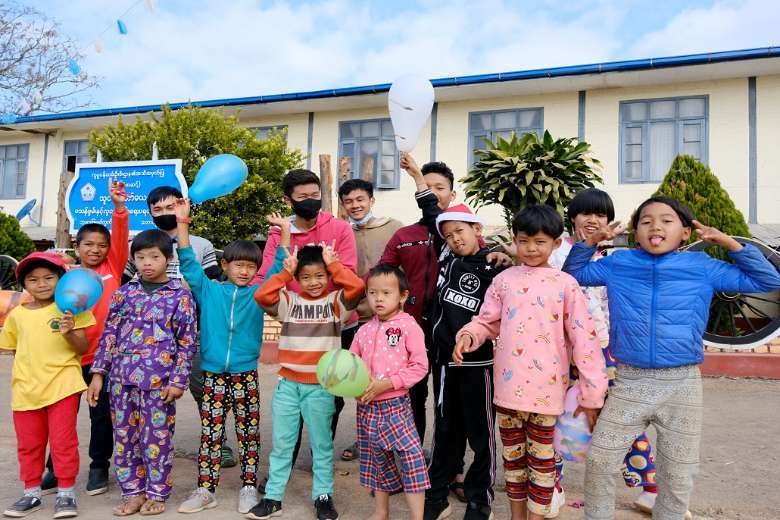 Jesuit brothers and candidates pictured with children at the Holy Infant Jesus Center for the Disabled and Orphans in Phaya Phyi village near Taunggyi in Myanmar's Shan state on Jan.1. (Photo: Myanmar Jesuits)
Religious order fills the gap in responding to Covid-19 by offering aid to the poor and vulnerable
While many people were welcoming the new year with various celebrations such as parties and gatherings, seminarians from the Jesuit congregation in Myanmar reached out to a church-run disabled center.
Young brothers and candidates spent the first day of the year with people with physical impairments and orphans by playing games and other fun activities and preparing food for them.
For Jesuit candidates, it's also a weekly outreach program for the center.
The Holy Infant Jesus Center for the Disabled and Orphans in Phaya Phyi village, 5 kilometers from Taunggyi town in Shan state, houses 200 people from various religions — mostly Catholics, Baptists and Buddhists — drawn from numerous ethnic groups including Shan, Pa-O, Bamar, Lahu, Akha, Chin and Karen.
Some are visually or hearing impaired while others suffer from polio or epilepsy. Several are orphans, while a few have to be physically restrained lest they hurt themselves.
Some 13 nuns from the Sisters of Charity congregation work at the center run by the Archdiocese of Taunggyi.
The center, which has been running for more than five decades, survives on donations, especially from local donors including Buddhists and some Chinese.
It is now struggling to provide food to the residents as there are fewer donations from local benefactors due to the Covid-19 outbreak, according to the nuns.
Since the pandemic hit Myanmar in late March, Jesuits in Myanmar have filled the gap in responding to Covid-19 by offering aid to the poor and vulnerable.
They provide food to the needy in Yangon, Taunggyi and displaced people in Myitkyina, capital of Kachin state. And they have helped families build simple livelihoods by supplying small loads to purchase tricycle taxis, sewing machines and cooking utensils.
In September, Myanmar Jesuit Mission (MJM) held an eight-week sewing and tailoring program for women in two IDP camps in Myitkyina as part of a project designed to empower women, enhance vocational skills and enable them to overcome poverty and dependence on aid.
MJM is also working with local sex workers to support women in Yangon, the commercial hub of the country. A growing number of women have been forced into working as prostitutes after hundreds of factories were closed down.
As a future plan, MJM aims to offer skills training and microcredit loans with the aim of empowering the women and offering them a route out of the sex trade, leading to a safer and more secure future for them and their children.
Vaccine fund
On Dec. 30, the National-Level Central Committee on Prevention, Control and Treatment of Covid-19 formed a fund management subcommittee on the purchase of Covid-19 vaccines.
The foreign currency account was opened with an initial deposit of US$250 million and the Myanmar currency account was opened with 1 billion kyats ($750,000) from the state to purchase vaccines.
Myanmar has negotiated with the World Bank, the Asian Development Bank, the Japan International Cooperation Agency and the International Monetary Fund to fund the purchase of vaccines.
The Southeast Asian nation has planned for 20 percent of its nearly 54.4 million people to be vaccinated under the COVAX program.
It has signed a deal with the Serum Institute of India, the world's largest vaccine manufacturer, to buy vaccines developed by Oxford University and AstraZeneca.
Meanwhile, Myanmar is also trying to purchase vaccines from the US, UK and Russia through diplomatic channels.
Myanmar reported 596 new cases on Jan. 7, bringing the total to 128,178 with 2,785 deaths and 111,401 recoveries. It has the third-highest number of cases in ASEAN behind Indonesia and the Philippines.
According to the latest data, 1,882,643 people have died out of more than 87 million confirmed cases worldwide – UCANews