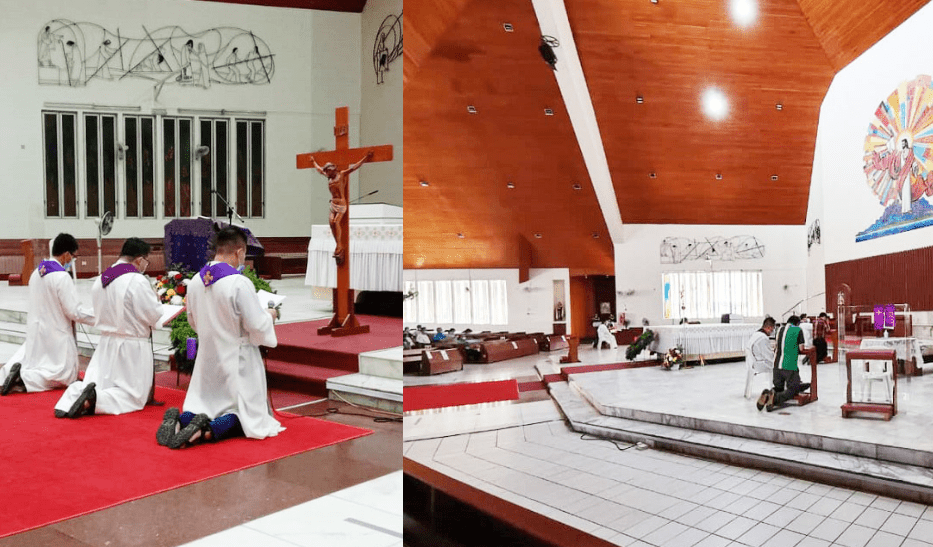 Left: Frs Paul Lo, Sunny Chung and Joshua Liew guided parishioners for individual Confessions at SHC Advent Penitential Service
Right: Individual Confessions taking place at SHC Dec 1
KOTA KINABALU – The social distancing measures imposed during the coronavirus pandemic have not only prevented Catholics from going in person to celebrate the Mass, but have also largely put a stop to the practice of Confession.
Though Sacred Heart Cathedral parish has opened for Confession during the earlier RMCO, it has once more opened its doors to those who want to confess and experience God's mercy with the recent relaxation of the current CMCO when churches are permitted to reopen for services and gatherings.
It is a precarious time, but for practicing Catholics, being able to confess sins is important – perhaps now more than ever. Many of us are reflecting on our own mortality at the moment.
For the Advent Season, the Cathedral parish urged parishioners to follow the Advent Penitential Service via YouTube Live, followed by in-person Confessions scheduled from Dec 1-18.
Following strict SOP protocols to deal with the COVID-19 pandemic in these unprecedented times, passes for individual Confessions could be collected at the parish office during office hours. The Confessions are spaced out in three one-hour blocks a day, with each hour limited to 200 parishioners only.
Among the protocols practised, which include social distancing, wearing of masks, hand-sanitizing, the kneeler after use by each penitent is thoroughly disinfected before use by the next penitent. Everything is done to deliver Confession without putting pastor and parishioner in danger.
At the Advent Penitential Service, parish priest Fr Paul Lo reminded parishioners of the need to prepare for Advent – to have reconciliation with God and with one another. He affirmed that the penitential service was purposed to help us and to guide us for the Sacrament of Reconciliation or Confession which the parish was offering in the days ahead.
He added, the Church offers the Sacrament of Penance so that we may approach God to obtain forgiveness of our sins and to be reconciled with Him and the Church. But do we have the faith even though we are not worthy, even though we are weak? Do we have the longing for God to come back into our life in spite of our doubting him particularly in these times of uncertainty?
Advent means "coming". Who is coming? Jesus Christ is coming. Advent then is the propitious time to heed the warning "to stay awake and be vigilant" and "to wait for His coming" for He will come unexpectedly, just like the pandemic which no one expects. Jesus will come any time He wants to. Be vigilant!