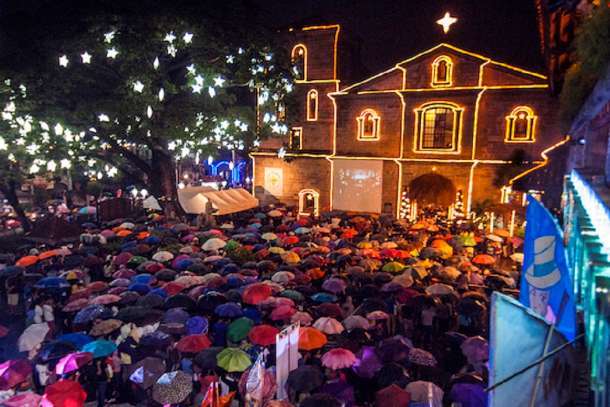 Hundreds of people listen to the celebration of the Eucharist outside St. Joseph Parish Church in Las Pinas City in Manila during a predawn Mass on Dec. 16, 2016. (Photo: Angie de Silva)
By Joseph Peter Calleja, Manila
Covid-19 rules force changes to how traditional predawn Misa de Gallo Masses will be conducted
Catholic bishops in the Philippines have issued instructions on the celebration of Masses for Misa de Gallo, or Simbang Gabi, during this year's Christmas season.
The Misa de Gallo is a series of predawn services traditionally held from Dec. 16-24 in the Philippines to honor the Blessed Virgin Mary. They culminate with Midnight Mass on Christmas Eve.
"In the past months, we have been limited and sometimes even prevented in our participation [at Masses] … due to Covid-19. Evening curfew hours have also been imposed in almost all places to prevent people from big gatherings," Catholic Bishops' Conference of the Philippines president Archbishop Romulo Valles said in a statement.
He said the Catholic Church has adjusted itself and the liturgy according to prescribed protocols in response to the pandemic.
"It is also in this context that we are issuing these guidelines concerning the … Christmas celebrations. These adjustments are being done because of the great number of Massgoers during the Simbang Gabi and the limitations on the number of Massgoers [during the pandemic]," Archbishop Valles added.
The bishops moved the usual 4am Masses to 6am to comply with curfew hours set by the government.
Clergymen were also advised to hold Masses in larger areas for physical distancing purposes.
"The local bishop in consultation with the pastors of the parishes and in coordination with the LGU [local government unit] could schedule more Simbang Gabi Masses in different venues which can be large enough to accommodate more people and still observe social distancing," the bishops' statement said.
The bishops also brought the usual Midnight Mass forward to 6pm to make sure churchgoers are home at 8pm when the curfew starts.
The usual kissing and touching of images, especially of the Baby Jesus, remain prohibited.
"Families may be encouraged to bring their family image of the infant Jesus instead during the Christmas Masses," the bishops said.
While certain practices were prohibited to prevent the spread of coronavirus, the bishops reminded churchgoers not to lose sight of the "basic components of the celebration" — the Word of God and Holy Communion.
The bishops also reminded churchgoers that while Christmas preparations this year were not as "frenzied and stressful" as usual, they must not lose sight of the season's true meaning. – UCANews