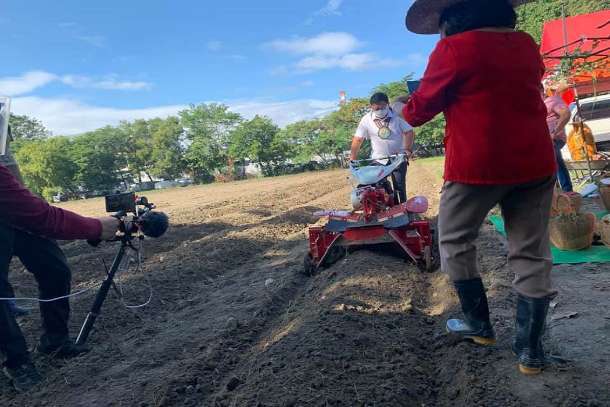 St. John Don Bosco Parish in Manila has converted its football field into a vegetable garden for the poor. (Photo supplied)
By Joseph Peter Calleja, Manila
Manila Archdiocese launches vegetable garden project to help poorest of the poor.
A parish in the Philippine capital Manila has converted its 8,000 square meter football field into a vegetable garden to augment the local archdiocese's efforts to feed the poor.
St. John Don Bosco Parish in Tondo City launched its "Life in vegetables" project on Nov. 22 together with the government.
Under an agreement, the Agriculture Department will donate crop and vegetable seeds for planting. It will also provide farming equipment and teach parishioners cultivation techniques.
The project aims to feed Manila residents living in 17 poor communities with fresh produce from the vegetable garden.
Manila Apostolic Bishop Broderick Pabillo inaugurated the joint project with the Department of Agriculture, Department of Agrarian Reform and the City of Manila.
He said the vegetable project was one in spirit and charism of the parish's patron saint, St. John Bosco, an Italian priest who dedicated his life to helping street children, juvenile delinquents and disadvantaged youth.
"Like St. John Boso … this project was made for the poor and our Department of Agriculture was God's instrument to help the poor as well," Bishop Pabillo told the gathering.
He said the idle football field gave clergymen the idea of utilizing it by asking poor parishioners to do gardening.
"No one was playing football. So, we thought of using it for agriculture so that we can also teach residents how to plant and eat fresh vegetables. If we have more than enough, we can sell and we will also give the proceeds to the poor," the bishop added.
Agrarian Reform Secretary John Castriciones thanked Bishop Pabillo for the opportunity to help the needy.
"Many Filipinos are affected by the pandemic because they are poor. They do not eat nutritious food to make their body resistant to the coronavirus. Many have been retrenched from their jobs, so finding money or food to feed their families has been hard," said Castriciones.
Father Gaudencio Carandang, a local priest, said the project was beautiful because it was a collaborative effort between the church and government.
"This is a very good project. The seedlings and farm equipment will come from the Agriculture Department while the manpower will come from our parishioners," he said.
Father Carandang added that he hoped other parishes would also use idle church assets.
"I am hoping that other cities and communities will follow this collaborative project for the benefit of the poor," he said. – UCANews