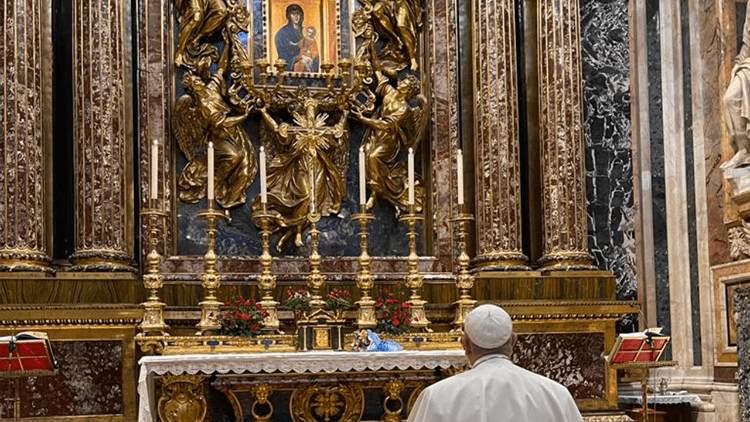 Pope Francis prays at the feet of the ancient icon of Our Lady 
Pope Francis visits the Basilica of St. Mary Major to pray for Our Lady's protection during his Apostolic Journey to Cyprus and Greece.
The Pope took a moment from his busy schedule on Wednesday afternoon to pray a while at the feet of the ancient Roman icon of Mary Salus Populi Romani.
He traveled to the papal Basilica of St. Mary Major for a brief visit, before returning to the Vatican.
According to the Holy See Press Office, Pope Francis entrusted his Apostolic Journey to Cyprus and Greece to Our Lady's protection.
He also laid a bouquet of flowers on the altar where the icon is housed in the Borghese Chapel.
Ecumenical relations
The Pope sets off on Thursday morning for a 3-day visit to the Mediterranean island nation of Cyprus, before traveling on Saturday to Greece where he will stay until Monday.
Ecumenical relations with the Orthodox Churches will be one highlight of his visits to both nations.
On Saturday he meets with Archbishop Chrysostomos II of Cyprus, head of the island's Eastern Orthodox Church, as well as with the Orthodox Holy Synod of Cyprus.
His visit to Greece will see the Pope meet with Ieronymos II of Athens, the primate of the Autocephalous Orthodox Church of Greece.
Orthodox Christians make up the vast majority of both nations.
Attention to migrants
In Cyprus, Pope Francis is following in the footsteps of Benedict XVI, who in 2010 became the first modern Pope to visit there.
Pope Francis is also returning to the Greek island of Lesbos to visit with migrants and refugees.
He traveled to the island in 2016 with Orthodox Patriarch Bartholomew I at the height of the European migration crisis, returning to the Vatican with 12 asylum seekers aboard the papal plane.
The plight of migrants is once again on his agenda, with events scheduled in both Cyprus and Greece to provide an opportunity for Pope Francis to express his solidarity and closeness to people on the move. -Vatican News