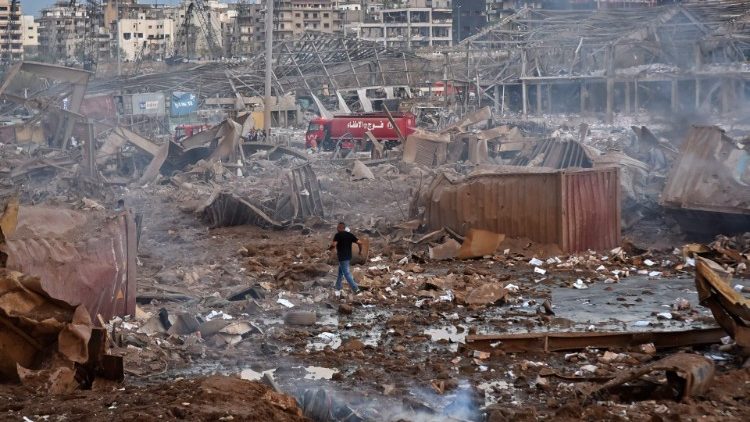 Scene from the explosion near the port of Beirut, Lebanon on Tuesday | AFP or licensors
At the weekly General Audience, Pope Francis prays for victims of a massive explosion in Beirut on Tuesday, which killed dozens and caused serious destruction.
During the weekly General Audience on Wednesday, Pope Francis prayed for Lebanon in the aftermath of the explosion in Beirut on Tuesday.
"Yesterday in Beirut, near the port, there were massive explosions causing dozens of deaths, wounding thousands and causing serious destruction," said the Pope.
"Let us pray for the victims, for their families; and let us pray for Lebanon so that, through the dedication of all its social, political and religious elements, it might face this extremely tragic and painful moment and, with the help of the international community, overcome the grave crisis they are experiencing," the Pope prayed.
Lebanon is in mourning after a massive explosion ripped through its capital Beirut and surrounding areas on Tuesday evening, killing at least 100 people and injuring thousands, with many feared still trapped under rubble.
According to local authorities, the explosion was caused by tons of ammonium nitrate stored in a warehouse in the port of Lebanon's capital. 
Feast of the Transfiguration
Pope Francis also reminded the faithful that Thursday is the feast of the Transfiguration of Our Lord.
In his address to the Polish-speaking faithful, the Pope said that Jesus revealed His Divine Majesty during the Transfiguration to His disciples, and through them, to all of us. We should therefore obey God's command at the Transfiguration when the voice from heaven said "this is My beloved Son…listen to Him" (Mt 17:5).
The Holy Father invited everyone to "keep their gaze always fixed on the resplendent face of God" in the transfigured Christ on Mount Tabor, because "He is the light that illuminates the events of every day."
Pope Francis resumed the weekly General Audience from the library of the Apostolic Palace on Wednesday after a short summer break during the month of July. – Vatican News