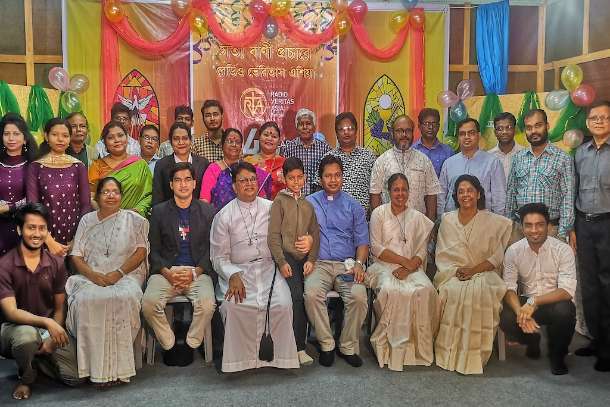 Guests, well-wishers and staff during the 40th anniversary program of the Bengali Service of Radio Veritas Asia at the Christian Communication Center in Dhaka on Dec. 1. (Photo: Ripon Tolentino) 
By Rock Ronald Rozario, Dhaka
Station praised for promoting truth and reaching people of various faiths, especially marginalized communities
Listeners and viewers have praised the Bengali Service of Radio Veritas Asia (RVA) for preaching truth, promoting dialogue and harmony and pioneering social and cultural changes for rural areas of Bangladesh and the eastern Indian state of West Bengal.
Greetings poured in as the Bengali Service of the pan-Asian radio service of Asian bishops marked its 40th anniversary.
A program to mark the anniversary was held at Banideepti (Light of the World), the multimedia wing of the Christian Communication Center (CCC), the media apostolate of the Catholic Bishops' Conference of Bangladesh, in capital Dhaka on Dec. 1.
The program had a limited number of guests and participants due to the Covid-19 pandemic. Featuring a Mass, thanksgiving and greetings, it was broadcast live on Facebook.
Father Augustine Bulbul Rebeiro, director of the CCC and a producer of the service, paid tribute to clergy, religious and laypeople who worked for the service and thanked the audience for being with the radio station on its long journey.
"For the past 40 years, the journey of RVA Bengali Service has evolved around its main objective — promoting truth and reaching to the grassroots level irrespective of ethnicity, religion and caste through its media service," Father Rebeiro told UCA News.
"We have been able to reach people of various faiths, especially marginalized, poor and downtrodden communities, and touched their lives with human values for greater welfare. The mission will continue despite various challenges including financial constraints and lack of resources in the digital age."
Holy Cross Brother Nirmal Francis Gomes praised the radio station for being committed to truth over the decades.
"In our world it is difficult to survive by preaching the truth where there are lies all around. RVA Bengali Service has made it possible and encouraged people to live in the truth and become good human beings," said Brother Gomes, a teacher at church-run St. Gregory's School and College in Luxmibazar of Dhaka.
In a video message, Ashik Iqbal, 48, a Muslim from Rajshahi district, said he considers himself blessed to have been a part of RVA for years.
"Radio Veritas has cut across boundaries of faith and ethnicity and found a place in the hearts of people. I am glad to be a part of this journey and I wish RVA to keep going and growing," said Iqbal, who has been a listener since 1983.
RVA first went on air in 1969 and is available in 22 languages.
The Bengali Service started in 1980 and is jointly produced by Dhaka-based Banideepti and Chitrabani (Light and Sound), a Jesuit-run communication center based in Kolkata, the state capital of West Bengal, India.
RVA Bengali programs include Chetona (Awakening) that focuses on social and contemporary issues such as justice and peace, Jibon O Jibika (Life and Livelihood), Sonchoye Sabolombon (Self-reliance in Savings), Mohot Jibon (Great Personalities), Mohilangan (Women's Space) and Sanglap (Dialogue).
RVA started as a shortwave radio station under the guidance of the Office of Social Communication of the Federation of Asian Bishops' Conferences (FABC), the collegial body of Catholic bishops in Asia.
One of its primary objectives was to offer a platform on the airwaves for "voiceless people" in communist and military-ruled Asian countries including China, Vietnam, North Korea and Myanmar.
Pope John Paul II visited the RVA offices in 1981 and called the station the "voice of Asian Christianity." In 1995, when RVA marked 25 years of broadcasting, the pope called it the "missionary of Asia."
Since 2011 many partners have withdrawn funding and Catholic churches in respective countries have been financing RVA language services.
The radio station was digitized in 2017, a significant move that saves about US$1.6 million in annual costs.
Besides broadcasting radio programs, RVA Bengali Service produces and publishes video content.
RVA Bengali Service broadcasts programs in Bangla, the national language of Bangladesh and main language of West Bengal state of neighboring India, where Christians make up less than one percent of the population. Most of the station's audience are Muslims and Hindus. – UCANews