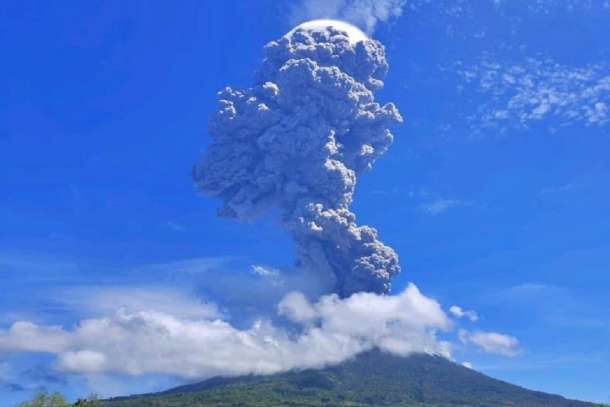 The Ili Lewotolok volcano in Indonesia's East Nusa Tenggara province erupts on Nov. 29. The eruption forced more than 7,000 people in 15 villages to evacuate. (Photo: BNPB Indonesia)
Up to 7,000 people in evacuation centers, raising fears of Covid-19 transmission
The Indonesian Church is distributing aid to refugees following the eruption of Ile Lewotolok volcano in Lembata district of Catholic-majority East Nusa Tenggara province.
The volcano erupted on Nov. 29, spewing ash up to 4 kilometers high and forcing more than 7,000 people from 15 villages to flee their homes. No casualties have been reported.
Father Marianus Dewantoro, head of the Church's social arm Caritas in Larantuka Diocese, said the refugees have been accommodated in 11 centers, including schools, church compounds and government buildings, within a radius of 4km from the volcano.
Mount Ile Lewotolok stands at more than 1,400 meters above sea level and has about 21,000 Catholics living nearby.
"We have distributed 3,000 masks, drugs, vitamins, sleeping mats and food to the refugees and established a coordination post in the local parish to help the refugees," Father Dewantoro told UCA News.
He said 21 villages have been affected by the eruption that has covered homes and agricultural land with thick layers of ash.
Luckily, local people fled their homes soon after the Volcanology and Geological Hazard Mitigation Center raised the alert status of the volcano shortly before the eruption.
"Most of the refugees are women and children and are being housed in tents provided by the Regional Disaster Management Agency and the church," Father Dewantoro said.
He said Covid-19 was also spreading in the district, so health and social distancing protocols were being observed. He said some people had preferred to stay in a nearby forest because they are afraid of contracting the virus at the shelters.
"We need more food, masks, hand sanitizers, mats and drugs," the priest said.
He said his diocese was working with Caritas Indonesia (Karina) to distribute aid to the evacuees.
Karina chief Father Fredy Rante Taruk said his organization was providing what it could in the way of aid, adding it was also having to provide aid to people who fled an eruption of the Merapi volcano in Magelang, Central Java, on Nov. 12.
Indonesia sits on what is known as the Pacific Ring of Fire and has around 130 active volcanoes, more than any other country in the world. – UCANews