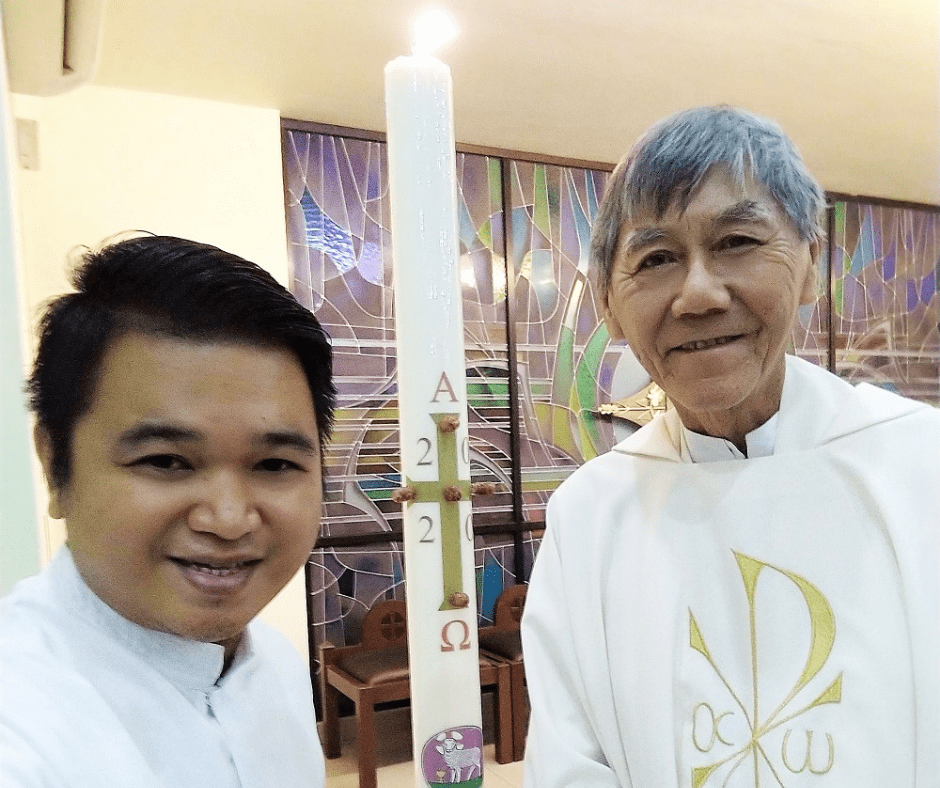 Wilson (left) taking a 'wefie' with Fr Cosmas Lee during Holy Week in lockdown.
Final of a two-part series
Wilson Francis, who grew up with a less-than-normal childhood due to a heart condition, faces another extraordinary experience as a seminarian due the 'new normal' following the pandemic crisis
WHILE churches had gradually reopened across Malaysia, in particular Sabah, the past weeks, a seminarian who had experienced the Movement Control Order (MCO) last March relates his experience shadowing seasoned mentor and priest Fr Cosmas Lee in St Simon Catholic Church Likas.
According to the rector, Wilson had already completed seminary training when he joined another fellow seminarian, Desmond Jansen, for the pastoral immersion on Jan 19. (Desmond's article was published in Catholic Sabah on Nov 11)
 "I was happy to receive one more. It is good to have some community life, something I always miss having to live alone all these years.
"These two are very different characters, the least, one talks a lot, the other little. The differences are in many other areas as well. 
"From the beginning, I was looking forward to immerse them both into the life of a priest and then into the whole variety of pastoral immersion which should culminate with the celebration of Lent and Easter. I laid out a whole plan. But Covid-19 changed all," Fr Cosmas said.
"I celebrated my 70th birthday in the thick of the MCO and I have not stopped marvelling at God's goodness to me, for sending a young man like Wilson to be with me up till the present.
"I cannot imagine how I would be able to cope with so many things at my age if he wasn't around. We are constantly communicating and I trust he would by now have known a bit more on what it means to be a priest though the model may not be perfect."
The Ranau-hailed seminarian just turned 30 last Nov 14. The third of seven siblings, he grew up having a "different" childhood to that of his peers due to a heart condition.
"As a child, I couldn't do many things like a 'normal child' because I had a heart problem when I was two-years-old," Wilson said, and his surgery was only performed when he was 14.
"So, between the years, I had appointments in Ranau Hospital every three months and Queen Elizabeth Hospital once a year."
Because of his heart condition, he was exempted from any sports or physical activities.
He said he was hospitalised many times, including during school, and said his childhood was "not so great" due to the limitations as a result of his condition.
However, the affection from his family was no doubt "great". "My parents were only ordinary farmers, but they have raised us very well."
As destiny would have it, his childhood days would revisit him during his life as a seminarian, with a less-than-normal pastoral immersion during the months-long lockdown!
Like his childhood experience, Wilson found the church atmosphere "different" during the early part of the MCO.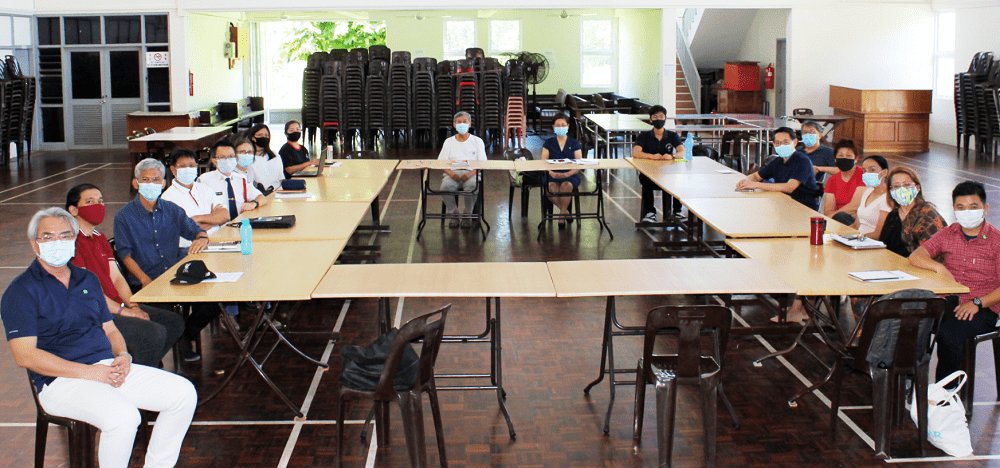 Wilson (far right) in a group photo with the Parish Health Team in St Simon Likas after one of their meetings during Recovery Movement Control Order (RMCO).
"It was quiet. The altar was covered all the time, and the doors were closed. There were several times when I went into the Church and sat in the pew and imagined the Mass celebrated with the people.
"Such a beautiful church, but at that moment, all I could feel was silence. At that moment, I wondered how the parishioners were doing, too."
On how the pandemic affected him spiritually as a seminarian, he said he felt like something was "missing" in terms of ministering in the church.
"I took this opportunity to reflect more on how God works in mysterious ways, such as this unexpected pandemic.
"I treated this moment as a retreat, an encounter with God in silence and with no meeting outsiders, except Fr Cosmas and the workers. I did more self-reflection and prayers. I kept discerning on this unprecedented moment the Church is facing."
Wilson said Fr Cosmas handled the pandemic crisis in a "progressive" manner by making sure they had enough food supply and disinfectant beforehand.
"He was sure the lockdown would come and we planned our daily routine during this period of pre-MCO. He also called for a PPC meeting before the Government announced the lockdown."
Coming from a farming background, it was only apt that Wilson was sent to do his pastoral immersion with the priest known for his "green thumb", as St Simon Catholic Church Likas is known for its greeneries, all thanks to Fr Cosmas.
Wilson said besides learning about humility and priesthood, he also took heed from Fr Cosmas on the importance of looking after the church compound well.
"I spent my time in St. Simon's compound and helped the workers do some work to keep the compound tidy and beautiful."
He said learning from Fr Cosmas was an "amazing" experience and "a blessing from God".
"Before coming to St Simon Likas, I did not know Fr Cosmas. I only knew his name. When Archbishop sent me here for my pastoral immersion, God knows what is lacking in me, so that I can learn as much as I can from Fr Cosmas' guidance.
"I always remember what Fr Cosmas told me, 'the drill is hard, but we have to go through it to see the transformation in us'."
Wilson completed his seminary formation in May 2019, and was later sent to Kiulu and Labuan before coming to St Simon Likas.
Rest of the interview:
Question: What was your daily routine like during the MCO? Please elaborate, if you don't mind.
Wilson: Every day, both of us, Fr Cosmas and I celebrate Mass at 7.30am. After that, I will do some spiritual reading. Fr Cosmas has a lot of books that he lends to me. So, in the day, I will write a reflection based on the daily reading. In the afternoon I will go to the garden to plant some vegetables. In the evening after dinner, sometimes I will walk around St Simon compound and pray the rosary. At night, I sleep around 10pm and wake up at 5.30am.
Question: When doing online meeting, what did you miss most about face-to-face interaction?
Wilson: Online meeting is very much depending on the internet connectivity and gadget to get a clearer image and audio clarity. It is in contrast with the face-to-face interaction where you don't need this technology to connect. It is true that the technology can connect us from a distance, but I do miss interacting with people face-to-face where it is more 'real'. No matter how good the tech is, none of them can replace face-to-face interaction.
Wilson and Fr Cosmas sharing a screen with the Parish Health Team during one of their online meetings via Zoom.
Question: Before the quarantine order the world over, people used to say "technology connects people". What do you think of the statement now?
Wilson: Technology indeed connects people if used in a right manner. Yet, technology cannot replace the real physical conversation where real emotion is expressed by the person in front of us. If we look into "technology connects people", then why do we find the need to meet people in social settings like the café, park and even in the Church? However, with the aid of the technology in this pandemic, where we cannot meet physically, the technology helps us to connect with people more effectively.
Question: Can you share with us the story of your calling to the priesthood?
Wilson: When I was young, I attended one Sunday Mass and was fascinated by the role of the priest. I wondered, "Where did the priest come from?" I didn't tell anybody about it. Eventually, when I was growing up, I forgot about my aspiration to become a priest. Then, when I was studying in Matriculation College, I got involved in serving with the Christian youths from different backgrounds. From there, I felt the call to become a priest again. I wanted to serve the people through the sacraments. I am so in love with the Eucharist and to get closer to God. That made me think seriously about becoming a priest. Therefore, in the year 2011, I joined the vocation seminar in Bundu Tuhan and entered the formation house that same year.
Question: How well did your parents react to your decision to join the seminary?
Wilson: They didn't show any strong rejection, neither did they highly recommend me to become a priest. They only said that whatever I do in life, make sure I have a good intention and don't force myself into it if I cannot cope with it. They always supported me in my decision.
Question: Young men called to the priesthood usually say they felt hesitant or unqualified to answer the call. Would you say your experience was similar?
Wilson: There are many times in my life that I feel not worthy to undertake this call. Something too wonderful for me, but yet I am just a small man with lots of weaknesses. I did a lot of discernment by asking for advice from my close friends and other priests whether I should become a priest or not. I also prayed a lot to ask for a sign that He is calling me to be a priest. It took me a while to make such a life-changing decision. When I have a strong feeling that I should join the vocation seminar and to have a look at the process to become a priest, I said "Yes" to the Lord and my formation journey began. Even in the formation house, I have always battled with this question, whether God is calling me to be a priest or not. Looking back, if not by the grace of God, I would not be here doing my pastoral immersion. Therefore, God is indeed always journeying with me.
Question: Would you say the pandemic crisis strengthened your conviction to become a priest?
Wilson: Somehow, the pandemic taught me that God is still in charge and He still cares for His people. The pandemic is a challenge for me, to be tested like gold in the fire.
Question: What's your favourite Bible verse of all time?
Wilson: "Lord, to whom shall we go? You have the words of eternal life." (John 6:68) This bible verse is very significant to me. I have surrendered and sacrificed many things in my life for the Lord. And, therefore, I have nothing left except for the Lord alone. If the Lord asked me to go or the Lord is taken away from me, to whom shall I go? I only have the Lord with me. Without Him, I am nothing.
Question: What advice would you give to young people discerning their vocation to the religious life?
Wilson: My advice to them is to trust in the Lord and ask Him to show you the path that He is leading you. Listen to the voice of the Lord attentively. God is always there and has a wonderful plan for you and I. Do not be afraid to take the courage in responding to the call of God. Trust Him and give yourself completely to God wherever He may lead us.
Question: Last but not least, describe your journey as a seminarian so far.
Wilson: My journey as a seminarian is not on an easy road or calm sea. There are many hurdles and storms along the way. But, from the hardships and challenges, I realised that if I rely on my strength alone, I would not reach this stage. The challenges only made me realise that God is journeying with me indeed.