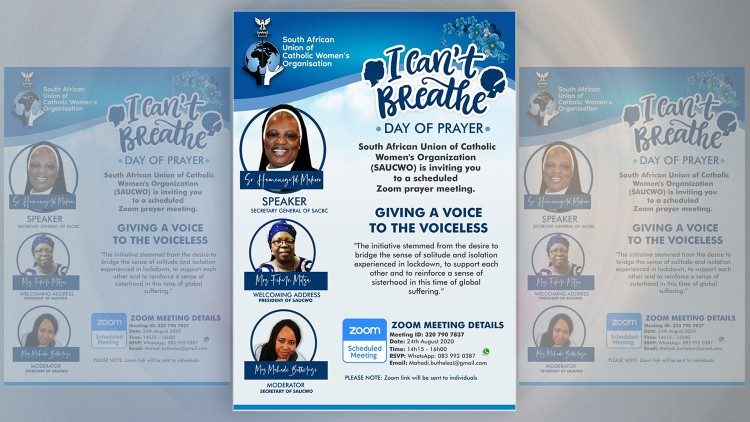 South African Union of Catholic Women's Organization (SAUCWO) Day of Prayer 
By Fr. Benedict Mayaki, SJ
Online Day of Prayer initiative slated for 24 August hopes to help women "bridge the sense of solitude and isolation experienced in lockdown, to support each other and to reinforce a sense of sisterhood."
Catholic women in South-Africa are encouraged to participate in an online Day of Prayer organized by the country's Union of Catholic Women's Organization (SAUCWO) on 24 August.
The initiative themed "I can't breathe," stems from "the desire to bridge the sense of solitude and isolation experienced in lockdown, to support each other and to reinforce a sense of sisterhood in this time of global suffering," reads a poster released for the occasion.
In an interview with Vatican News, Mrs. Fikile Motsa, President of SAUCWO explained the idea behind the Day of Prayer and its importance for South African Catholic women. 
Invited guests at the occasion include Sr. Hermenegild Makoro, Secretary-General of the South African Bishops' Conference who is scheduled to speak at the event. Mrs. Motsa will give the welcoming address at the event which will take place from 2:15 pm to 4:00 pm (South African time) on Monday. 
Day of Prayer
Motsa explained that the online prayer initiative was born from the desire to reach out and strengthen women despite the ongoing Covid-19 pandemic and the difficult moments of anxiety that have come with it. 
"We want to strengthen our women who are now scared. Some of them have lost their jobs, staying at home, their husbands without jobs, and the numbers escalating. We have lost a number of our women due to Covid-19," she said.
The prayer initiative, therefore, is "to give them a word of hope, praying together, to show the sisterhood that we are together in this, and that we can conquer if we are together in prayer. To try and support each other though we cannot see each other physically."
August, dedicated to South African women
This prayer initiative is organized in the context of the month of August which, in South Africa, is dedicated to women. The country annually marks 9 August as National Women's Day to commemorate 9 August 1956 when women participated in a national march to petition against pass laws (legislation that required black people to carry a document to prove that they were allowed to enter a 'white' area).
Mrs. Motsa pointed out that the month is dedicated to women in the country because they "are special." And, as "women of hope, women of love working together," they "need to be strong" and in turn, "strengthen each other." Especially at this time of Covid-19, "they need our support, they need our love," she stressed.
She said that during August, she would love to see more attention brought to gender-based violence issues because "we are losing a lot of women through gender-based violence, murder and rape" she said, adding that it is her wish to see all women better protected.
"I can't breathe"
Responding to a question concerning the theme "I can't breathe," Motsa explained that its use for the initiative is unrelated to the protests for racial equality sparked by the tragic death of George Floyd in May 2020. 
With us, she clarified, "we have chosen this theme looking at the cases of Covid-19: a lot of our women have lost their jobs, they have their husbands staying at home, they have children out of school."
"It is just too much for us women," she exclaimed. "It is just around our necks. We cannot breathe because there is so much happening!"… And "as women — mothers, the pinch is all on us."
The theme, therefore, refers to the growing sense of being overwhelmed by the deaths and other difficulties stemming from the Covid-19 pandemic as well as other gender-related issues.
"We are asking God to just be with us because there is just so much death around and we want to ask God to just help us on this," she said.
South Africa has been particularly hard-hit by the coronavirus crisis. As of Friday, it has over 90,000 reported active cases and is currently the fifth most affected country in the world.
Open invitation to all
Mrs. Motsa throws open the invitation to the online Day of Prayer to all Catholic women in the country, as well as all sodalities and organizations that can access the program through the online video conferencing platform Zoom.
This, she said, is so that they can "come together and pray together" and also share some ideas on how to get through these trying moments.
Encouraging participation, she encouraged all women to "hold on to our Jesus" and not be scared because He is the only one who can calm the storm of Covid-19 in which the world currently finds itself. 
Ending on a hopeful note, Mrs. Motsa expressed her desire that we will all be able to see the light at the end of the tunnel when the 'storm' is over. And, to all women, she says: "let us just hold on, let us not lose hope, let us not be scared."
Interested participants can find further information on the Day of Prayer initiative from the flyer shown above.