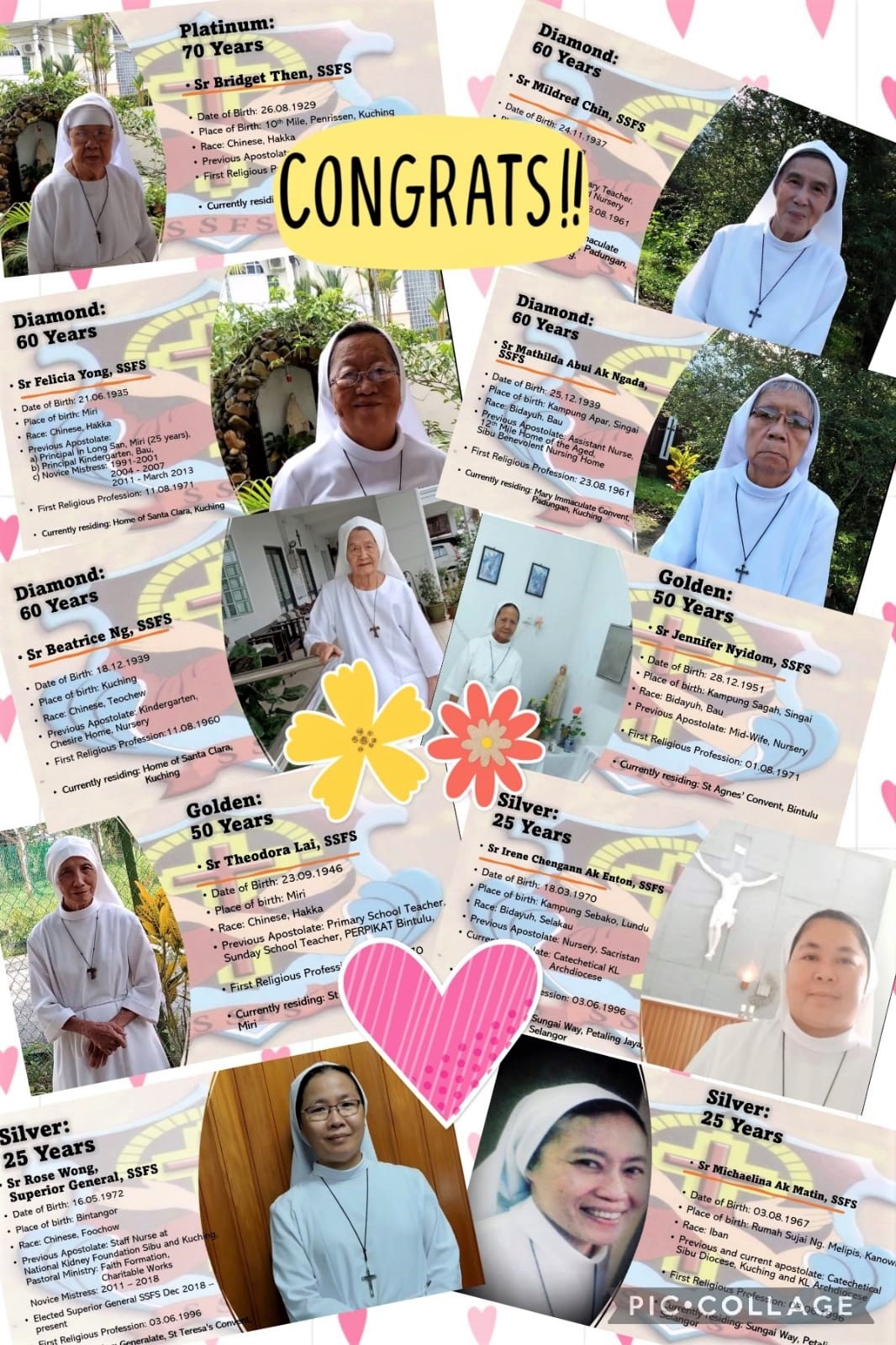 Photo collage courtesy of SSFS.
KUCHING – The Sisters of St Francis of Sarawak (SSFS) organised a Jubilee Thanksgiving Mass in celebration of the Jubilee Anniversaries of 10 Religious Sisters on 19 December 2021.
The Mass was celebrated by Archbishop Simon Poh and concelebrated by Archbishop Emeritus John Ha, Fr Patrick Heng and Fr Martin Wong. It was live-streamed from the Chapel of Home of Santa Clara, the retirement home of the Sisters. Because of the pandemic restrictions, many of the religious Sisters and family members were unable to attend the joyous occasion, so the live telecast was a welcome move to unite everyone at what would otherwise have been a grand celebration.
The eight Jubilarians present, led by Superior General Sr Rose Wong, each holding a lit candle, renewed their commitment and promised, "To keep the Rule of the Third Order of St Francis, approved of by His Holiness, Pope John Paul II, by living in Poverty, Chastity and Obedience, according to the Constitutions and Rules of the Congregation of the Sisters of St Francis of Sarawak."
To join in the celebration, albeit virtually, Sr Delicia and her team recorded a "virtual choir" to sing to the Jubilarians. There was also short a video presentation of the Jubilarians at the end of the live telecast.
Sr Rose Wong, Superior General of SSFS, speaking as a representative of the Jubilarians, read out a message from Archbishop Emeritus Peter Chung who was unable to join them physically. Jubilarians Sr Theodora Lai (Miri) and Sr Michelina Martin (PJ, Selangor) were also not able to make the trip for the celebration.
Sr Rose said: "My dear Jubilarians, on behalf of my Council members and all my fellow Sisters, I congratulate and thank you for giving yourself fully to this family of SSFS and God's people for His mission. Your long years of commitment have been greatly appreciated.
"Allow me to share an example of our oldest Sister, Platinum Jubilarian Sr Bridget Then who is 93. She still faithfully says her daily prayers, attends daily Mass and continues to give her daily service to the Sisters in her community. It is proven that age is just a number. It is the heart of love towards God and others that makes the difference. Sr Bridget, thank you for having inspired us by how we should live our lives, by connecting with God and care for others, until the Lord calls us back to His heavenly kingdom.
"Celebrating Jubilee is not celebrating an accomplishment. It is not what we have done for the past 25, 50, 60 or 70 years. It is an act of gratitude to celebrate and pray together as one big family for this Sacred Vocation that calls us to be more committed to imitate Christ and our Seraphic Father St Francis of Assisi in our love of God, humanity and God's creation. We know that the more we appreciate and love Him, the more we will imitate Him, by being more faithful to our commitment at all costs, able to relate with one another without being bound by conditions. We see God's presence in every situation and in His creation, and also we will have the desire to reach out to others in various pastoral care.
"God has a purpose for all of us, and here we see some of us have tried to cooperate with Him, and put all our trust in Him, even at times when we see how limited we are. Do not divert our focus by losing hope in seeing the limitations of others, but to be like Christ to have untiring hope in every individual. If Christ could leave the ninety-nine sheep and looked for the lost one, this signifies that we should never single out anyone but to give importance to everyone.
"My dear Jubilarians, we are Franciscans, let us continue to 'SPEAK' to the world through our way of life that is connected with and to God, so that people can see the greatness of His Truth, what He can do to our lives, and they will search for the right things that can make them feel more contentment within, more peaceful and happier to live. Our community life that embraced the examples and teachings of Christ should prove to every family that it is possible to build the Domestic Church as God wishes. God has given us the best way to live, and He has offered to us freely. It depends on how much we can accept His free gift."
(Read the full text of Sr Rose's speech from the PDF attached)
Congratulations to the Jubilarians
The 10 Sisters celebrating their Jubilee Anniversaries were:
Sr Bridget Then – Platinum (70 years)
Sr Felicia Yong – Diamond (60 years)
Sr Beatrice Ng – Diamond (60 years)
Sr Mildred Chin – Diamond (60 years)
Sr Matilda Abui – Diamond (60 years)
Sr Theodora Lai – Golden (50 years)
Sr Jennifer Nyidom – Golden (50 years)
Sr Irene Chengann – Silver (25 years)
Sr Michelina Martin – Silver (25 years)
Sr Rose Wong – Silver (25 years)
Photo taken after Mass shows: Front row (sitting L-R) Sr Matilda Abui and Sr Mildred Chin. Second row (standing L-R) Sr Irene Chengann, Sr Jennifer Nyidom, (sitting L-R) Sr Beatrice Ng, Sr Felicia Yong, Sr Bridget Then, (standing R) Sr Rose Wong. Back row (L-R) Fr Patrick Heng, Archbishop Simon Poh, Archbishop Emeritus John Ha, Fr Martin Wong. (Photo: Amelia Chieng)