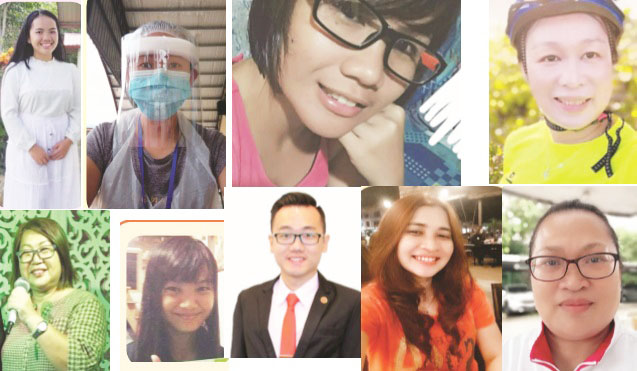 After three months of watching live-streamed Masses, some Malaysian Catholics were privileged to go to church and participate in the Eucharistic Celebrations. Here, we highlight some of their comments.
Keningau Diocese
When it was announced that the church would reopen its doors for the Holy Mass, I felt very excited to finally be able to quench my longing to meet the Lord and receive His Body and Blood. "However, due to my health condition at that time, I was unable to attend the first Holy Mass at St John the Baptist Church, Panui on June 28. "I remain grateful even though I am not in good health to still have the opportunity to hear the Word of God and receive the Body of Jesus spiritually through the online Holy Mass. — Glorytta Richard, Keningau
"I feel very grateful and happy to be able to return to serve the people, especially at the cathedral. Before the Mass began,  some of us from the Parish Youth Apostolate were assigned to do the registration, checking temperatures and hand sanitizing for the priest, liturgical ministers and parishioners.
"Everyone cooperated by following all the procedures and filling up the required personal details at the registration counter. The congregation also complied with the SOPs that had been set by the church. At this time, we have to go through many new norms, but I do believe that with our united prayers,  this pandemic will  end.
"However, we still have to keep our distance and be cautious. Prevention is better than cure. – Shirley Liew, Cathedral of St Francis Xavier, Keningau
Kota Kinabalu Archdiocese
"At first I was hesitant to go to church because I realised we were still not free of the coronavirus. As long as a vaccine was not found, we couldn't be complacent.
"Still, I am happy with the application of the SOPs imposed by the church. Although I cannot talk to other people or shake hands with them, to celebrate the Eucharist together is so meaningful and I believe that through His Words and blessings, our communion with  each other becomes stronger.
"It feels funny and weird to be inside the church with your face mask on. It is difficult to recognize other people. However, I believe this is only temporary. We need to be patient and calm and adhere to all the Church SOPs. 
"I am also happy to know that courses for pre-marriages and baptism for the elect will commence soon.
"I congratulate the Church volunteer teams. They serve  with perseverance and friendliness to ensure our safety." — Leina Edward, Kota Kinabalu
"When the government announced the reopening of houses of worship, my heart was overflowing with joy. "I could not wait for Sunday. Finally, on July 12, I was able to attend Mass at the Holy Rosary Limbahau.
"Before that, like a small child who, for the first time in his life will go to school, I prepared my clothes earlier to attend Mass. As I walked into the church, I was moved to be fortunate to attend the first Mass after the MCO. "But it was not all happy moments as there were family members who could not join the Holy Mass due to the SOPs. Being able to receive the Body and Blood of Christ is something I have really missed all this time.
"The presiding priest, Fr Rayner Bisius, reminded the people to be the 'do-ers' of the Word especially in this time. I believe God sees all that and He gives the best for His people. Hopefully this pandemic passes quickly." — Florence Liangkim, Kg Padawan, Papar
"Your presence here shows you are the good soil. The soil where the seed of the Word of God can grow fertile and take root," said Fr Paul Lo who presided at the  Mass on July 12 after 15 weeks of no public Mass celebrations.
A few days before attending Mass, news broke of a COVID-19 cluster near the cathedral area. This caused anxiety and I almost withdrew from attending Mass. But it turned out that the news was not true. I felt resentful that this fake news made the people hesitant to come to  church.
I am satisfied with the implementation of the SOPs in church. Although there was no choir and a shorter duration of the Mass, I felt more focused on the Eucharist because of the quiet atmosphere.
Everyone who attended was cooperative. There was no unnecessary movement, and after the Mass, everyone went out in an orderly manner. Congratulations to these who helped in the smooth implementation of the SOPs. –Felixia A. Yapp, Sacred Heart Cathedral, KK
Malacca Johore Diocese
"Before going for Mass, I was EXCITED, and reached church half an hour earlier. But then I realised that 80 per cent of the other leaders were even earlier than me. I could feel that they were as excited as me.
"When I received Communion, I felt like it somehow rekindled my fire for Jesus and the church with a new mission and a new start." — Dominic Tiam, St Theresa's Church, Melaka
"Going back to church to attend Mass after the lockdown was a complete privilege for me, and I felt the  peace and comfort of the Lord.
"The feeling of receiving Holy Communion was great, and once again I felt that I was reborn after my baptism in 2018 at St Joseph Church. — Marie Victoria, St Joseph's Church, Plentong
"We were grateful to have online Mass during the lock down. However, attending Mass in the House of the Lord and receiving the body of Christ, I felt completely blessed and filled with the Holy Spirit."— Cynthia Heng Choon Ya, Church of Christ the King, Kulai
"I was very worried being a nurse, as there are the SOPs to be followed, and I prayed that people would follow them. "I love being able to return to church and attending Mass." — Jennifer de Los Santos, Sacred Heart Cathedral, Johor Bahru
"It was quite emotional hearing the church bells ring for the first Mass after the lockdown! It was so beautiful. My heart was ringing too.
"Being an Extraordinary Communion Minister and a member of the Parish Response Team, I thought about those who were homebound, knowing how it felt to not be able to receive Christ in Holy Communion.
"I got to touch Him!" — Patricia Ting, Sacred Heart  Cathedral, Johor Bahru – Herald Malaysia