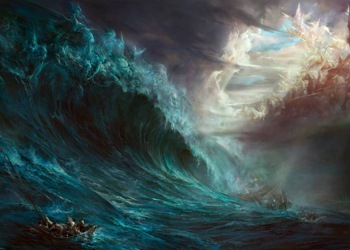 Image www.movimentoapostolico.org
First Reading RV 18:1-2, 21-23; 19:1-3, 9A
I, John, saw another angel coming down from heaven,
having great authority,
and the earth became illumined by his splendor.
He cried out in a mighty voice:"Fallen, fallen is Babylon the great.
She has become a haunt for demons.
She is a cage for every unclean spirit,
a cage for every unclean bird,
a cage for every unclean and disgusting beast."
A mighty angel picked up a stone like a huge millstone
and threw it into the sea and said:
"With such force will Babylon the great city be thrown down,
and will never be found again.
No melodies of harpists and musicians,
flutists and trumpeters,
will ever be heard in you again.
No craftsmen in any trade
will ever be found in you again.
No sound of the millstone
will ever be heard in you again.
No light from a lamp
will ever be seen in you again.
No voices of bride and groom
will ever be heard in you again.
Because your merchants were the great ones of the world,
all nations were led astray by your magic potion."
After this I heard what sounded like
the loud voice of a great multitude in heaven, saying:
"Alleluia!
Salvation, glory, and might belong to our God,
for true and just are his judgments.
He has condemned the great harlot 
who corrupted the earth with her harlotry.
He has avenged on her the blood of his servants."
They said a second time:
"Alleluia!  Smoke will rise from her forever and ever."
Then the angel said to me,
"Write this:
Blessed are those who have been called
to the wedding feast of the Lamb."
Responsorial Psalm 100:1B-2, 3, 4, 5
Blessed are they who are called to the wedding feast of the Lamb.
Sing joyfully to the LORD, all you lands;
serve the LORD with gladness;
come before him with joyful song.
Know that the LORD is God;
he made us, his we are;
his people, the flock he tends.
Enter his gates with thanksgiving,
his courts with praise;
Give thanks to him; bless his name.
For he is good:
the LORD, whose kindness endures forever,
and his faithfulness, to all generations.
Gospel LK 21:20-28
Jesus said to his disciples:
"When you see Jerusalem surrounded by armies,
know that its desolation is at hand.
Then those in Judea must flee to the mountains.
Let those within the city escape from it,
and let those in the countryside not enter the city,
for these days are the time of punishment
when all the Scriptures are fulfilled.
Woe to pregnant women and nursing mothers in those days,
for a terrible calamity will come upon the earth
and a wrathful judgment upon this people.
They will fall by the edge of the sword
and be taken as captives to all the Gentiles;
and Jerusalem will be trampled underfoot by the Gentiles
until the times of the Gentiles are fulfilled.
"There will be signs in the sun, the moon, and the stars,
and on earth nations will be in dismay,
perplexed by the roaring of the sea and the waves.
People will die of fright
in anticipation of what is coming upon the world,
for the powers of the heavens will be shaken.
And then they will see the Son of Man
coming in a cloud with power and great glory.
But when these signs begin to happen,
stand erect and raise your heads
because your redemption is at hand."
________________________________________________
26th November 2020 Thursday 34th Week of Ordinary Time 
Reflection
Revelation 18:1-2, 21-23, 19:1-3, 9, Luke 21:20-28
"Stand erect and hold your heads high!"
Very often, we turn to Jesus in our challenging moments and difficulties. However, when our difficulties do not go away, we might be tempted to abandon Jesus and start doing things our own way. We easily lose hope in face of our worsening crisis.
Today, Jesus reminds us to stand erect, hold our heads high and not to lose our faith in him. The signs might get increasingly terrible. We might even face worse calamities. However, we must never lose sight of our liberation! Instead, we choose to stand erect and hold our heads high, fix our eyes on Jesus and walk on with him in this journey of life.
Question for reflection:
How can I stand erect and hold my head high despite the challenges I face in life?

26 hb November 2020 Hari Khamis Minggu Biasa ke – 34
Renungan
Wahyu 18:1-2, 21-23, 19:1-3, 9,
Lukas 21:20-28
"Berdiri teguh dan tetap mengangkat kepala!"
Seringkali kita datang kepada Yesus ketika kita berhadapan dengan cabaran dan kesukaran dalam hidup. Namun, apabila segala kesukaran dalam hidup kita berlalu, kita sering digoda untuk meninggalkan Yesus dan mula menjalani hidup mengikut cara kita sendiri. Kita dengan mudah hilang harapan dalam berhadapan dengan krisis hidup yang lebih teruk.
Hari ini Yesus mengingatkan kita untuk teguh berdiri, tetap mengangkat kepala dan tidak hilang kepercayaan kepada-Nya. Kita mungkin melihat tanda-tanda yang lebih teruk mengalami malapetaka berterusan. Namun, kita harus tetap terfokus kepada pembebasan kita! Kita harus memilih untuk tetap berdiri teguh dan menetapkan perhatian kepada esus dan berjalan bersama dengan-Nya dalam perjalanan hidup kita.
Soalan renungan:
Bagaimana saya dapat berdiri teguh dan mengangkat kepala meskipun berhadapan dengan pelbagai tentangan?

26 November 2020, Orou Kaapat Minggu' Kristus Raja'
Pinaintalang 18:1-2, 21-23, 19:1-3, 9, Lukas 21:20-28
Masalok noyo, mongoi takau ri Jisus ralalom baal makaangat am kapaganan. Kabalu' pana raginio, paat ra kapaganan takau kalo mugar, maaru' lair makaya-aya' takau mangiruan ri Jisus am tumalimpuun mambaal ra ondo' kasagaan takau galama'. Maluoi takau matatak kalansanan paat ra itakau makauma' ra baal makajajou ritakau.
Orou raiti', mampakara' i Jisus ritakau koson migor ra maikang, patungaron ulu takau am kalo maukuk kaintapatan takau Riso. Tatandu'-tatandu' maaru' lair gumaai ra makalalaa'. Maaru' lair makauma' takau ra karaat ra makalalaa'. Kabalu' pana raginio, musiti' takau kalo igondo' magiru' tontong takau ra kalabusan! Ra limpatui no, mampili' takau migor ra maikang am patungaron ulu takau, mato monontong ri Jisus am mugar mabaya' Riso ralalom pangkiralanan ru kaayagan ti.
Pangkuatan ra paguangin:
1) Ati kulaan aku migor ra maikang am patungaron ulu kuti kabalu' pana baal makaangat ondo' mauma' kuno ralalom kaayagan?

26-11-2020 Hari Empat Minggu Selama Ka-34
Renungan
Pemandang 18:1-2,21-23,19:1-3,9; Luke 21:20-28
"Bediri lalu angkatka pala kita!"
Suah endar kitai datai ngagai Jesus dalam maya penanggol sereta penusah. Tang enti penusah kitai nya nadai penginsur, kitai lalu deka ninggal ka Jesus lalu ngator jalai diri. Kitai mudah alah lalu lenyau pengandal lebuh penusah besai nyadi.
Saritu, Jesus ngingatka kitai awak bediri lalu angkat ka pala kitai lalu enda mudah lenyau pengarap kitai dalam Iya. Tanda tentu besai udu. Kitai tentu dalam penusah ti balat. Tang kitai anang lenyau pengandal ka pengelepas kitai! Aram kitai milih bediri lalu ngangkat ka pala kitai, malik ngagai Jesus sereta bejalai sertai Iya dalam pejalai pengidup kitai.
Kati aku ulih bediri tegap lalu ngangkatka pala taja mayuh penanggol dalam pengidup?

Acknowledgment: Reflections are based on "Prayer for Living: The Word of God for Daily Prayer Year A" by Sr. Sandra Seow FMVD.