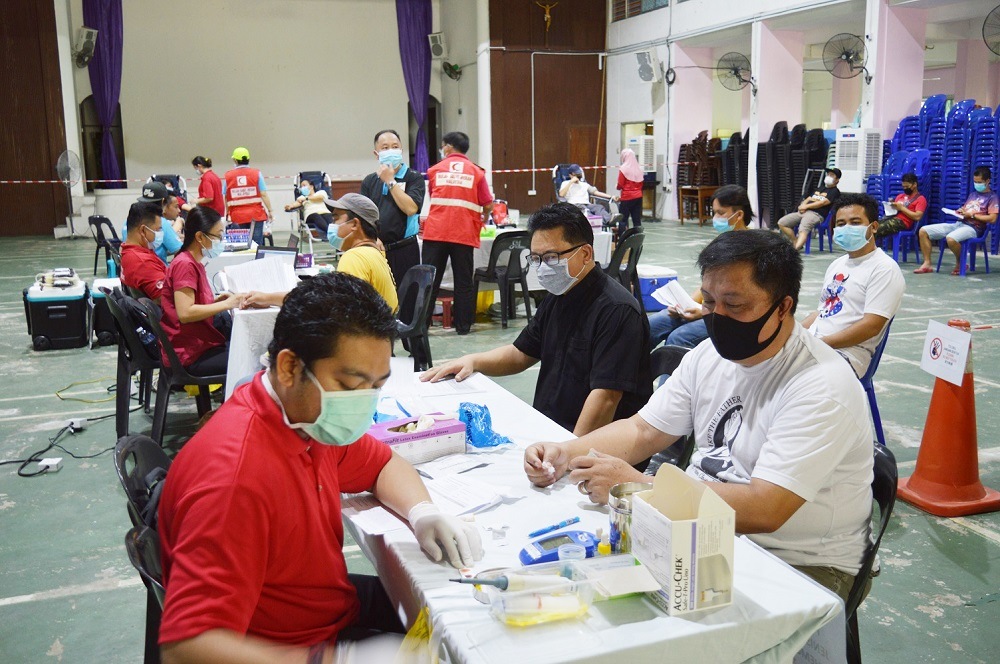 Blood donation campaign in St Michael Church Penampang, parish priest Fr Wilfred Atin in black shirt
By Johannes Jimmy, SOCCOM Penampang
PENAMPANG – The blood donation campaign on May 10 recorded the highest turnout of 81 respondents, with an overwhelming collection of 63 pints.
The campaign, which was organized by Penampang Human Development Committee (KPI) three times a year at St Michael's parish here, was held at the PPC hall from 9.30 am to 3.30 pm in strict compliance to the Conditional Movement Control Order (CMCO) enforced to break the chain of the coronavirus outbreak.
The campaign was co-organized with the Malaysian Red Crescent Society (MRCS) of Penampang District, in collaboration with Queen Elizabeth Hospital (QEH 2).
Parish KPI chairman George Maison noted with gratitude that this year's drive has been very encouraging in spite of the CMCO.
"I want to take this opportunity to thank all donors, as well as the parish priests, for your overwhelming and timely support when our hospitals are facing sudden shortage of blood due to the COVID-19 and the fasting season," acknowledged Maison, who is also the Senior Medical Laboratory Technologist, Department of Transfusion Medicines at QEH2.
MRCS district chairman Adrian Aloysius thanked the Penampang parish headed by parish priest Fr Wilfred Atin, who is also a regular blood donor, for the continuous support of the parish for the blood donation program. He attributed the high number of respondents at the current campaign to people avoiding the hospital during the CMCO.
YB Jennifer Lasimbang and her staff donated food packages and face masks to the blood donors, while supply company SMASK in collaboration with a non-profit organization (NGO) JCI Kota Kinabalu sponsored hand sanitizers and provided SOP services.