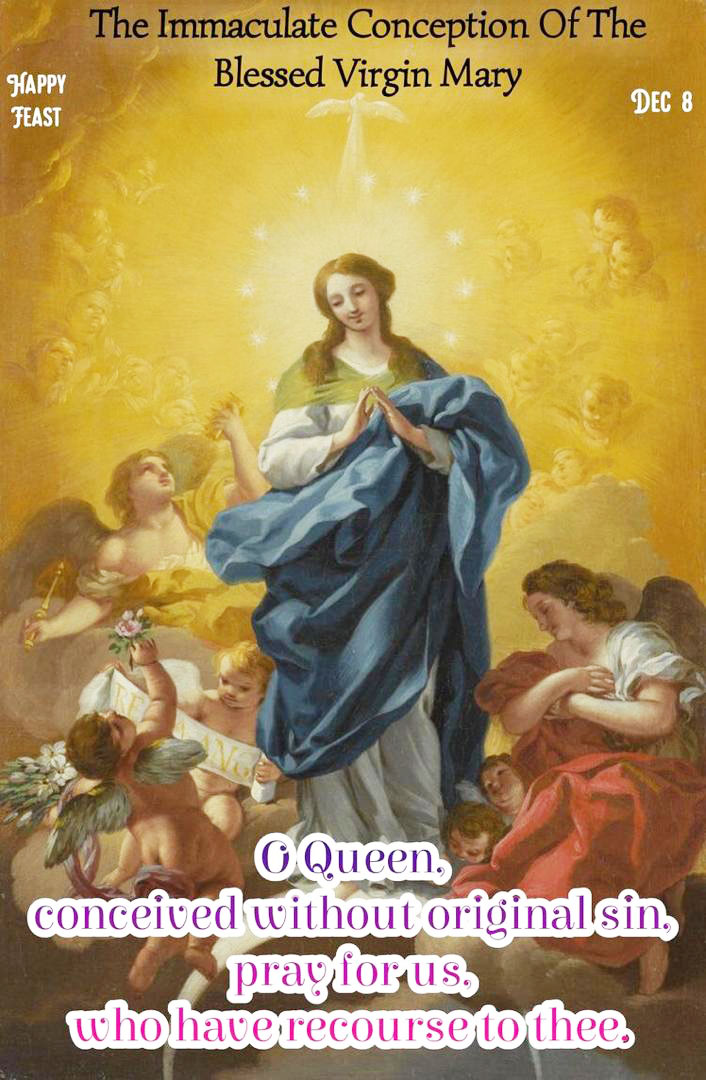 First reading Genesis 3:9-15,20
The mother of all those who live
After Adam had eaten of the tree the Lord God called to him. 'Where are you?' he asked. 'I heard the sound of you in the garden;' he replied 'I was afraid because I was naked, so I hid.' 'Who told you that you were naked?' he asked 'Have you been eating of the tree I forbade you to eat?' The man replied, 'It was the woman you put with me; she gave me the fruit, and I ate it.' Then the Lord God asked the woman, 'What is this you have done?' The woman replied, 'The serpent tempted me and I ate.'
  Then the Lord God said to the serpent, 'Because you have done this,
'Be accursed beyond all cattle,
all wild beasts.
You shall crawl on your belly and eat dust
every day of your life.
I will make you enemies of each other:
you and the woman,
your offspring and her offspring.
It will crush your head
and you will strike its heel.'
The man named his wife 'Eve' because she was the mother of all those who live.
Responsorial Psalm 97(98):1-4
Sing a new song to the Lord for he has worked wonders.
Sing a new song to the Lord
  for he has worked wonders.
His right hand and his holy arm
  have brought salvation.
The Lord has made known his salvation;
  has shown his justice to the nations.
He has remembered his truth and love
  for the house of Israel.
All the ends of the earth have seen
  the salvation of our God.
Shout to the Lord, all the earth,
  ring out your joy.
Second reading Ephesians 1:3-6,11-12
Before the world was made, God chose us in Christ
Blessed be God the Father of our Lord Jesus Christ,
who has blessed us with all the spiritual blessings of heaven in Christ.
Before the world was made, he chose us, chose us in Christ,
to be holy and spotless, and to live through love in his presence,
determining that we should become his adopted sons, through Jesus Christ
for his own kind purposes,
to make us praise the glory of his grace,
his free gift to us in the Beloved,
And it is in him that we were claimed as God's own,
chosen from the beginning,
under the predetermined plan of the one who guides all things
as he decides by his own will;
chosen to be,
for his greater glory,
the people who would put their hopes in Christ before he came.
Gospel Luke 1:26-38
'I am the handmaid of the Lord'
The angel Gabriel was sent by God to a town in Galilee called Nazareth, to a virgin betrothed to a man named Joseph, of the House of David; and the virgin's name was Mary. He went in and said to her, 'Rejoice, so highly favoured! The Lord is with you.' She was deeply disturbed by these words and asked herself what this greeting could mean, but the angel said to her, 'Mary, do not be afraid; you have won God's favour. Listen! You are to conceive and bear a son, and you must name him Jesus. He will be great and will be called Son of the Most High. The Lord God will give him the throne of his ancestor David; he will rule over the House of Jacob for ever and his reign will have no end.' Mary said to the angel, 'But how can this come about, since I am a virgin?' 'The Holy Spirit will come upon you' the angel answered 'and the power of the Most High will cover you with its shadow. And so the child will be holy and will be called Son of God. Know this too: your kinswoman Elizabeth has, in her old age, herself conceived a son, and she whom people called barren is now in her sixth month, for nothing is impossible to God.' 'I am the handmaid of the Lord,' said Mary 'let what you have said be done to me.' And the angel left her.
______________________________________________
8th December 2020 Tuesday 2nd Week of Advent – Feast of Immaculate Conception of Mary
Reflection
Genesis 3:9-15,20, Ephesians 1:3-6, 11-12, Luke 1:26-38
"To say "Yes""
Today, as we celebrate the beautiful feast of the Immaculate Conception, we see in Mary a woman who said "Yes" to God because she loved Him and trusted in Him to the point of surrendering herself to the mission of becoming the Mother of God. The words she uttered expressed her profound trust she had in God: "'You see before you the Lord's servant, let it happen to me as you have said". She did not ask to see what the future might be or to understand the whole picture of God´s plan but she willingly accepted to be His instrument in the plan of salvation.
Let us ask for the grace to love God so much to the point that we are free to say "Yes" to undertake our mission to play a part in bringing His presence of love into our family, our workplace, our parish, our society of today.
Question for reflection:
What does it mean to me to say "Yes", like Mother Mary, to God´s call to be an instrument of His love at this point of my life?

8 hb Disember 2020. Hari Selasa Minggu Adven Ke – 2 – Pesta Santa Perawan Maria Dikandung Tanpa Noda
Renungan
Kejadian 3:9-15,20, Efesus 1:3-6, 11-12, Lukas 1:26-38
"Katakan "Ya""
Hari ini, saat kita merayakan pesta indah Santa Perawan Maria Dikandung Tanpa Noda, kita melihat dalam diri Maria, seorang wanita yang mengatakan "Ya" kepada Tuhan kerana kasihnya terhadap Tuhan dan percaya kepada-Nya sehingga sanggup mempersembahan dirinya untuk misi menjadi Ibu Tuhan. Perkataan yang diucapkanya menunjukkan kepercayaannya yang teguh kepada Allah. "Sesungguhnya aku ini hamba Tuhan, terjadilah padaku menurut perkataanmu." Dia tidak meminta untuk dapat melihat masa depannya dan tidak memahami gambaran rancangan Allah terhadap dirinya namun dia rela menjadi instrumen-Nya dalam karya penyelamatan.
Marilah mohon rahmat untuk mencintai Tuhan dengan lebih mendalam sehingga kita dengan bebas mengatakan "Ya" dalam menjalankan misi kita untuk berperanan membawa kehadiran cintakasih Allah dalam keluarga, tempat kerja, paroki dan masyarakat kita hari ini.
Soalan Renungan:
Apakah ertinya bagi saya untuk mengatakan "Ya" seperti Bonda Maria, kepada panggilan Tuhan untuk menjadi instrumen cintakasih-Nya?
8 Disember 2020, Orou Karuo Minggu' Adven Karuo, Pesta Maria dikandung tanpa dosa
Kasaukan 3:9-15, 20, Ipisus 1:3-6, 11-12, Lukas 1:26-38
Mindagu ra "Iou"
Orou raiti', paat ra itakau mangiantak ra
pesta Maria dikandung tanpa dosa, ilain takau i Maria sangulun ruandu' ondo' mindagu ra "iou" ri Aki Kapuuno' sabap ra motogom i Maria Riso am mangintopot Riso ra mampataak ra inan galama' nano ra misi masauk ra ina' ru Tuhan. Ragu ra tojojo io mangintopot kaga' ri Aki Kapuuno: "Aku ti ulipon ru Tuhan. Polosoon noyo masauk raki' koson ra rinagu muni." Kalo nangkuot io koson milong ra atan lair babaal ru orou matong kapoam makarati' ra ngaangai' suang ru inatangan ri Aki Kapuuno' kaa' masaga' io mangapu koson masauk ra kuliamos Nano ralalom inatangan ru pamayagan.
Ibok pakitaak takau ra barakat koson motogom kaga' ri Aki Kapuuno' ra itakau maansayan mindagu ra "Iou" koson bantuon takau mampaugar ra misi takau magibit ra kasaangan ru togom Nano ralalom sasambaloi takau, intok pangandayan takau, paroki takau, namagunan takau ra orou raiti'.
Pangkuatan ra paguangin:
1) Atan kia arati' no raki' mindagu ra "Iou", koson ri Ina' Maria ra piau ri Aki Kapuuno' koson masauk ra kuliamos ru togom Nano ralalom kaayagan kuti?

08-12-2020 Hari Dua Minggu Advent Ka-2 – Gawai Besai Maria Dikandong enggau Nadai Penyalah.
Renungan
Pemungkal 3:9-15,20; Eph 1:3-6,11-12;
Luke 1:26-38
"Nyaut kangau."
Saritu, lebuh kitai ngintu gawai besai Maria Dikandong enggau Nadai Penyalah, kitai meda Maria siko indu tu nyaut kangau Allah Taala laban iya rindu ka Iya lalu arap dalam Iya datai ka nyerah diri ngambi ulih megai pengawa nyadi Indai Allah Taala. Jako ti pansut ari Maria mandangka ngagai kitai penalam pengarap iya ka Allah Taala: "Aku tu nembiak Tuhan. Awakka utai nya nyadi ba aku nitihka jaku nuan."
Iya enda minta awak ulih meda utai ti deka nyadi tauka mereti ka semua atur Allah Taala tekalanya tang nerima nyadi perengka Iya ka penyelamat semua.
Aram kitai minta nimet awak rinduka Allah Taala datai kitai ulih nyaut enggau ati lantang ngambi sama bela ngambi bagi mai pengerindu Iya dalam bilik, palan endur gawa, dalam gerija sereta mensia mayuh saritu.
Nama reti ba aku lebuh aku nyaut kangau baka Indai Maria ka kangau Allah Taala nyadi perengka pengerindu Iya dalam pengidup aku maya tu?

2020年12月8日将临期第二周星期二 圣母始胎无原罪
省思
«创三:9-15,20»
«弗一:3-6,11-12»
«路一:26-38
»
" 答复 "是 "
! "
今天,当我们庆祝伟大的圣母始胎无染原罪节日时,我们在玛利亚身上看到一个女人对天主答复 "是" 因为她爱祂,信赖祂以至于屈服于成为天主之母的使命。她的答复深切的表达了她对天主的信赖:"看!上主的婢女,願照你的话成就於我罷!"她没有要求看看未来可能是什么或了解天主计划的全貌,但她乐意被接受为祂计划中的救援工具。让我们祈求天主的恩宠,以至于如此爱