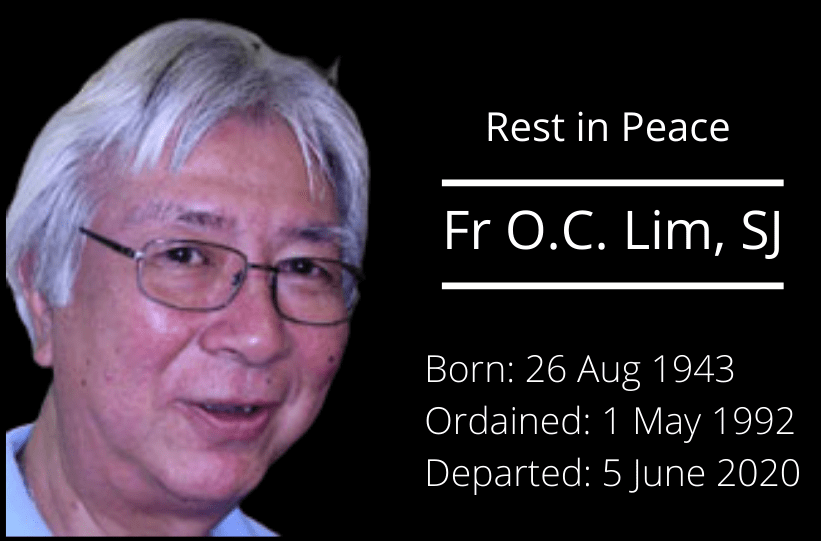 It is with profound sadness that we announce the demise of Reverend Father Anthony Lim Ooi Chai, better known as Fr O.C. Lim who passed away on 5th of June 2020 at Pantai Medical Centre. He was 77.
Fr O.C. Lim was admitted to hospital in early May and had been showing signs of improvement during his post-surgical care. His sudden passing was due to his earlier aortic dissection and aneurysm. His death has come as a shock to all.
A legal practitioner for 14 years, he joined the Society of Jesus on 1st of March 1985 and did his Novitiate in Petaling Jaya from 1985 to 1987. He professed his first vows on 2nd of March 1987. He studied philosophy and theology at the Ateneo de Manila University and Loyola School of Theology respectively from 1987 till 1992. On 1st of May 1992, Fr O.C. Lim (then aged 49), was ordained to the priesthood at the Church of St Francis Xavier in Petaling Jaya. Five years later, he professed his final vows on 1st of May 1997.
One of his first appointments was as Director of the Catholic Research Centre (CRC) and Editor of the Catholic Asian News (CANews), a post he held from 1993 to 2009. During his tenure, he continued to further develop not only CRC but also CANews This monthly magazine provided thought provoking reflections for many to read and reflect. Under his direction CRC focused on bringing about a critical awareness to Christians and others of their role in the Malaysian society in its socio-politico, economic and religious context.
In 1992, he was appointed as the first Spiritual Director for the newly established Catholic Lawyers Society Kuala Lumpur, a role which he relished with much gusto for several terms over a span of almost 18 years. An outspoken advocate for justice, Fr O.C. Lim gave courage to those fighting for just causes, always advising them to "stand up and be counted."