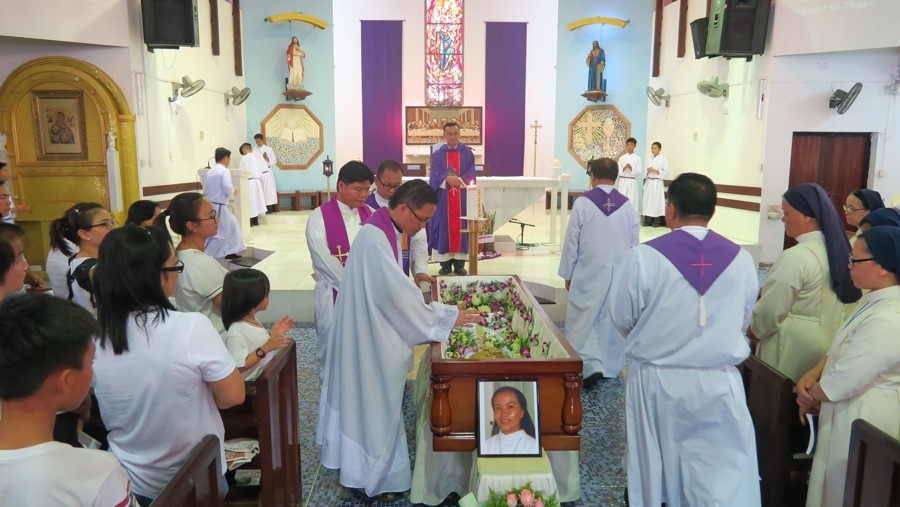 At the Requiem Mass of Sr Lounah at Stella Maris Church Tanjung Aru Mar 1
TANJUNG ARU – It is with deep sorrow that on Mar 1, the Franciscan Sisters of the Immaculate Conception (FSIC) lost a member who went home to the Lord.
Sr Mary Lounah Pulis, 52, breathed her last at KPJ Hospital at about 11.00 am, witnessed by a few of the FSIC and her own family members.
She had been battling with leukemia since April 2018 and had gone through her first treatment at KPJ Hospital the same year. She was doing well, keeping up with her periodic reviews.
She was staying at the Loreto Convent at that time, helping around in the convent but did not have any involvement in a parish. Upon completion of the new Stella Maris Home, she was transferred there in January 2019.
She celebrated her Silver Jubilee with a trip to Holy Land in May 2019.
After coming back, she got sick again and had to have frequent blood checks. She was admitted twice in KPJ last February, with the final admission on Feb 24. While undergoing her trial, her words "Just surrender to God's will" seemed to her especially significant.
A courageous soul
Hundreds of grieving family and friends gathered to bid her farewell Mar 3 at Stella Maris Church here.
At the Requiem Mass, Archbishop John Wong said Sr Lounah was a courageous soul and has faithfully completed her earthly journey.
"Yes, today we feel sad but at the back of our sadness, we should be filled with hope," said the prelate, noting that the passing of Sr Lounah has saddened the hearts of many.
He acknowledged that though people have different opinions and thoughts about death, he reminded those present that Jesus has transformed physical death into a path to eternal life.
"Yes, in death we leave behind this mortal world and enter into the bosom of the Father. Jesus Christ is our hope," he said.
Sr Lounah was a joyful person, known for her strong character. Her peer group described her as strong and resilient. They gave an example of when her father passed away suddenly, she was seen to remain calm. She projected the same calm demeanor during her time of illness with her "surrender to God's will".
At the wake
Most of the siblings, including her nieces and nephews stayed at Stella Maris convent to be with the FSIC throughout the wake.
The family arranged and prepared food, right from the beginning of the wake. They were in the kitchen as early as 5.00 am to prepare breakfast while the religious sisters were praying.
Headed by the eldest sister, Mary Pulis, she made sure that there was enough food on the table for everyone, a service which Mother General Mother Frances Mani acknowledged with gratitude during her speech at the Mass.
Her service
Sr Lounah, who hailed from Kg Ramayah Penampang, was born on Apr 24, 1967. She was baptised on Nov 2, 1979 at St Aloysius Church Limbanak by Fr Alexander Sipanul. At the age of 22, she entered Postulancy on Jan 6, 1989 and proceeded to Novitiate for her formation on Jan 4,1990.
Two years later, she made her first profession on Feb 27, 1992 and her perpetual profession on Jan 2, 1997. She celebrated her Silver Jubilee on Feb 4, 2017 at Sacred Heart Cathedral Kota Kinabalu.
Throughout the years, she served in the three arch/dioceses of Sabah, beginning with her first posting in Tenom parish in 1992 and with the last posting at Sacred Heart Convent Sipitang under St Yohanes Pembaptis parish in 2017.
She was the sixth child from a brood of three boys and five girls to Pulis Bungalun and Janaah Joinil. Both her parents have passed away. – (Source: Sr Lilian Unsoh fsic)