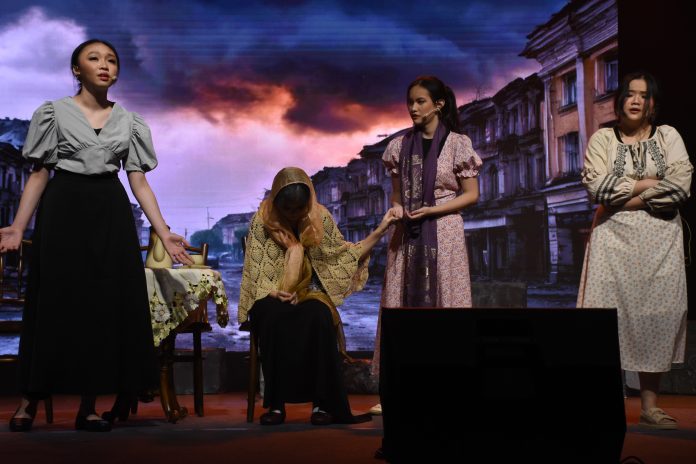 Women in the Russia and Ukraine War scene (Photos: SJFS)
KUCHING — St Joseph's Family of Schools' production, "A Story of Ours: Us and Them", was held at the Archdiocesan Curia and Cathedral Pastoral Centre (ACCPC), St Joseph's Cathedral Kuching, on  Sep 29 and 30 2023.
Christopher Chua, the Chief Executive Officer of St Joseph's Family of Schools, commented that this play was good for the community and a one-of-a-kind production that doesn't happen often.
Prior to the pandemic, the school's annual productions were based on the history of Sarawak. There were also the biennial variety shows that showcased the talents of our fellow students. However, this year's production was restaged and readapted from David Campton's play, "Us and Them". It was on more abstract topics, such as human interactions and behaviours as well as current affairs, for example, exploring the effects of the Russia vs Ukraine war on the ordinary people.
It was a unique and astounding feat of abstract theatre, a wonderful amalgamation of the traditional, modern and historical elements that were noticeable in the musical performances that preceded the play and in the play itself. This production also aimed to show our "story" of our daily interactions with one another, hoping to teach everyone to build bridges and not walls through collaborations and dialogues.
The headmistress of St Joseph's Private Primary School, Shirley Chong, said that the message of the play was to build friendships and set aside our differences in order to have peace. She also mentioned that the majority of this production was centred around the unity and collaboration of all staff and supporters in order for this production to be a success. Not only was this message transmitted through the play itself, but it was also evident in the teamwork of the staff and students.
Working together and problem-solving were some of the many life skills that students involved in the annual productions needed to learn, enriching them with unforgettable experiences outside of classroom learning. For example, the prop-making team were tasked with the challenge of creating a realistic yet lightweight and functional stone wall. They managed to prevail with their strategic time management and problem-solving skills and came up with ingenious upcycled "rocks" that were made of discarded polystyrene boxes from the supermarkets. 
When interviewed, Cheryl Wong, a member of the SJPSS Chamber Choir, concurred. She added that being a student was not just about studying but banding together to collaborate on a common goal, which in this case, was to produce a marvellous production.
She also mentioned that it was relatively easy to prepare for such a large production, given the amazing teachers in charge and their expertise in guiding the students. Nevertheless, some students did say that it was rather hectic and rushed to make this production a reality. Many departments worked tirelessly together over a period of four to five months to make this production a success. This goes to show that everyone, no matter how big or small the role is, will contribute to producing such a fruitful outcome.
When I, as one of the Student Reporters, visited one of the many exclusive Director's Checks that were the precursors to the dress rehearsals during the preparation months, I managed to witness the immense work and patience it took for the staff and students from all three schools involved to make sure every single detail was perfected. As said before, every little detail counts in the end.
Finally, on Sep 29 and 30 2023, the curtains were raised. The passion of the actors and actresses wowed the audience while the musicians serenaded the crowd with their melodious playing and the dancers held them captivated by their elegant moves. Overall, the message of unity and overcoming prejudices has definitely been conveyed well. – Today's Catholic