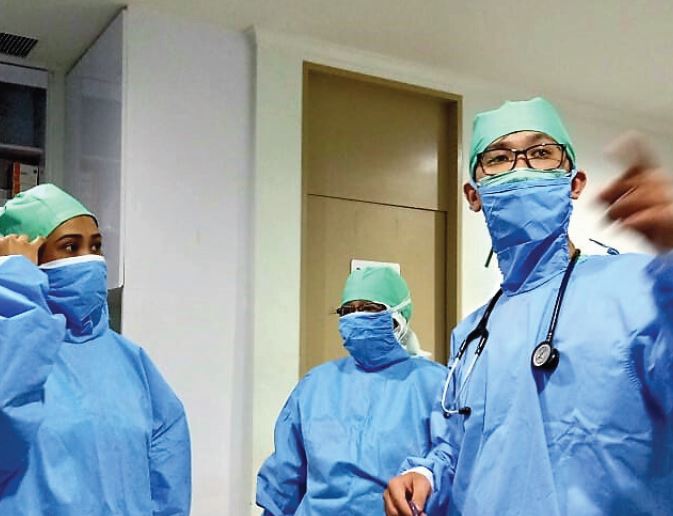 Doctors and nurses in Indonesia fighting against coronavirus
The Indonesia Medical Association (IDI) is investigating the high number of deaths. Stress and a heavy workload, combined with the lack of adequate protective equipment, are the main culprits. More anti-pandemic measures are being implemented, including social distancing and curfews. In Jakarta however, the governor wants to reopen cinemas to ease tensions.
JAKARTA – At least a hundred Indonesian doctors have lost their life in the past few months after contracting the novel coronavirus. Along with nurses and other medical staff, they played a leading role in the fight against the COVID-19 pandemic.
The information comes from the Indonesian Medical Association (Ikatan Dokter Indonesia, IDI), which is opening in investigation into the cause of the high number of fatalities and determine how to better protect doctors' health, IDI spokesperson Halik Malik said.
Speaking on behalf of the IDI, its president, Daeng M. Faqih, sent condolences to the families of the victims.
Stress is one of the leading causes of mortality among health professionals, due to excess workload and physical fatigue, which weaken the immune system. Inadequate personal protective equipment is another major factor.
For one doctor, who did not give his name, the ongoing pandemic comes with "multiple" challenges. Excess work is compounded by the lack of discipline among Indonesians and the failure to comply with rules of hygiene. But the most worrying thing is the number of "asymptomatic patients" who are among the main carriers of the virus.
So far, some 178,000 cases of the novel coronavirus have been reported in the country with 128,000 recoveries, 42,000 hospitalisations and 7,505 deaths.
In the past two weeks, outbreaks have occurred in several cities and there is no sign that the pandemic is receding. In fact, the number of cases is rapidly increasing.
In the past 24 hours, 2,775 new cases have been reported. The recent holidays, and associated gatherings and public meetings, risk giving the pandemic a boost.
The five provinces with the highest number of cases are Greater Jakarta, East Java, West Java, Central Java and Bali.
The virus has now spread to at least 488 districts, with 90 per cent of the country affected by the pandemic.
In West Java, Governor Ridwan Kamil yesterday imposed social distancing until 28 September, whilst a curfew will be in place in some of the most affected cities to prevent meetings and gatherings.
Jakarta Governor Anies Baswedan by contrast wants to reopen cinemas to ease the stress among the population. – Asia News