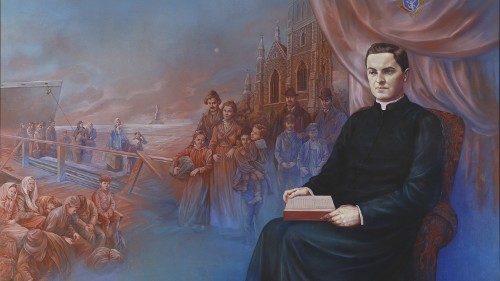 An image of Fr Michael McGivney as a parish priest 
As Catholics in America celebrate the beatification of Fr. Michael McGivney, Supreme Knight Carl Anderson explains why the founder of the Knights of Columbus is still an important example of missionary charity for the Church.
Father Michael J. McGivney is set to be beatified in a special Mass celebrated by Cardinal Joseph Tobin, Archbishop of Newark, on Saturday.
The celebration takes place at St. Joseph's Cathedral in Hartford, in the US state of Connecticut.
Though the beatification occurs on American soil, Catholics around the world have reason to be grateful for the life and witness of Fr. McGivney.
He founded the Knights of Columbus in 1882, at his parish in New Haven, Connecticut. The fraternal charitable organization now counts over two million members organized into some 16,000 local chapters spread throughout the world.
Timely event for US Church
In an interview with Vatican News, Supreme Knight Sir Carl Anderson expressed Catholics' gratitude to Pope Francis for recognizing the Christian witness of Fr. McGivney.
"I think this is precisely the type of event that's so important to happen in America today," he said, adding that during Fr. McGivney's time, the US was missionary territory.
"Fr. McGivney founded the Knights of Columbus because he was very concerned that Catholics were leaving the faith. Men were leaving to join secret societies, which often in the US were anti-Catholic, and families were being broken up on the death of the bread-winner—the father—because of poverty."
Fraternity and mutual support
So, he set up the organization to provide fraternal support for men and financial aid to their families in case of their death, through life-insurance policies. This provided a life-line for working class and immigrant Catholics, who had weak support networks.
"Fr. McGivney wanted to keep his parishioners and parish families strong in the faith."
In 19th century America, added Mr. Anderson, anti-Catholic sentiment was very strong, so there was a risk that Catholics would withdraw from society and form ghettos.
"But instead, Fr. McGivney's idea was, 'No, we're going to go into society. We're going to make a difference. And we're going to do it in terms of charity and unity, under the idea of brotherhood.'"
Similar circumstances
Mr. Anderson drew a parallel between the challenges facing the American Church today and back then.
"The crisis now," he pointed out, "is the lockdown of parishes, the reduced number of parishioners who attend Mass. Church services are drastically reduced. When those restrictions are lifted, we're going to have to bring people back."
Getting Catholics to return to Mass, he said, will likely prove somewhat difficult. "We're going to need a way of renewing parish life."
Missionary example of parish renewal
Mr. Anderson said Fr. McGivney has already laid out a path, by making every parish missionary, "evangelizing his parishioners, finding ways to keep his parishioners active in his parish."
That's why, said Supreme Knight Carl Anderson, Fr. McGivney's idea of "Christian and missionary witness of the ordinary believer is so important today." – Vatican News