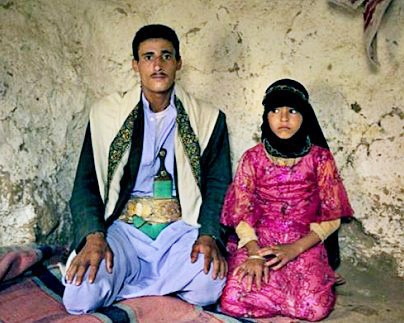 In recent months, tens of thousands of girls have been forced to marry, a trend made worse by the desperation of families plunged into extreme poverty by the viral outbreak. For experts, "years of progress" in the fight against the practice are at risk. For the UN, 13 million more children could be married off in the next decade.
BANGKOK – Tens of thousands of girls across Asia are forced to marry by desperate families after falling into extreme poverty as a result of the novel coronavirus pandemic.
According to experts, this is a constantly growing trend that risks wiping out "years of progress" in the fight against the practice, which is detrimental to the rights of girls and young women.
Child brides can be found in many traditional communities in Asia, from Indonesia and India to Pakistan and Vietnam.
However, the custom was on the decline in recent years thanks to greater awareness and educational programmes by governments, international organisations and associations, including Catholic NGOs.
These improvements now risk being lost by the impact of COVID-19, which triggered a massive loss of jobs.
The economic crisis, aggravated by growing unemployment, is driving parents to marry off their children, especially girls, to cut costs and reduce the family budget.
"All of the gains we've made in the past decade are really going to suffer," explains Shipra Jha, head of Asia engagement, at NGO Girls Not Brides.
"Child marriage is firmly rooted in gender inequality and patriarchal structures. What's happened is that it's become compounded in the COVID era," she adds.
Poverty, lack of education, and insecurity, drive child marriage even in stable times, so periods of crises, like the current pandemic, exacerbate the problem.
According to the United Nations, around 12 million girls around the world marry every year before they turn 18.
Worldwide, an estimated 12 million girls are wed every year before the age of 18, according to the United Nations.
Urgent and effective actions are needed to counter the "devastating" economic and social impact of the coronavirus because, otherwise, another 13 million girls could be married off in the coming decade.
In Asia, this is already starting, with tens of thousands of girls forced to marry in the last few months alone.
According to UNICEF, Indonesia is one the countries in the world with a high rate of child marriage.
The Indonesian government has raised the minimum age for marriage from 16 to 19 for both sexes in an attempt to tackle the problem.
However, Islamic courts have approved thousands of such unions, effectively undermining the government's efforts.
Indonesia's Islamic authorities officially authorised more than 33,000 child marriages between January and June of this year, compared to a total of 22,000 for the whole of 2019, this according to Indonesia's Women's Empowerment and Child Protection Ministry. – AsiaNews/Agencies