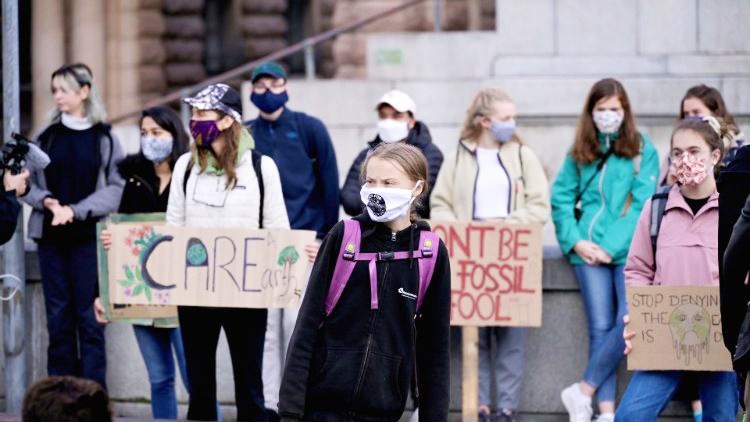 Swedish climate change activist Greta Thunberg protests with other young people in front of the Swedish Parliament in Stockholm | Janerik Henriksson/TT
Youth around the world return to the streets and online to urge governments to tackle climate change. Obligatory social distancing due to the coronavirus pandemic makes it challenging to hold mass protests.
Greta Thunberg and a small group of fellow climate activists showed up in front of the Swedish parliament building notwithstanding the current covid-19 pandemic.  It is a far cry from the crowds that previously welcomed her as authorities limit the seizes of protests.
Wearing face masks, Thunberg and other protestors hold up signs about what they view as dangerous climate change during a "Fridays for Future" protest in Sweden's capital Stockholm.
And the 17-year-old Thunberg urged youth worldwide to participate in similar actions from Friday to Saturday online or on the streets.  "We need to treat the climate crisis as a crisis. It's just as simple as that," she argued.
"The climate crisis has never once been treated as a crisis. And unless we treated as a crisis, we won't be able to so-called solve it." Thunberg stressed.
Arctic Protest
Competing for attention is 18-year-old activist Mya-Rose Craig. She stood on an Arctic ice floe holding the message "Youth Strike for Climate."
Craig believes that melting ice, raging wildfires, and other natural disasters show that adults have failed to take the urgent action needed
to tackle global warming caused by massive greenhouse gas emissions.
That's why the teenager, backed by environmentalist group Greenpeace, headed to the Arctic Ocean to protest.  "So this is the most northerly kind of strike ever. I think this really helps to push forward this issue. It gives us something to understand that this is urgent. And something to deal with now, or [even better] ten years ago," she noted.  
Youth rallies are also returning to larger cities ranging from London and Stockholm in Europe to Sidney in Australia.  
The latest demonstrations come just days after the United Nations said concentrations of greenhouse gases in the Earth's atmosphere
hit a record high this year.
Not everyone agrees. But a U.N. report claimed that a global economic slowdown amid the coronavirus pandemic had little lasting effect. – Vatican News