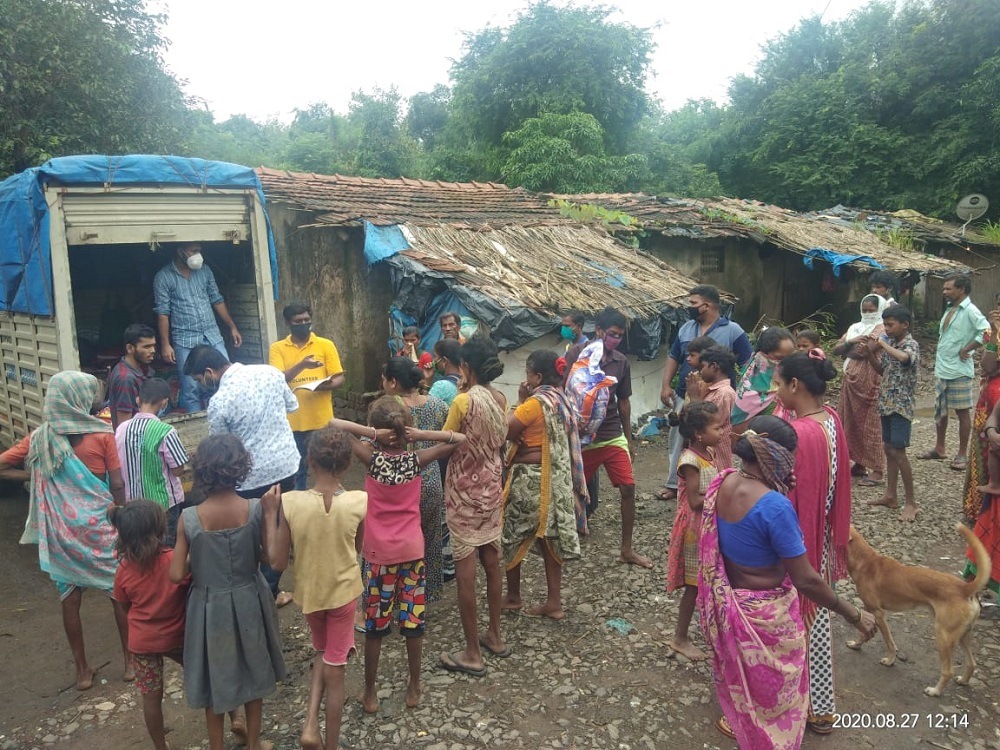 Tribal migrants receiving COVID-19 aid
Pahunch coordinator Goretti Xalxo talks about her experience. The lockdown turned poor menial workers into refugees overnight. They received material support, health information and help to get home.
MUMBAI – Mary Goretti Xalxo, a coordinator with Pahunch, spoke to AsiaNews about her experience of working with tribal migrants during the COVID-19 pandemic.
On 24 March, the authorities imposed the lockdown with just a four-hour notice, ostensibly to save lives, but the lack of planning had the opposite effect on the poorest of the poor and the most vulnerable.
Since it was the end of the month, workers were expecting to be paid, but since their jobs were terminated as a result of the sudden announcement, most employers and contractors who had to pay them turned off their phones or didn't answer calls. Some just disappeared.
The fragility of the people: The overnight lockdown announcement turned the poor menial workers into refugees. My team and I worked mainly with tribal migrants from Chota Nagpur (north-eastern India) living in Janakipada Vasai, Naigaon and Virar.
The workers come from villages in Chhattishgarh, Jharkhand and Odisha, who moved to cities to work as daily labourer, domestic helpers, drivers or gardeners. Most of them rented small, cheap rooms in the slums. Some shared rooms in order to reduce rental costs. They cooked together to reduce the cost of food.
Some 465 tribal families or 800-900 people from Chota Nagpur lived in and around Vasai. The local archbishop, Felix Machado, took action to help these people avoid hunger at a time of desperation and crisis.
Pahunch intervention: I am proud to say that our Pahunch team were among the first to reach out to migrants from Chota Nagpur living in and around Vasai. The team included myself, Pallavi Xalxo, Praveen Kachhap, Fr Andrew Dantis CSsr, Fr Ivan D'souza CSsr, Valentine Soreng and Sushma Kido.
We prepared ourselves to work with migrants, to "stand with them," in order to stop them from "walking home" and fall prey to chaos.
Our two-pronged plan included material aid and phone counselling about hygiene, social distancing and crisis management.
The first think we asked was whether they had enough food, if they had been paid, and if their employers had paid their wages in full.
Most of them had rations for a day or two, and many said they were eating only a meal a day to save on food.
Aid distribution: Migrants had just returned after the Christmas break and had no money. They had brought some grains with them to eat until they earned some money. With the sudden lockdown announcement, they found themselves on the brink of hunger, alarmingly vulnerable, feeling humiliated. Without a job, they depended on food provided by the authorities or charities.
Anticipating the effects of the lockdown, I expressed my fears and concerns to some friends and donors about need to help tribal migrants from Chota Nagpur. After listening to what migrants faced, the donors provided aid packages to the team, which lasted a month.
We first provided aid on 29 March in Jankipada, Vasai East. It was a touching experience since some people didn't have food for the next day. We kept looking for people stranded in various places and tried to contact everyone, so that no one would go hungry.
We continued our work supported thanks to generous donors like the Dharma Bharti Mission, Caritas India, Habitat for Humanity, PCGT, Redemptorists as well as individual donations.
We were thus able to help more than 2,500 families in Jankipada, Shantipada, Gauraipada, Fatherwadi, Bhoidapada, Sativali, Rajawali, Naigaon East, Virar, Nallasopara and some isolated places around these areas.
We not only helped tribal migrants, but also victims of trafficking, orphans, seniors, and refugees from Bangladesh.
Social distancing, hygiene and masks: Social distancing was impossible for these migrants since most lived in groups of 6-7 people in a single room, sometimes very small rooms with doors facing each other less than 60 centimetres apart. In these places, people sit and chat all day after their day's chores.
Since these people never live alone, it is hard for them to grasp the significance of strict regulations on social distancing or safe distances.
Returning migrants: As the lockdown went on, people began to get more anxious. Eventually, they decided to go home to their villages by whatever means. For this reason, we got scared because they are thousands of kilometres from their villages.
We began offering advice more and more, encouraging people not to walk. As time went by, they got increasingly restless.
Finally, alumni from the National Law College Bangalore announced free air transport for migrants, especially from Jharkhand. We used this opportunity to send 20 tribal migrants with the first group.
We continued working with the National Law University, sending 200 by train, 180 by plane to Odisha, and more by plane to Jharkhand. We also sent some migrants by bus and truck in the first few days before partnering with the National Law University. We made sure they didn't have any difficulties on the road trip.
My daughter Pallavi came up with the idea of networking with like-minded organisations in Nagpur, Raipur in Chhattisgarh, and Sundargarh in Odisha.
She asked would-be partners to provide food and water to people travelling on highways and eventually launched a highway relief plan, even before national road authorities began their own assistance programme of food and water. This way we prevented our people from becoming dehydrated and sick.
People remained in contact with us during their journey until they reached their homes. In case of difficulties they talked to us and we helped them thanks to our network.
Spiritual Experience: My team never ran out of aid resources. We started with 30 packages. Seeing what we were doing, people came forward to help in any way they could. We kept going to different places and getting more aid.
God was with us throughout this mission. – AsiaNews