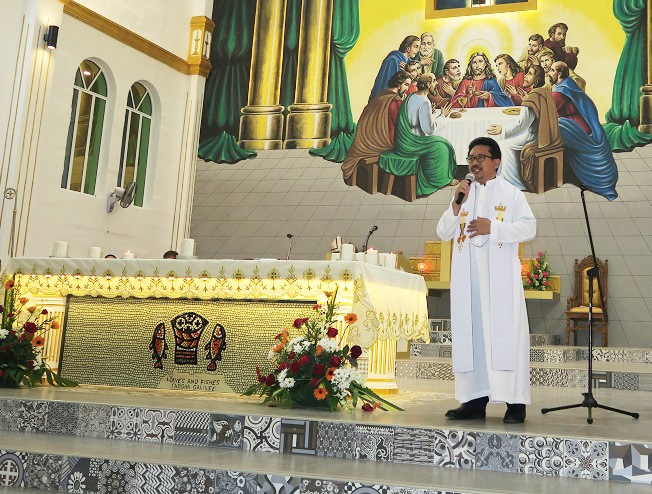 Fr Wilfred Atin, parish priest St Michael Church Penampang
PENAMPANG – "It is your right to get all the possible information on the candidates who are contesting for the election. It is important to understand the agendas of the parties contesting for the election," said Fr Wilfred Atin.
Fr Atin called on the people to a wiser voting in the coming State Election, Sep 26 and emphasized that as Christians, the people should be voting with the guidance of the Holy Spirit.
He said this during Mass, Sep 19 at St Michael Church here and again on a Sunday Mass at Woori Jib Home in Potuki, Sep 20.
He is calling on the people to reflect on important questions before casting their vote.
"Do I know the candidate and the political party I am contemplating to vote? Is he/she free of corruption?
"Does he/she or this political party truly care for all the "rakyat" regardless of religious and ethnic differences?
"Does he/she promote justice and equality for everyone?
"Does he/she fight for his/her principles with integrity and work for the common good of the citizens?
"Does he/she strive to build a cohesive, harmonious and prosperous nation?
"Have I ever seen him/her participating in the religious prayers of his/her faith beliefs?" said Fr Atin.
In the Social Teaching of the Catholic Church, it is the Church's obligation to exercise her responsibility and participate in shaping the character of the society as a requirement of her faith.
Fr Atin, known for his stand on the Church and secular politics, said he is personally convinced that the Church as an "institution" must not be directly involved in secular politics and has to be neutral. In other words, the church is non-partisan.
However, "the Church as a "people" has the freedom to choose political preferences. It is an individual right to vote. The Church is like a family but not everyone would agree to one particular party.
"But regardless of political differences, a family will always be a family. That is why, when we enter the "building" of a Church, we must put aside our political preferences.
"We must realize that in the Church we are at equal footing. We do not bother about political ideologies because we are all one body of Christ," said Fr Atin.