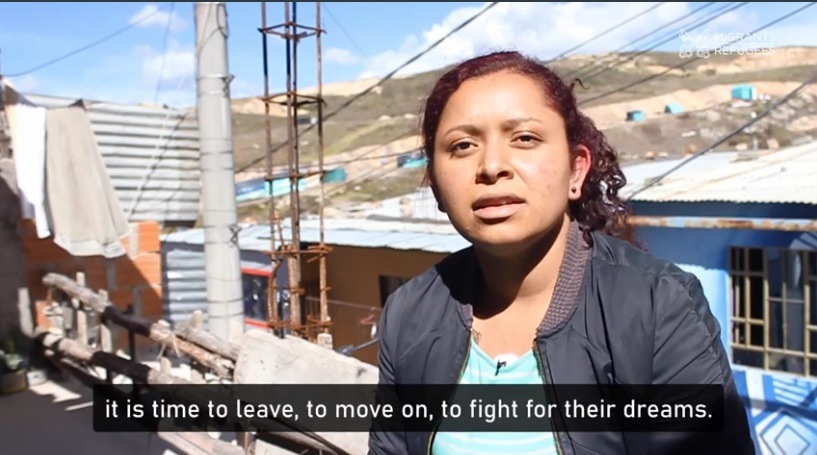 Lorena Margarita Pinilla Rojano shares her experience of fleeing from violence
Ahead of the World Migrant and Refugee Day slated for 27 September, Lorena Margarita Pinilla Rojano shares her experience of fleeing from violence and becoming internally displaced.
The Church marks the 106th World Day of Migrants and Refugees on Sunday.
Since the first observance of this annual celebration in 1914, this day has been set aside to express concern for vulnerable people on the move and the increasing awareness for them as they face challenges.
The Pope's Message for this year's celebration is themed: "Forced like Jesus Christ to flee." His reflections are inspired by the experience of Jesus as a child with His parents as displaced refugees.
Pope Francis points out that "building the Kingdom of God is a commitment that all Christians share, and for this reason, it is necessary that we learn to collaborate." He also prayed that we "may be perfectly united in mind and thought," as St. Paul recommends.
Lorena's story
This week, the Vatican's Migrant and Refugees Section of the Dicastery for Promoting Integral Human Development released the sixth in a series of videos ahead of the annual day.
In the video, Lorena Margarita Pinilla Rojano—a 25-year-old woman from Chibolo Magdalena, Columbia—recounts her experience of becoming internally displaced.
"I arrived in the city of Bogotá in 2012. I have been here for 8 years," she said. "I arrived here with my family, which was displaced because of violence."
She recalls that her family had to flee Chibolo Magdalena in the middle of the night, leaving behind everything, including her father's farm, which the guerillas burnt down.
Beginning anew
In 2015, Lorena moved to Soacha Cundinamarca, a suburb of Bogota, and was able to purchase a home.
Currently, she is one the beneficiaries of an initiative run by the Jesuit Refugee Service (JRS) in San Benito, and is one step closer to her dreams of becoming an entrepreneur.
"I had a business idea that I wanted to develop but I did not have the financial means to do that," she said. "I am grateful to the Jesuits here in Columbia who supported me, trained me, and offered me this initiative opportunity. Thanks to them, I developed my business initiative and moved forward."
Lorena gives some sound advice: She encourages everyone to "move on and fight for their dreams."