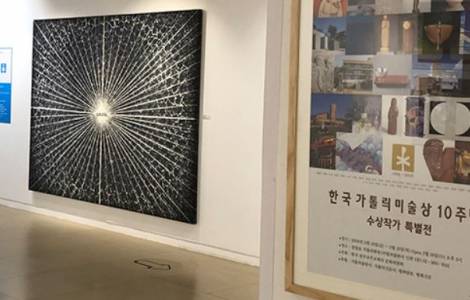 Evangelization through art in Seoul
SEOUL – Evangelizing through art is the goal of the Association of Catholic artists of Seoul, which celebrates its 50th anniversary of its foundation. On the occasion of the event, a special exhibition of Korean Catholic artists entitled "Blessed be your name in the arts" was presented in the Cathedral complex of the capital.
Cardinal Yeom Soo-jung, citing Pope John Paul II, remarked that, "in the history of the Church, the Church and artists have collaborated with each other and expressed the grace of God through the gift of art", stressing that "Catholic art plays an important role in Evangelization".
The Cardinal encouraged the Association, declaring: "The works of many Catholic artists during the 50 years since the foundation of the Association of Artists have become a cultural heritage of which we are proud, an integral part of the history of our Church".
The exhibition, which displays works by members of the Korean Catholic Artists Association from 15 Dioceses nationwide and 399 members living abroad, takes place in the gallery of the Myeongdong Complex in Seoul, where the Cathedral stands. Due to the ongoing pandemic, it can also be visited through a virtual tour available on the Internet at http://catholicart.or.kr.
Father Young-yup Hur, Vice Chairman of the Communications Committee of the Archdiocese of Seoul, commented: "Korean Catholic artists are passionate about expressing their beliefs and faith. This commemoration of the 50th anniversary will be a new beginning".
The Association is made up of 900 artists from 15 Dioceses and members in diaspora, intends to live and spread the Spirit of Christ through art and looks for ways to develop and revitalize the art of the Church in Korea. (PA) (Agenzia Fides, 12/10/2020)