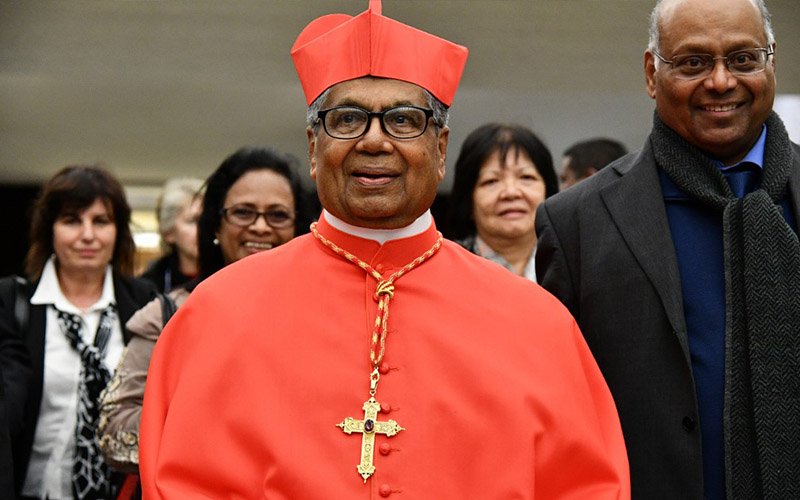 KUALA LUMPUR (Herald Malaysia): Cardinal Anthony Anthony Soter Fernandez has died peacefully at St Francis Xavier Home for the Elderly, Cheras.
"May his soul rest in peace."
Cardinal Anthony Soter Fernandez was born in 1932 and was ordained to the priesthood for the Diocese of Penang in 1966. 
The late Cardinal was ordained Bishop of the Diocese of Penang in 1978. He was later appointed as Archbishop of Kuala Lumpur on 30th July 1983 and installed as Archbishop on 10th November 1983.
He was Elevated as Cardinal on 9th October.
Obituary Notice–Metropolitan Archdiocese of Kuala Lumpur
Chan/MC/Obit-06/2020
His Eminence Anthony Soter Cardinal Fernandez
22nd April 1932 – 28th October 2020
Archbishop Emeritus of Kuala Lumpur Archdiocese
It is with profound sorrow that the Archdiocese of Kuala Lumpur announces the demise of Malaysia's first cardinal, His Eminence Anthony Soter Cardinal Fernandez, who has peacefully passed on Wed, 28th October at 12.35pm at St Francis Xavier Home for the Elderly in Cheras.
His Eminence, who was the second archbishop of the Archdiocese of Kuala Lumpur, was diagnosed with tongue cancer in November 2019 and had been receiving palliative care at the St Francis Xavier Home, where he had been residing since 2013.
Details of the Wake are as follows:
Date: Thursday, 29th Oct
Venue: Community Centre, Cathedral of St John, Jalan Bukit Nanas, Kuala Lumpur
Time: 12 pm to 9 pm
Date: Friday, 30th Oct
Venue: Cathedral of St John, Jalan Bukit Nanas, Kuala Lumpur
Time: 8 am to 9 pm
Each visitor is allowed a maximum of 15 minutes for viewing, paying respects and personal prayer. Due to CMCO restrictions, the number of visitors at any single time should not exceed 20 pax. If you wish to pay your respects, kindly complete the online pre-booking form at https://wake.archkl.org.
Funeral Mass

Date: Sat, 31st Oct
Time: 10.30am 
Due to restrictions under the CMCO, the Funeral Mass will not be opened to the public but will be live streamed from ArchKL YouTube Channel – https://Tv.ArchKL.org 
We invite the clergy, religious and faithful to remember His Eminence Anthony Soter Cardinal Fernandez in your Masses and prayers.
Eternal rest grant unto him O Lord, and let perpetual light shine upon him. 
May the souls of all the faithful departed, through the mercy of God, rest in peace. Amen.
Revd Fr Michael Chua
Chancellor
Archdiocese of Kuala Lumpur
Appendix

His Eminence Anthony Soter Cardinal Fernandez
Archbishop Emeritus of Kuala Lumpur Archdiocese 

Early Life
Anthony Soter Cardinal Fernandez was born in Sungei Petani, Kedah, and had his early education in Klian Pauh Convent, Taiping from 1940 to 1941. His studies were disrupted by World War II. At the end of the war, he continued his education at St Theresa School and Ibrahim School in Sungei Petani.
Following the demise of his father in 1946, he had to put aside his studies and assume the role of bread winner for the family. His main priority was to care for his mother and ensure that his younger brother would get a proper and uninterrupted education. He worked as a Hospital Assistant from 1947 to 1954.
At the encouragement of the late Monsignor I.J. Aloysius and the late Archbishop Dominic Vendargon, he was led to discern the priesthood. He joined the minor seminary in Singapore in 1958 at the age of 26. He completed his priestly formation at College General in 1966 and was ordained to the priesthood by Bishop Dominic Vendargon at the Cathedral of the Assumption, Penang on Dec 10 of the same year.
Life as a Priest
His first assignment after ordination was as assistant priest and later parish priest at the Church of St Louis in Taiping where he served for three years. He was subsequently sent for further studies at the International Training Institute for World Churchmen and the East Asian Pastoral Institute in Manila, Philippines. In 1972, he attended the Intensive Training Institute at the National Biblical Catechetical-Liturgical Centre in Bangalore, India.
Upon his return, he visited parishes and schools in the diocese to share his knowledge and to form catechetical groups in various areas. In 1973, he was appointed as a professor in College General to initiate students into the priestly life. When the post of rector became vacant in 1975, he was appointed rector.
Episcopate
Following the elevation of Bishop Gregory Yong of Penang as the Archbishop of Singapore, Pope St Paul VI appointed Fr Soter as Bishop-elect of Penang on Sept 29, 1977 and he was consecrated as Bishop of Penang on Feb 17, 1978.
On Nov 10, 1983, Bishop Soter was given the honour of stepping into the shoes of his mentor, Archbishop Vendargon, as the second archbishop of the Archdiocese of Kuala Lumpur. He tendered his resignation on May 24, 2003 due to ill health at the age of 71.
Upon his retirement, His Eminence served as spiritual director at College General Seminary in Penang from 2005 to 2012 and then returned to Kuala Lumpur Archdiocese to take up residence and serve as chaplain at the St. Francis Xavier Home for the Elderly (Little Sisters of the Poor) in Cheras.
Anthony Soter Fernandez was raised to the rank of a Cardinal by Pope Francis on 19th November 2016.
Ministry
His concern for the direction of the Catholic Church in Peninsular Malaysia was evident in the early years of his priesthood. He was one of the architects of the 1976 Aggiornamento (pastoral renewal of the local church). That one-month gathering involving clergy from the three dioceses of Peninsular Malaysia produced a new pastoral thrust for the local church which identified the need for Christ-centred communities along with four related needs: unity among the faithful, formation, dialogue between Christians and those of other faiths and integral human development of the poor.
His Eminence was an advocate and pioneer in promoting the use of the National Language in the local church. He exhorted Malaysian Christians to use Bahasa Malaysia as widely as possible, "not merely because our children are more proficient in that language, but as a sign of our commitment to and love for our country." He also pointed out that the Church must pay more attention to the local language and culture if it is to remain faithful to the post-Vatican Council II idea of inculturation. For this reason, he was the first bishop to use Bahasa Malaysia in his episcopal motto, 'Keadilan dan Keamanan' (Justice and Peace) when he was ordained Bishop of Penang.
His episcopal motto is powerfully reflected in his pastoral priorities and projects. He took up justice and peace issues both within the church as well as in the larger society. This led him to set up of the Justice and Peace Commission in the Penang diocese.  Recognising his contribution in this area, he was elected Chairman of the Office for Human Development of the Federation of Asian Bishops' Conference in 1984.
Known to be a champion of human rights and an advocate for the poor and the marginalised, he promoted social justice programmes under National Office for Human Development (NOHD). This work eventually led to detention of several church workers and volunteers during Operation Lallang in 1987. His Eminence was a courageous and outspoken critic of preventive detentions without trial under draconian laws.
His Eminence put great emphasis on the creation of BECs (Basic Ecclesial Communities), on Family Life and inter-religious dialogue and ecumenism. He took concrete steps to make BECs foundational to parish life.
Other notable initiatives undertaken by His Eminence during his tenure as Archbishop include:
–– Establishment of Archdiocesan Single Adults & Youth Office (ASAYO).
–– Establishment of Sri Seronok Retirement Village.
–– Inaugurating the HERALD, the Catholic Weekly Newspaper.
–– Establishment of the first private Catholic school, Sekolah Menengah Stella Maris.
–– Establishment of the Archdiocesan Pastoral Institute.
Many lay movements and associations found their proper place in the Archdiocese. He had a special interest for the marginalised. He reached out to the Orang Asli communities and made frequent visits to be with his people in the rural areas. The Deaf, the Blind and those with disabilities always had a special place in his heart. He was especially close to the residents of Asrama Cahaya, Bukit Nanas.
When he was elected as the President of the Malaysian Consultative Council for Buddhism, Christianity, Hinduism and Sikhism in 2001, His Eminence expressed his hope for unity and understanding among the religions. He said, "The fabric of our nation is composed of rich cultures and of various religions. Any religion that imposes its teachings with less respect for other religions destroys the very fabric itself. Thus it is the sacred duty of all members of the MCCBCHS to collaborate with all religions to uphold truth and justice to all." Therefore, it is no surprise that His Eminence's life-long friends include people of other faiths and Christians from other denominations.