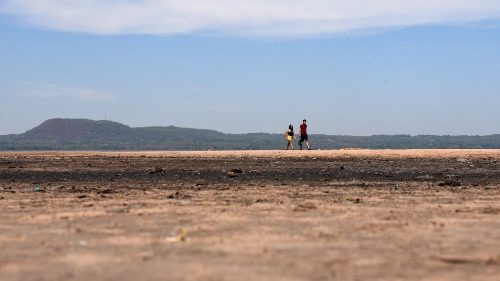 The dried banks of lake Ypacarai as Paraguay suffers a severe drought  (AFP or licensors)
By Vatican News staff writer
Pope Francis prays for the protection of water and for its fair distribution, as the Italian bishops celebrate a day of thanksgiving for this "blessing of the Earth".
Pope Francis on Sunday joined the Italian bishops in their call for the safeguarding of water, as a common good. 
Each year, on 8 November, Italy celebrates a day – dedicated to a different theme annualy – promoted by the italian Conference of Catholic bishops. This year the theme is "water, blessing of the earth".
Water, say the italian bishops, is a gift – the first of all. They express their closeness to "the men and women of the earth, knowing that the well-being of the population depends on their generous work", aware that the Covid-19 pandemic "has had a heavy impact on the entire world of work"
Speaking after the recitation of the Angelus Prayer, Pope Francis noted that "water is vital for agriculture; it is also vital for life!" He expressed his closeness with prayer and affection to the rural world, and "especially to small farmers", explaining that "their work is more important than ever in this time of crisis".