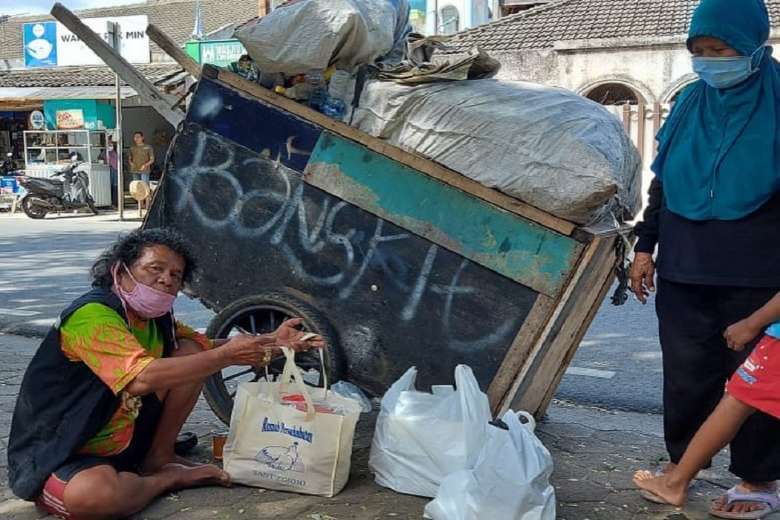 A scavenger in Kedoya, Jakarta, receives a food package from the Sant'Egidio Community on Christmas Day. (Photo supplied)
Pandemic forces Sant'Egidio Community to change the way it helped the marginalized over the festive season
Celebrating Christmas amid the Covid-19 pandemic for the Sant'Egidio Community in Indonesia saw the Catholic lay group reaching out and sharing the joys with marginalized and poor people in the Muslim-majority nation.
 
Risking their lives, community members distributed food and basic necessities on Christmas Day to scavengers, tricycle and pedicab drivers, the elderly, street children, disabled people and the homeless regardless of their ethnic or religious backgrounds.
 
This humanitarian effort not only took place in Jakarta but also in 15 other cities across the country, including Pontianak in West Kalimantan, Denpasar in Bali, Kupang in East Nusa Tenggara and Medan in Sumatra.
 
Unlike in previous years when Christmas lunches were held, this year the group chose to go to meet the people who have been affected badly by the pandemic on the streets or in their communities.
 
"Despite Covid-19, we continued our services on Christmas Day to share love," Eveline Winarko, a Sant'Egidio Community Indonesia coordinator, told UCA News.
 
The community was established in 1968 in Rome, Italy, by Andrea Riccardi. It has a network stretching across more than 70 countries around the world.
 
It arrived in Indonesia in 1990 and now has 16 chapters around the country with some 600 members.
With its motto "friendship with the poor," Sant'Egidio offers support services to the elderly, prisoners and the homeless.
It also runs what it calls a Peace School which provides support to families while offering a model of education open to the poor and without discrimination.
 
Winarko said the community in Jakarta visited Peace School students at their homes on Christmas Day instead of holding a mass event.
 
They also distributed food boxes to 150 homeless people on the streets in Central Jakarta and to 80 elderly people at St. Anna Nursing Home in Jakarta.
 
Food packages were also given to 380 unprivileged and unemployed people near its offices in West Jakarta.
"Most of the people were Muslims, which is in line with the theme 'Christmas for All'," Winarko said.
Besides food packages, they also distributed towels and mats to the homeless and raincoats, clothes and basic necessities to scavengers, the jobless and other needy people.
 
"We would have liked to have spent several hours talking with them like we usually do, but this time we only spent several minutes as everyone was abiding by health protocols," Winarko said.
 
Winarko said that in 2020 they also distributed food packages during Easter and provided breakfast and other foodstuffs during Eid al-Fitr celebrations.
 
She said it is a Christian responsibility and part of the ecumenical commitment to interreligious dialogue.
 
Xaveriani Unametry Mali Mau said that she and her colleagues from the community and volunteers in Yogyakarta distributed packages to the elderly, including elderly priests of Semarang Archdiocese, students and the homeless.  
 
"We distributed food and Christmas packages to 145 people," she told UCA News.
 
To the students, they gave school equipment such as bags and books, while clothes and blankets and basic food supplies that were good for two weeks went to those living on the streets.
 
Theresia Damanik, a member of the community in Medan in North Sumatra, said they served the elderly, the homeless and students over Christmas.
 
"We delivered 110 packages to the elderly and students and 80 packages for the homeless," said Damanik, who distributed the aid with eight of her colleagues.
 
Pandi, 56, a scavenger in West Jakarta, said the community has been helping him and his family for several years.
 
"They are always there for my family during Christmas and Eid al-Fitr," Pandi, a father of seven, told UCA News.
 
He said the community members often visit him at his small home, as had Cardinal Ignatius Suharyo of Jakarta on one occasion.
 
"I can only thank the community for helping us," he said. – UCANews