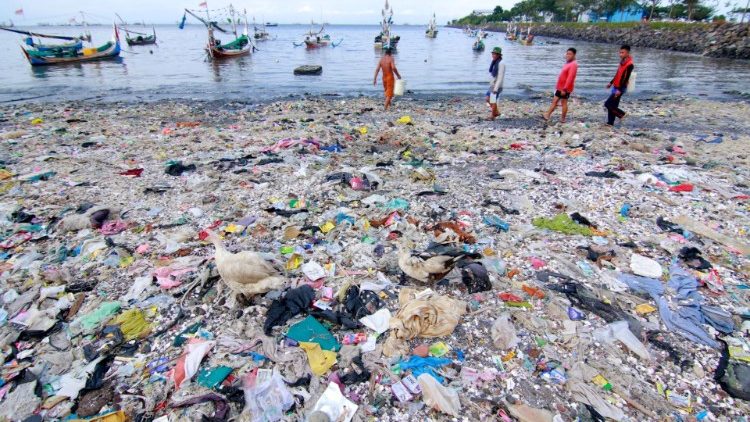 A polluted seaside in Indonesia's East Java Province 
As Indonesia marks its 75th Independence Day, Cardinal Ignatius Suharyo Hardjoatmodjo called on all citizens to unite and fight corruption, violence and threats to the environment.
Cardinal Ignatius Suharyo Hardjoatmodjo of Jakarta has called on Indonesians to work together to fight corruption, violence and climate change as the country celebrated its Independence Day on Aug. 17.
Independence Day in the south-east Asian nation was limited to a subdued virtual ceremony because of the Covid-19 restrictions. 
Corruption, violence and environmental damage
In a video message, Cardinal Suharyo reminded all that the ideals of the nation – unity, sovereignty, justice and prosperity – oblige all sectors of society to work towards the common good.
These national ideals, he pointed out, are being threatened by corruption, violence and environmental damage. 
Indonesia continues to be plagued by high-profile corruption cases, unrest in Papua, and violent acts of terrorism or intolerance by religious extremists. Meanwhile, the destruction of rainforests, pollution resulting from slash-and-burn agriculture and plastic waste are degrading the environment. The Cardinal lamented that these ills are growing every year.
Common good
When celebrating Independence Day, Cardinal Suharyo said, "We should not only commemorate it but take it as our responsibility … to build and realize the common good".
The 70-year old Cardinal reminded Catholics that, despite the hardships caused by the Covid-19 pandemic, they should work for social justice and promote the national ideals in families, communities, parishes and basic communities.
Two other eminent Catholics have backed the Cardinal's call.
"It is our responsibility as citizens to overcome these challenges for the progress of our nation," Vincentius Hargo Mandirahardjo, chairman of the Association of Indonesian Catholic Intellectuals (ISKA), told UCA News.
Jesuit Father Francis Xavier Mudji Sutrisno, a professor at Jakarta's Driyarkara School of Philosophy, said the three social ills cited by the Cardinal must be a priority of the government.
"The law must be enforced fairly to overcome corruption, violence and environmental damage," he told UCA News. "If the law can still be sidestepped," he warned, "these problems will never stop." 
He blamed the situation on the lack of morality in Indonesia's politics. Democracy without legal certainty provides fertile ground for violence, corruption and acts detrimental to the environment, he said.
He exhorted all to "work hand in hand to end such practices and put our selfishness, group or personal interests behind us to achieve a better society." – Vatican News