15 Nov 2020. Archbishop Simon Poh with Archbishop Emeritus Peter Chung. CMM, Stutong.
KUCHING – Archbishop Emeritus Dato' Sri Peter Chung Hoan Ting celebrated his 50th Episcopal Ordination Anniversary on 15 November 2020.
The present COVID-19 pandemic situation had dashed all hopes of the Archdiocese of Kuching, to celebrate this historic occasion with a function befitting a much-loved grandfather figure. The presbyterium could only offer up thanksgiving prayers and present him with an anniversary cake.
Often described as a grandfather to the people of God, this Shepherd of the Lord is also a spiritual director, priest, personal confessor and confidante, father, and much more, to his flock.
Born on 10 September 1928 in Hubei Province, China, a young Peter entered the diocesan minor seminary of the Vicariate of Lauhekou in 1940. In 1947 he entered the Regional Major Seminary at Hankow, but in 1949, during the Communist insurgence, the whole seminary was moved first to Hong Kong and later to Macao.
After his graduation from seminary in 1954, he arrived in Kuching and became the first priest to be ordained on Sarawak soil on 26 September 1954, by Bishop John Vos who had invited him to come. After serving for nine years in various parts of Sarawak, Fr Peter Chung was sent to study Canon Law in Rome and obtained his Doctorate in Law in 1966.
He was the Vicar Delegate of Miri and serving as a priest in Brunei, when he was appointed to serve in Sabah. The Church there was then facing persecutions from the state government. On 15 November 1970, Fr Peter Chung was installed as Coadjutor Bishop of Kota Kinabalu. The turbulent state of affairs in Sabah lasted for five years.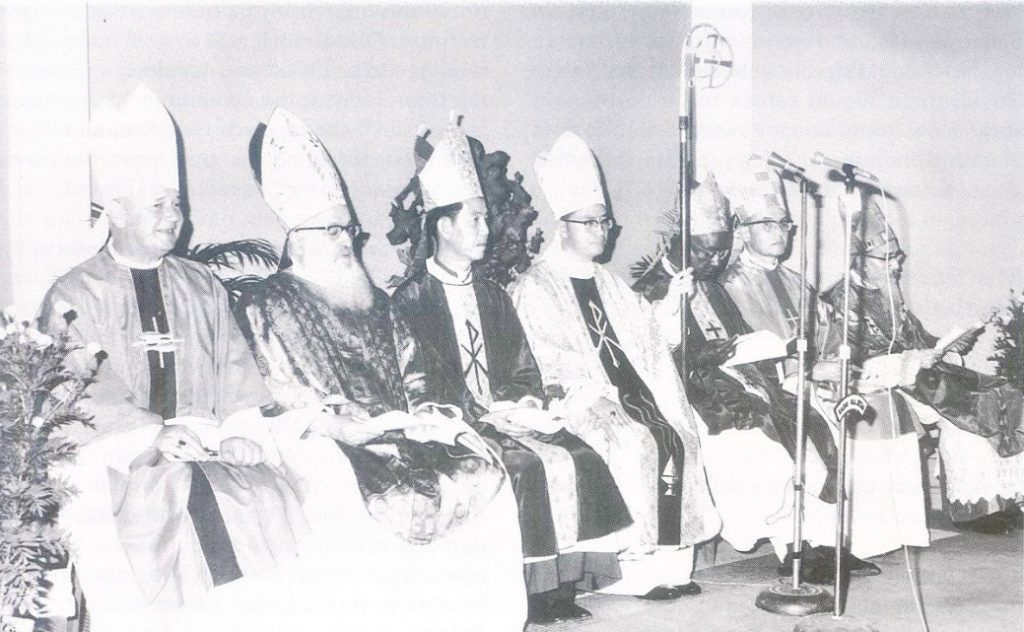 Episcopal ordination of Bishop Peter Chung (with crosier) at Kota Kinabalu, 15 November 1970.
Bishop Peter Chung was subsequently transferred back to take charge of the Vicariate of Kuching in 1975 after the death of Bishop Karl Reiterer. Fr Lawrence Chua, who became the first local born to be ordained a priest in 1964, was assigned to welcome him at the old Kuching airport and became his Vicar General.   
He became the first Archbishop of Kuching on the establishment of the Ecclesiastical Province of East Malaysia in 1976. He retired as Archbishop of Kuching on 22 June 2003, handing over responsibilities to Archbishop John Ha. Archbishop Simon Poh succeeded Archbishop Emeritus John Ha when he resigned on 4 March 2017.
Archbishop Emeritus Peter Chung will be recorded in the church annals of this region as the only priest who has served in Brunei, Sabah and Sarawak.
He chose  the theme "For the love of Christ urges us on" (2 Cor 5:14) for his 90th birthday celebration in 2018.  His life has been blessed with longevity and good health and it has been a journey for the love of Christ.
He spends his retirement years at the Chapel of Mother Mary Retirement Home for priests, still actively serving the Church by celebrating Mass, hearing confessions, counselling and giving religious instructions.
His door remains open for those seeking his help. He does not believe in taking holidays away from Kuching and lives a simple and disciplined life of prayer, work and walks.
Below is a translation of Pope Francis's letter to Archbishop Emeritus Peter Chung Hoan Ting on the 50th Anniversary of his Episcopal Ordination.
We accompany our Venerable Brother, Peter Chung Hoan Ting, the first ever Archbishop of Kuching, with Our prayers as he celebrates the golden jubilee of his episcopal ordination. We commend his magnanimous disposition flowing from his spiritual anointing, his missionary spirit, notably his active pastoral zeal for his archdiocese and his distinctive dedication to the people of God.

 

While We warmly extend to him and those closely related to him Our Apostolic Blessing through the intercession of our loving Virgin Mary Mother of God and the holy Apostle Peter, We in turn ask for his prayers that with the joy of the Gospel we may worthily exercise the Petrine office.

 

Given at the Lateran in Rome on Oct 13, 2020.

 

Francis